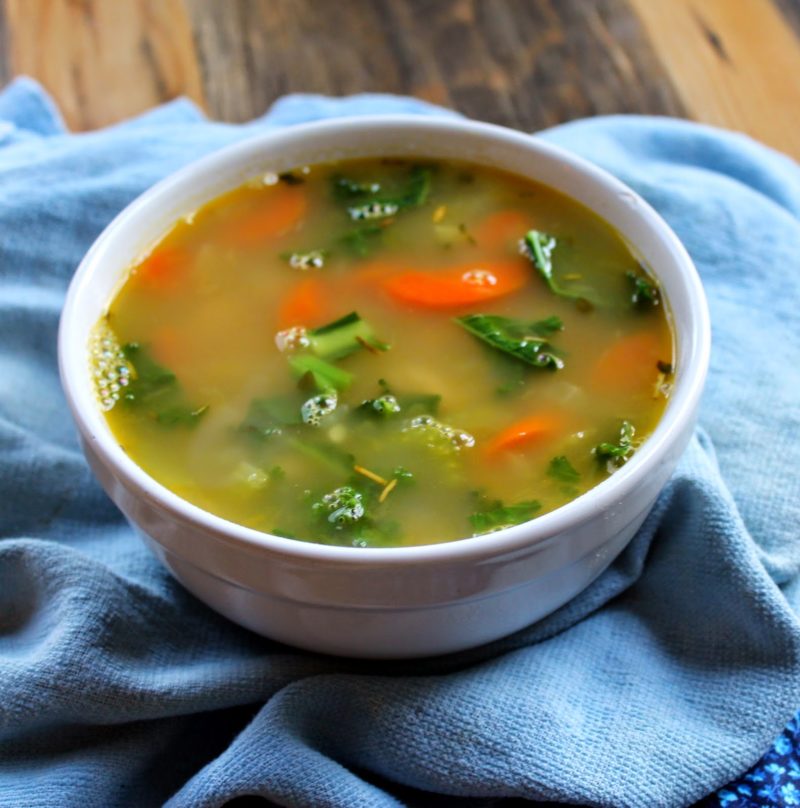 These are the months where soup is king. It's loaded down with nourishing vegetables and holds the warmth and comfort we all need this time of year.
There is something about it that is just so healing.
This soup was especially well received in our house. I think the craziness of the summer and the gazillion fall weddings that are happening have both Chuck and I craving a slower pace. We need something home cooked, rustic, and hearty. It just has to happen.
Honestly I didn't hold any hope that this would be a soup that chuck would fall for, usually he shy's away from these light flavors, and complains about the lack of meat, but he seemed really into it. He liked the flavor that the kale absorbed from the broth, and had several bowls. The whole wheat oat bread (that I totally bought pre-made) was also a nod to a hearty rustic meal, adding some grit and texture that was a perfect match.
It was the perfect thing to usher in fall as the temperatures begin to drop, and we begin to re-establish ourselves in a new season.
Easy Tuscan Bean Soup
Ingredients
1 tbsp olive oil
1 medium onion, chopped
4 cloves of garlic, crushed
2 medium to large carrots, chopped
2 stalks of celery, chopped
4 cups of low sodium vegetable broth
2 sprigs of thyme
1 bay leaf
2 cans of cannellini beans, drained & rinsed
4 cups chopped kale
Salt & pepper to taste
Fresh grated Parmesan Cheese for Garnish
Instructions
In a large thick bottomed sauce pan heat oil over medium high heat and sauté onion until it becomes translucent (about 1-2 minutes).
Add garlic and cook for 1 minute before adding carrot and celery.
Cook for another minute before adding broth, thyme, and bay leaf.
Bring to a simmer and add beans and kale.
Cook stirring regularly until the kale turns dark green and beans are soft.
Adjust seasoning and serve warm, with a sprinkle of cheese on top.