Have you seen enough French Onion Flavors from me yet? I can't get enough of it all lately, maybe I will actually post a traditional French Onion Soup Recipe one of these days.
Any-who, the other night I was craving a burger, and onions, so why not combine them right?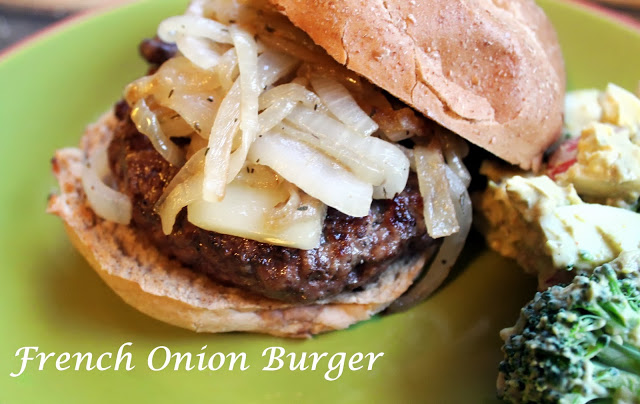 French Onion Burger
1 large onion, sliced thin
1 tbsp olive oil
1 tsp thyme
½ lb lean ground beef
Salt & Pepper
2 hamburger buns
In a small skillet heat oil and coat the bottom of the skillet with oil. Add onions, thyme, and cook them over medium heat for 15- 20 minutes, or until they begin to caramelize. Remove From heat and set aside. Using your hands form the ground beef into 2 patties, making the middle slightly thinner than the outer edge (This stops the burger from puffing up in the middle). Sprinkle liberally with salt & pepper, and place on a preheated grill over medium high heat. Cook for 4 minutes a side, for medium rare burgers and 5 minutes for medium. While the patties are cooking lightly butter both sides of the bun and place on the grill over low heat to toast (2-3 mintues). In the last 2-3 minutes of cooking top each patty with cheese and caramelized onions, continue to cook until the cheese has melted slightly. Layer a burger patty on each bun and serve warm.
If you are catching a glimpse of that beautiful looking, and super healthy salad on the don't fret you can catch the recipe for it over on
Fitness and Feta
, where I am featured as this month's
Reader Recipe
.