Right now I am day dreaming about camping, but we seem to be
busy every single weekend for the foreseeable future, so instead I'll offer up
this awesome camping recipe.
Sausage and peppers, the classic combination that is
delicious and simple, as well as a great alternative to the typical hot dog
while camping.
I have made sausage and peppers in the woods probably a
dozen different ways, and this so far is my favorite. You could also easily
cook the onions and peppers in foil and the sausages on sticks then pile it all
on a bun the way it's usually eaten, but I feel like we eat enough buns while
camping so I swapped the buns for potatoes to keep it hearty.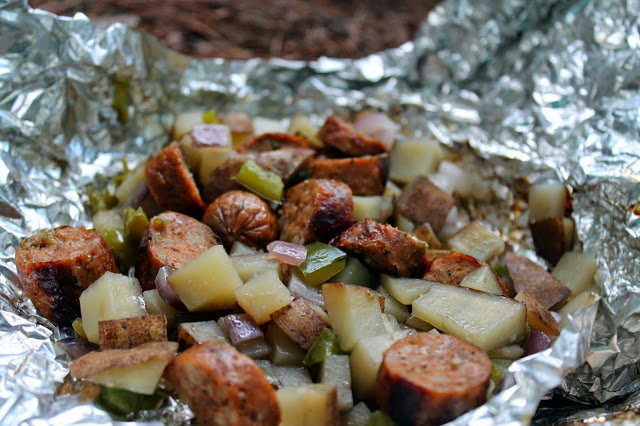 Foil Sausage & Pepper Potato Packets
1 package precooked Italian sausages, sliced

1 large onion, chopped

1 green bell pepper, chopped

2-3 potatoes chopped

1 tsp salt

½ tsp pepper

1 tbsp butter, in small chunks

1 tbsp extra virgin olive oil

Combine all ingredients on a large piece of tin foil,
tossing to mix well. Fold the foil into a pocket and seal. Add an additional
piece of tin foil and wrap the original packet. Place over a fire or on a grill
for 20-30 minutes, turning regularly. Potatoes should be tender when done.
I call out for precooked sausages because they tend to take
a while to cook over the fire, and for health and safety reasons you don't want
undercooked sausages. I usually just buy my favorite Italian sausages and cook
them up at home before bringing them camping, but this is only my suggestion,
based on experience.