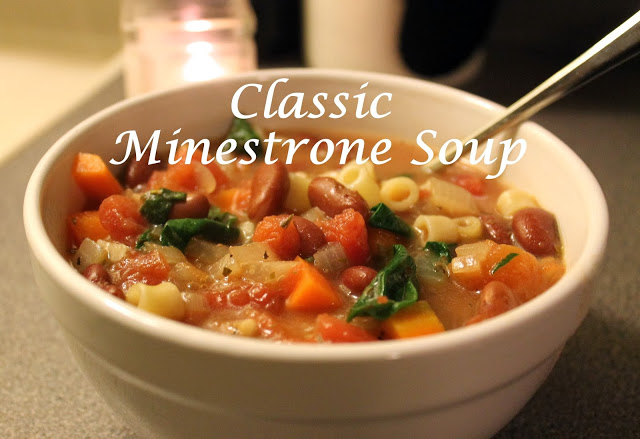 Everyone is sick.
Chuck, my dad, work folk, and even I'm fighting off something.
Work is nuttier than squirrel turds right now. Seriously there is so much going on I can just feel the stress pile on every time I walk through the door. I just need to get through the next 3 weeks and it will be smooth-er sailing.
When I am stressed or sick I almost always crave a blanket, my slippers and soup.  I love soup so much. The only problem is that I rarely feel like making soup when I'm stressed or sick, and canned soup is not an option. Call me a snob if you want, but I firmly believe that real homemade soup is better by a LONG shot. The flavor, the health benefits, and the love. Oh the Love. How can you make soup and not put some love in it? I don't think it's possible. Maybe that's why I like it so much.
This particular day I was not anticipating wanting soup so I had no chicken, no ham or anything else ready to go that meant it had to be vegetarian. It brought me back to my high school days of working at a local Italian restaurant after school, and practice. I loved it there. I only wish I could have stayed, and that they didn't eventually retire. It was like my home away from home. They opened their arms and treated me like family. They even had a family meal every night, and I was expected to sit down and eat with them. Even if I had to answer phones or toss wings between courses.
One of the things I remember most is the minestrone. I swear Nona made it every. Single. Night. I mean she made it from scratch every night, not just made a bunch and served it all week. She said it tasted better that way, because that how it was supposed to be made. I learned how to make it from watching her, and her deft hands as they chopped, tossed, and stirred. It was so good, and filled with love; the perfect thing to pull me out of my funk, and nurture poor Chuck.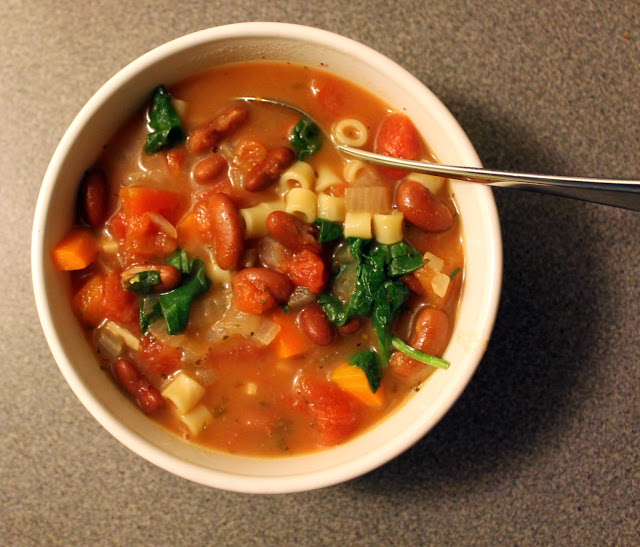 For the Love of Minestrone Soup
Ingredients
2 TBSP EXTRA VIRGIN OLIVE OIL
1 LARGE ONION, DICED
4 CLOVES OF GARLIC, MINCED
1 STALK CELERY, CHOPPED
2 LARGE CARROTS, CHOPPED
1 TSP DRIED OREGANO
1 TSP DRIED BASIL
1 28 OUNCE CAN DICED TOMATOES
6 CUPS LOW SODIUM VEGETABLE BROTH
1 CAN LOW SODIUM KIDNEY BEANS
2 CUPS FRESH BABY SPINACH
2 CUPS COOKED DITALINI (OR SMALL PASTA)
PARMESAN CHEESE FOR GARNISH
2 TBSP CHOPPED FRESH BASIL
Instructions
IN A LARGE THICK BOTTOMED SAUCE PAN HEAT OIL, AND SAUTE THE ONION FOR ABOUT 3 MINUTES, OR UNTIL IT BECOMES TRANSLUCENT.
ADD GARLIC, THEN CELERY, CARROT, OREGANO AND BASIL, AND COOK FOR 6-7 MINUTES.
STIR IN THE TOMATOES, AND BROTH, AND BRING THE POT UP TO A BOIL.
REDUCE THE HEAT AND ALLOW IT TO SIMMER FOR ABOUT 15 MINUTES BEFORE ADDING THE SPINACH, KIDNEY BEANS AND PASTA.
COOK FOR ANOTHER 5 TO 10 MINUTES TO ALLOW THE SPINACH TO WILT.
ADJUST THE SEASONINGS AND SERVE WARM WITH PARMESAN CHEESE, AND BASIL FOR GARNISH.