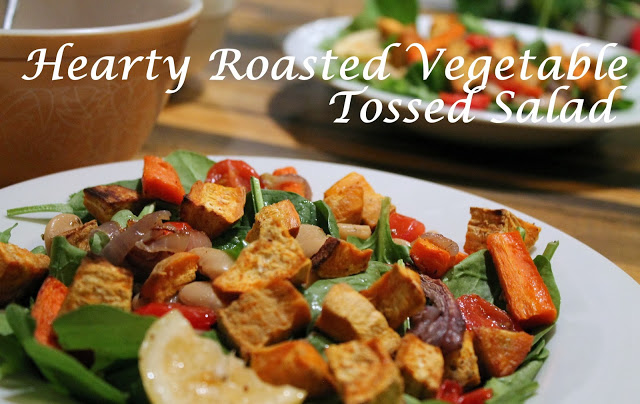 It's the time of year when everyone gets all excited for
roasting vegetables. Everywhere I turn there is another roasted vegetable
recipe. I never got into it in the past. I mean I like my roasted veggie sides
but that was about the extent of it.
This year however things are different. This year I have
been making a valiant effort to bring vegetables to the forefront of our meals,
make them the star's as opposed to the meat and starch that is typical of the American
diet. You can find evidence of this
here
,
here
, and
here
just to name a few.
I decided to jump on this roasted vegetables as a meal kick
and see what it's all about, and I'm glad I did. This meal came out fabulous, and
Chuck didn't mind the lack of meat and pile of starch. I was even given
permission to make it again.
It's a pretty basic recipe that can be easily altered to accommodate
anyone, just add or drop the veggies you like/have on hand. The more veggies
the better in a meal like this, so experiment away. A dressing isn't necessary for
this since there's plenty of liquid and herbs in the veggie mixture, but I was craving something creamy so I topped it with my
Creamy Pesto Dressing
. It
was a wise choice.
Roasted Vegetable Tossed Salad
1 large sweet potato, peeled and chopped
1 red onion sliced
1 large carrot, peeled & chopped
1 clove garlic, remove the top
Extra virgin olive oil
1 pint grape tomatoes, halved
1 can butter beans, drained and rinsed
1 tsp herbs de province
½ a lemon
1 ½ cup arugala
1 ½ cup spinach
Preheat the oven to 350. On a large sheet tray toss the
sweet potato, onion, and carrot with oil. Arrange the vegetables on half of the
tray. Place the garlic on the tray and drizzle with oil. Place in the oven and
roast for 25-30 minutes. Half way through the roasting time remove the tray and
re-toss the vegetables. On the free half of the tray add the tomatoes also
tossed in oil and finish cooking. In a large bowl toss together the beans, herbs
and roasted vegetables. Squeeze the lemon over the top before adding and toss
again. Set each plate with a ½ a cup of arugula and ½ a cup of spinach, top
with roasted vegetables and serve. (Serves 3)