What does one do when their late season tomatoes are still green and about to get frost bitten? Why they make fried green tomatoes of course!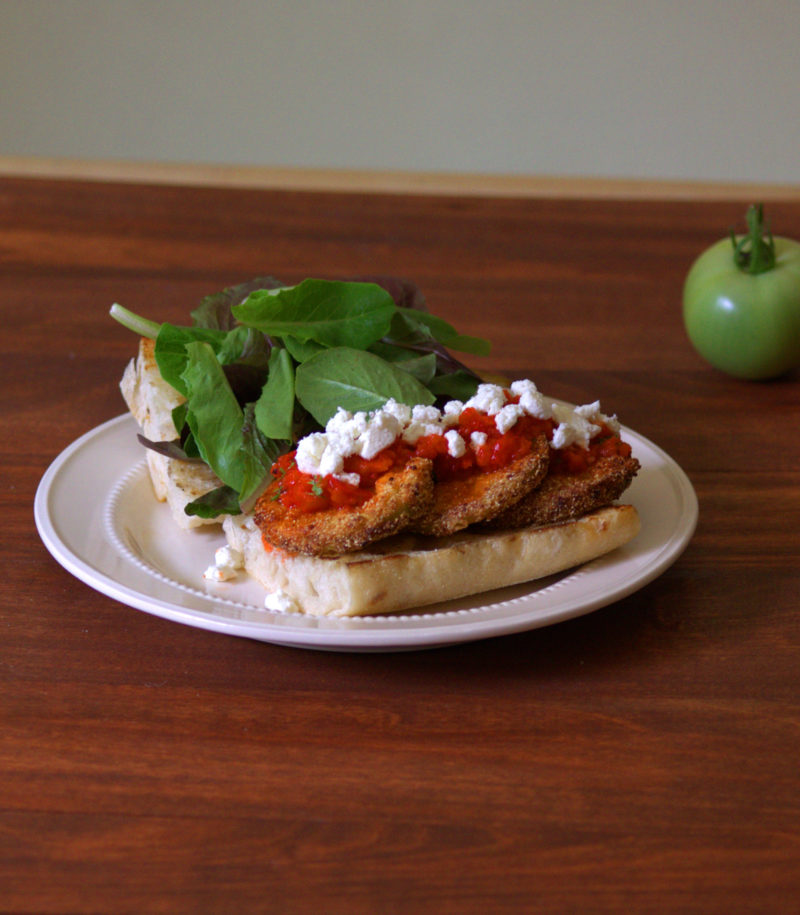 At least that's what I did.
With the threat of frost showing up this week I decided it was time to call it. These late season varieties also went into the garden late, because everything went into the garden late this year, so of course they are super late. And of course they still trudged through the heat of summer and tried their best to grow and produce some good fruit for us. How could I let all that hard work go to waste by letting them get frost bitten and wither away to nothing? I couldn't.
So we flour coated them, egged em' up and tossed them in cornmeal mix, then tossed them into hot oil. Just a few seconds on each side was enough to make them urn golden and delicious.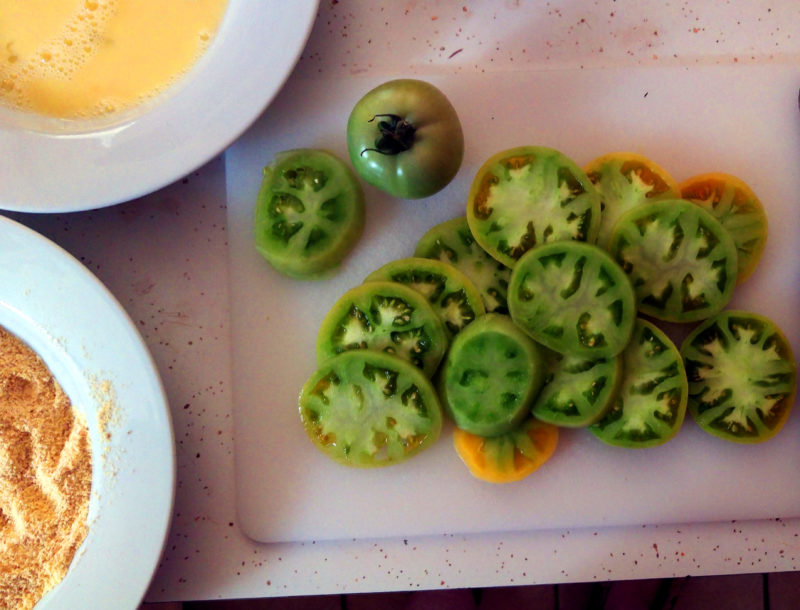 While we gave them a few minutes to cool I put together the red pepper sauce, because those are coming out of the garden left and right as well. I roasted and canned a few earlier in the week and had a small bowl of the leftovers from that process just hanging out in the fridge. I also have bread hanging out because we are doing a lot of bread experiments lately. The same goes for goat cheese, and greens, it's all just waiting to be used up. These things came together to make one delicious sandwich.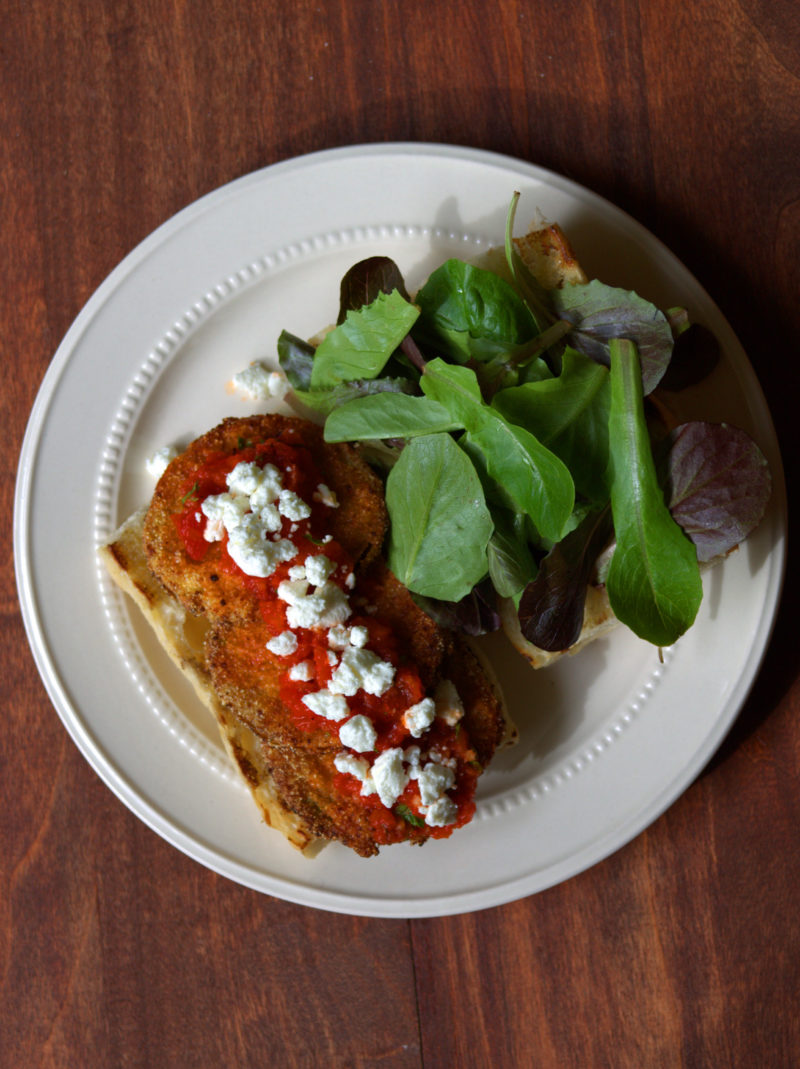 This is the sandwich that I will be eating all week long, because it's all got to get used up anyway. I'm not complaining, it's pretty heavenly.
All this canning, baking and learning to make more and more of our staples from scratch has been so fun. It takes time, sure, but I like the challenge, especially when it turns into delicious sandwiches, and they are such delicious sandwiches.
Note: The recipe for the red pepper sauce follows. The sandwich recipe is as simple as bread, fried green tomatoes, red pepper sauce, goat cheese, greens and bread. Enjoy!

Fried Green Tomato Sandwich with Red Peppers and Goat Cheese
Ingredients
1 cup cornmeal
1 teaspoon salt
2 eggs
½ cup all-purpose flour
Vegetable Oil
4 large, firm green tomatoes, sliced into ¼- ½ inch slices
Instructions
Combine the cornmeal and salt in a shallow bowl. In another shallow bowl beat the eggs until well blended. In a last shallow bowl place the flour.
Cover the bottom of a heavy skillet with about ½ inch of oil. Heat the oil over medium-high heat.
Dredge a tomato slice with flour until lightly coated, then dredge it in egg wash and finally in cornmeal, until well coated. Set aside. Repeat this process until all the tomato slices are used.
Carefully drop each slice into the hot oil (it should bubble immediately if it's hot enough). Let it cook for 1-2 minutes and flip it to cook for an additional 1-2 minutes. A golden crust will form if it is cooked.
Remove the cooked slices from the pan and place on a paper towel lined plate to drain.
Serve at will.
Red Pepper Sauce
1 whole Roasted Red Pepper
1 clove of garlic
1 tablespoon chopped parsley
Pinch of salt
1 tablespoon of olive oil
Combine all ingredients in a blender or food processor, blend until desired smoothness is reached.