I think Luisa Weiss described it best in her book My Berlin Kitchen "There were, as i saw it, two camps of potato salad eaters. Either you were in the camp that bound their potato salad with mayonnaise to make it rich and creamy or you were from the faction that used hot vinegar dressing for a light and sour salad."
Chuck and I are definitely in two different camps. I LOVE
the decadent creamy texture and slight bite of the vinegar in a warm potato
salad. I grew up eating it, from a recipe that Miss Amy adopted from her time
working at a local German Restaurant
The Brauhaus
. As I grew up I discovered
the different variations that can be created by swapping chives, or green
onions for herbs even leafy greens like spinach or kale, and using ham or roast
beef instead of bacon, or omitting meat altogether. I have made it turn yellow
with turmeric and mustard, red with tomatoes, and even orange with carrots and
cabbage. All wonderful these, are delicious variations that I would almost
always recreate again in a heartbeat.
Chuck prefers his traditional American version of potato
salad like most things, though I am lucky in that he will eat pretty much
anything I put in front of him without question. I'm sure his bohemian
ancestors would probably roll over in their graves to know this but alas, I'm
working on him.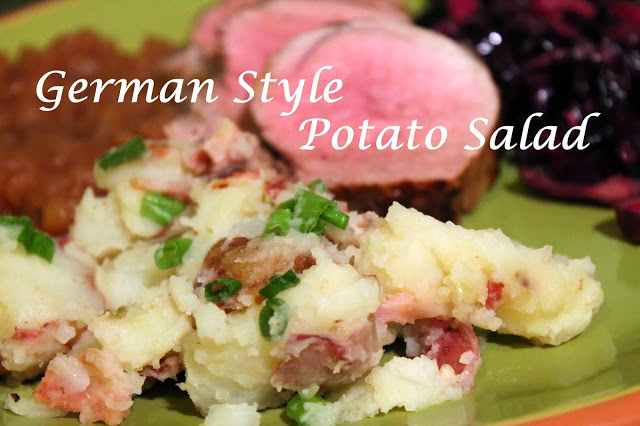 This recipe is one that I make every once in a while, as I was
taught by Miss Amy. It may not be her exact recipe but its how I have always
made it and it is how I like it. I strongly suggest that you try this, it is so
vary worth it, and if you have any variations please do share, I would love to
try something new!
Basic German Potato Salad
3 cups potatoes, peeled and diced
½ tbsp extra virgin olive oil, or bacon grease
1 small onion, diced
¼ cup cider vinegar
2 tbsp water
4 slices of bacon, cooked and crumbled
Salt & pepper to taste
1/4 cup chopped Green onions, or chives
Bring a large pot of salted water to a boil and cook the
potatoes for about 10-12 minutes or until they have softened. Then drain and
set aside. In the same pan sauté the onion with oil (or more traditionally
bacon grease) until it begins to caramelize, 3-5 minutes. Remove from heat and
add vinegar, water, bacon, salt, pepper and potatoes to the pan and stir vigorously
for several minutes. The potatoes will loosen and create a creamy, sticky
sauce. Serve warm or cold topped with green onions.
What camp are you in? Vinegar or Mayonnaise?