I read a lot of blogs, it's kind of an addiction, but I figure
that there are worse things I could be addicted to right? I get a lot of food,
cooking and photography inspiration from blogs, I mean who wouldn't with all
these talented people sharing themselves all the time?
I don't always share the recipes that I "copy-cat" form my
favorite blogs, mostly because I feel like I'm taking some of their thunder and
that's kind of lame. However every once in a while I come across a recipe that
simply just knocks my socks off and that I have to absolutely share. This is defiantly
one of them.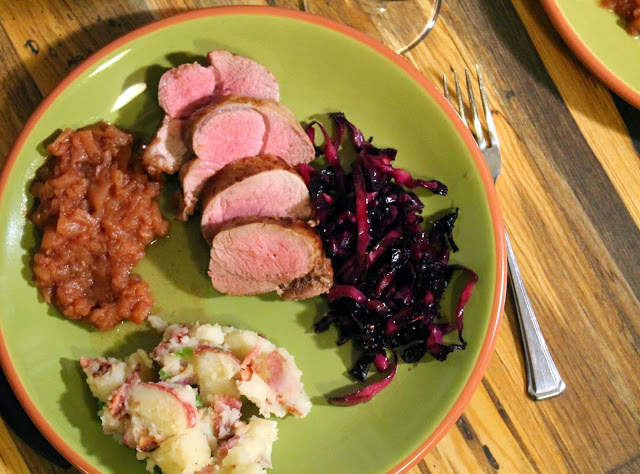 I usually love everything on Jenny's blog anyway, but when I
recreated her Sunday dinner, with my own twists of course, I knew I struck
gold.
I almost always have cooked my pork loin the same way, the way
my mom does, and Momma Chuck, and probably everyone else I know with rosemary as the main ingredient, and then
roasted for a good long while, until it is cooked through and usually dry (that's
why there's almost always gravy with it). I don't know why we all do this (coincidentally),
but we do, we like it, I mean who doesn't like rosemary? But once in a while it's
nice to step out of the box and this recipe yielded a wonderfully tender, juicy
and succulent pork loin that I will definitely be repeating in the future.
Though I stuck right to the recipe for the pork loin I had
to alter the recipes for the braised cabbage and applesauce. The braised
cabbage was basically the same, except I do not have time to let it sit in the
oven for 2 hours, nor the desire to eat up that much energy, plus I like my
vegetables firmer. I also omitted the goat cheese, though it might be a nice
touch, it simply isn't needed. The result was delicious! I'm also glad I came
across this recipe because aside from coleslaw I'm always stuck on how to use
up leftover cabbage. Just as an FYI the original Recipe can be found
here.
Braised Cabbage
1
head of red cabbage, shredded

2 tbsp
of butter

½ cup
of white wine vinegar

¼ cup
of water

2 tbsp
of brown sugar

Preheat
the oven to 350 degrees. In a large oven proof pan melt butter and sauté
cabbage with vinegar, water, and brown sugar for 2 to 3 minutes until it begins
to wilt. Place in the oven for 25-30 minutes, stirring at least once. Serve

warm.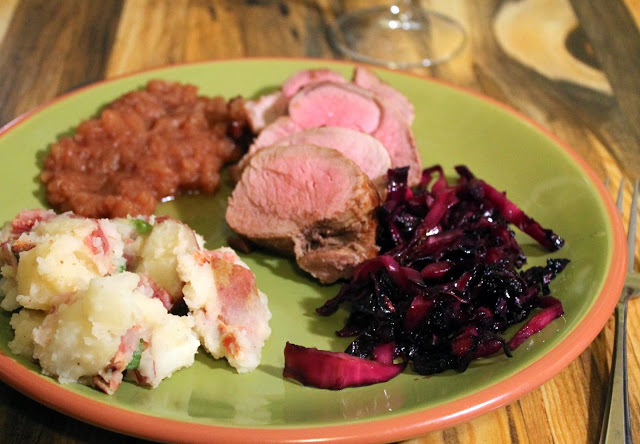 As for the Apple Sauce I just made my own recipe of apple
sauce, clean and delicious. I usually do it in big batches to have throughout
the fall season, so I make it in the crock pot for ease.
Clean Crock Pot Apple Sauce
10 medium apples, peeled & copped

½ cup water

2 tsp cinnamon

1 pinch nutmeg (optional)


Toss all ingredients into a crock pot and cook on high for 4
hours, stirring occasionally. Serves warm or cold.
That other delicious thing I added to this meal, that's a
German Style Potato Salad that I made simply because I was craving it. It totally
deserves its own post, so you will have to wait another day or two for that
one.