Something I love about going to grandma's house is that everyone is greeted with a cup of tea, and offered mounds of food.  We spend most of our time there gathered around the kitchen table, and that's how it's always been. I love that on any given day, you might never know who is stopping by. It's like a comfortable adventure there.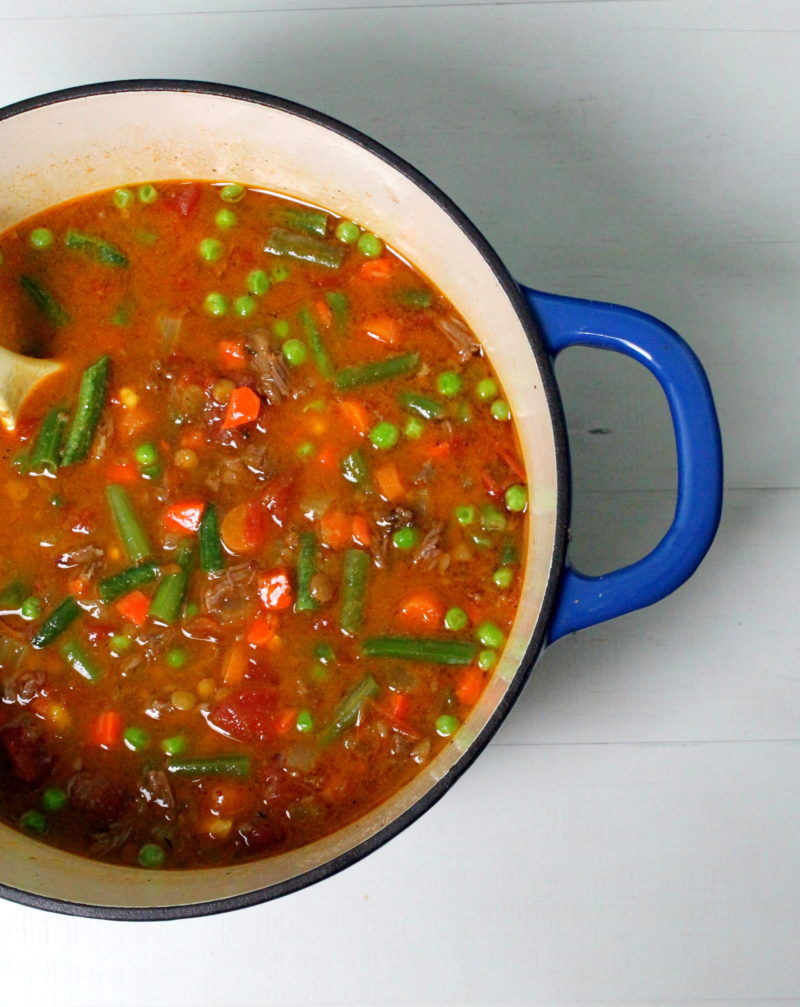 Sometime last year I had been one ofthose random guests to stop by and gram offered me a vegetable soup she had made. It was one of the best soups I had eaten in a long time, so of course I turned the conversation to how she made it exactly, and in a few short instructions she told me the jist of it, and gave me a soup bone she had in the freezer to make me own with. Grandmas are always good and generous like that.
It took me a try or two to get it right, and then I added my own twist, since we are avoiding wheat products right now. Gram's original recipe uses short pasta, or couscous, where I used lentils, but that's the only real change.
Keep in mind this is a slow cooked soup, meaning it takes a long time, but that's what makes it so good. All the caramelization, and concentrated flavor are necessary, trust me. Take the time and try it. You won't be sorry.
Gram's Slow Cooked Vegetable Beef Stew with Lentils
Author: JC
Serves: 4 servings
Ingredients
2 tablespoons olive oil
1lb meaty soup bones
1 teaspoon salt
½ teaspoon black pepper
½ teaspoon paprika
½ teaspoon of sugar
1 large onion, peeled and diced
2 carrots, peeled, and chopped
2 celery ribs, chopped
½ cup dry wine
4 cups beef broth
1 (15 ounce) can diced tomatoes
1 cup French green lentils
2 tablespoons tomato paste
1 tablespoon chopped parsley
2 cups frozen mixed vegetables
Instructions
Heat the oil in a large soup pan over medium heat. Sprinkle the soup bone with salt, pepper, paprika, and sugar. Add it to the pot and sauté until it is well browned on all sides, about 5 minutes.
Stir in the onion, carrot and celery and cook until softened, about 1 to 2 minutes.
Add the wine, broth and tomatoes. Cover and cook over low heat for 2 hours, at which point the meat should be tender.
Remove the meat from the pan to a rimmed sheet and let cool. When you can easily handle the bones remove the remaining meat from the bone, cut into bite size pieces and return the meat to the pan.
Add the lentils, tomato paste, and parsley to the pan and stir until well blended. Bring to a boil and reduce to a simmer and cook for 30 minutes, or until the lentils are tender.
Stir in the veggies and cook for 2 more minutes.
Adjust seasonings and serve.