Now that we have run down the list of cooking terms that are important for understanding recipes and cooking , I thought it would be good to give an overview of the tools necessary for a basic kitchen.
There is a lot of variance in this list because not everyone cooks the same or has the same environmental outlook. For example where I would use a spoon as a juicer you might really love a hand juicer. How you set up your kitchen is totally and completely up to you, but this list in my opinion covers the basics.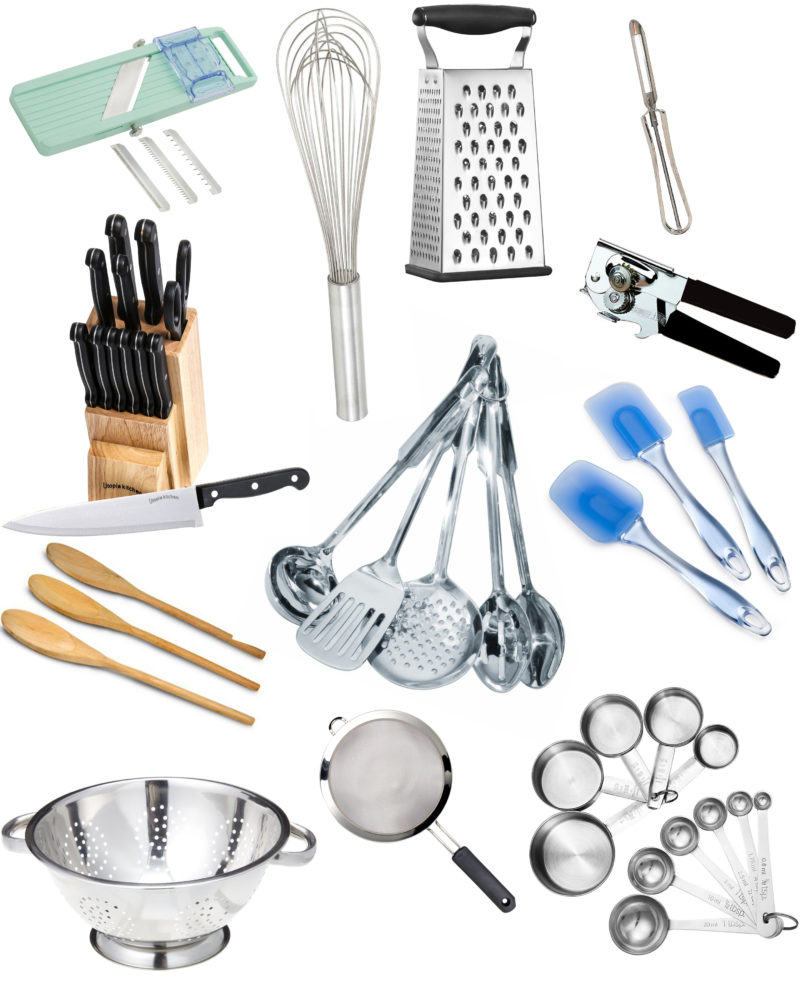 Small tools & Utensils: Wooden Spoons
, Metal Spatula, Ladle, Slotted spoon
, Tongs
, Whisk
, Rubber Spatula
, Basic Knife Set
(all you really need is a chefs knife, a paring knife, and some kitchen scissors to get by), Mandoline Slicer
(you could probably do without one, but they are awesome), Can Opener
, Vegetable Peeler
, Simple Grater
, Measuring Spoons & Cups Set
, Colander
, Fine Mesh Strainer
, Cutting Board Set
 (you'll need more than one)
Cook & Bake ware: Sauce Pan Set
, Dutch Oven
, a Skillet
(2 set, I like cast iron, but stainless is cool too), Rolling Pin
(only if you like to bake but a wine bottle works in a pinch), Baking Sheets
(at least 2), Mixing Bowls
, Cooling Rack
, Baking Dishes
, Round baking pan
(even if you don't bake, they are good for fritatas, gratans and the like), Muffin Pan
Appliances: Toaster, microwave (if that's your thing, I know not everyone needs a microwave, I am one of those people), blender, Coffee machine (again if that's your thing, I don't use one), electric mixer (if you like to bake this makes all the difference), Food processor (though I did without one for years, I love it now)
Obviously eating utensils, plates, bowls and cups are also necessary, but that's not really the focus of this post or series. We are all about setting up a proper kitchen to cook with. Obviously this is a pretty big list of stuff, but it's pretty easy to find just about everything on this list for cheap at garage sales, good wills and even dollar stores. Start with some good pans and some utensils and work your way up, sometimes whipping the cream yourself instead of using the electric mixer can feel good.