Traditionally in the states we all don green, drink green beer, and eat boiled corned beef with cabbage to celebrate St. Patrick's Day. While I love the holiday for all the fun I've had over the years these days I get more excited for the leftovers. I mean a good Rueben, Irish vegetable soup (made with leftover boiled carrots and potatoes) and of course corned beef hash are in fact some of my favorites.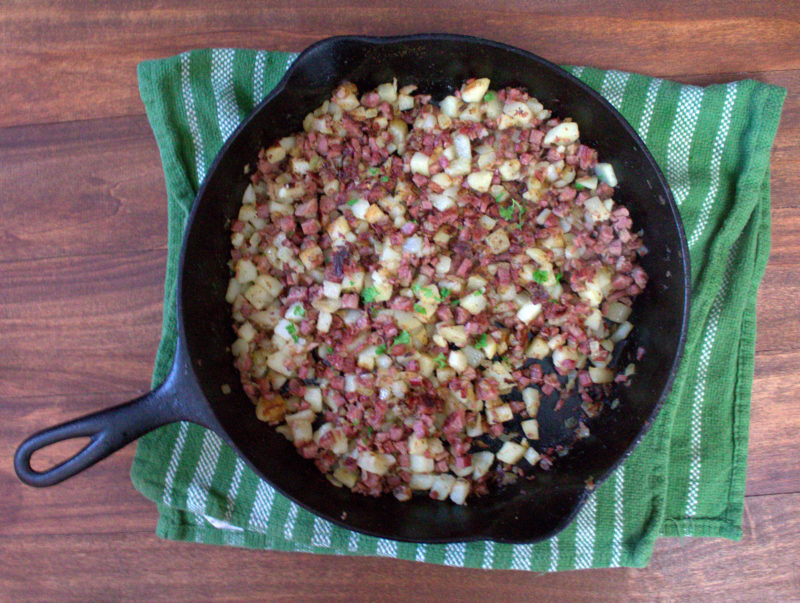 When it comes to a quintessential hash I can be a bit picky. In my view everything needs to be chopped fine, and cooked down to perfection, with no extra additions. Feel free to add green peppers to another type of hash, but not my traditional corned beef version. I also like it to be cooked just enough to get a few crispy pieces into the mix, but that can be tricky when you're cooking it for the first time. Crispy pieces like to show up a little easier upon re-heating, which I totally suggest that you try, because letting this dish sit overnight just lets it get that much more flavorful.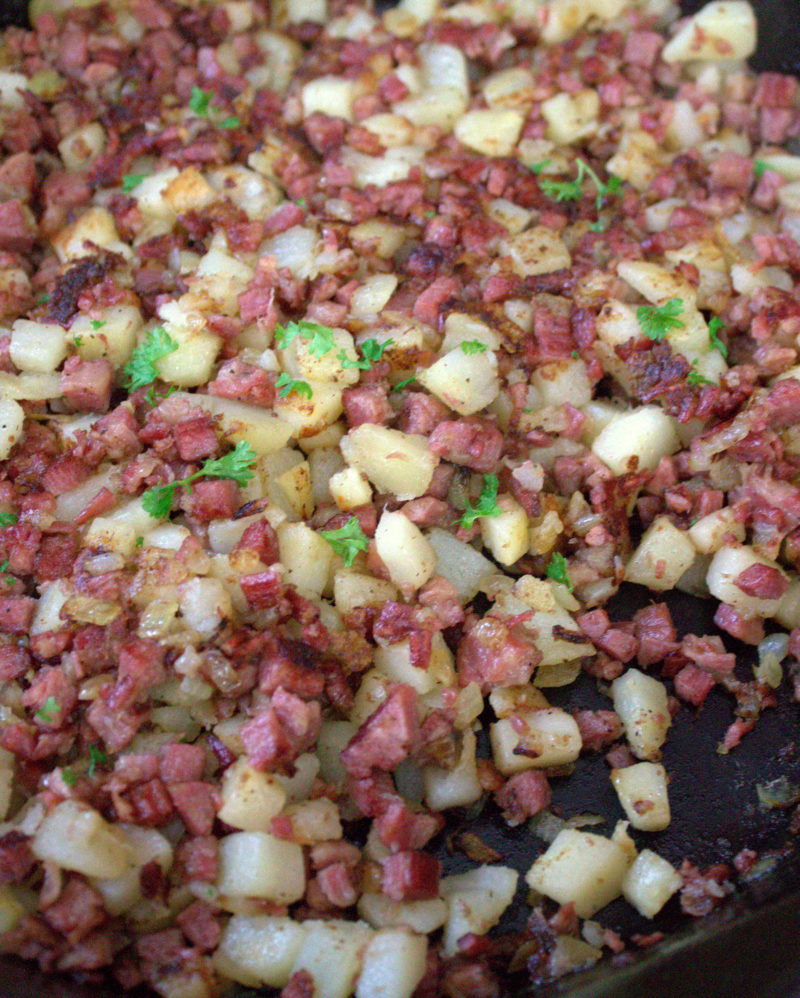 This recipe uses already cooked corned beef, and raw potatoes, however you can also skip the par boiling step and use leftover potatoes from your corned beef and cabbage dinner (we usually serve ours boiled with potatoes and carrots), or frozen shredded potatoes work as well. Personally, I think the texture of the cubed and par boiled potatoes is best.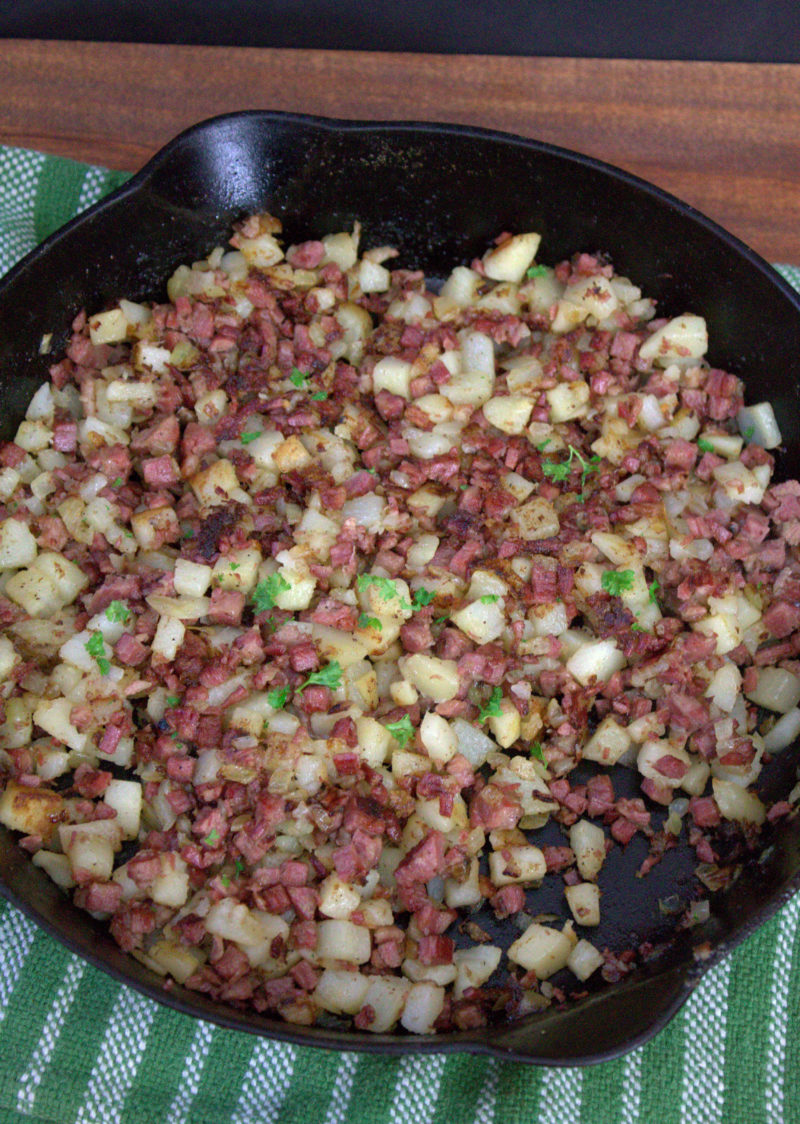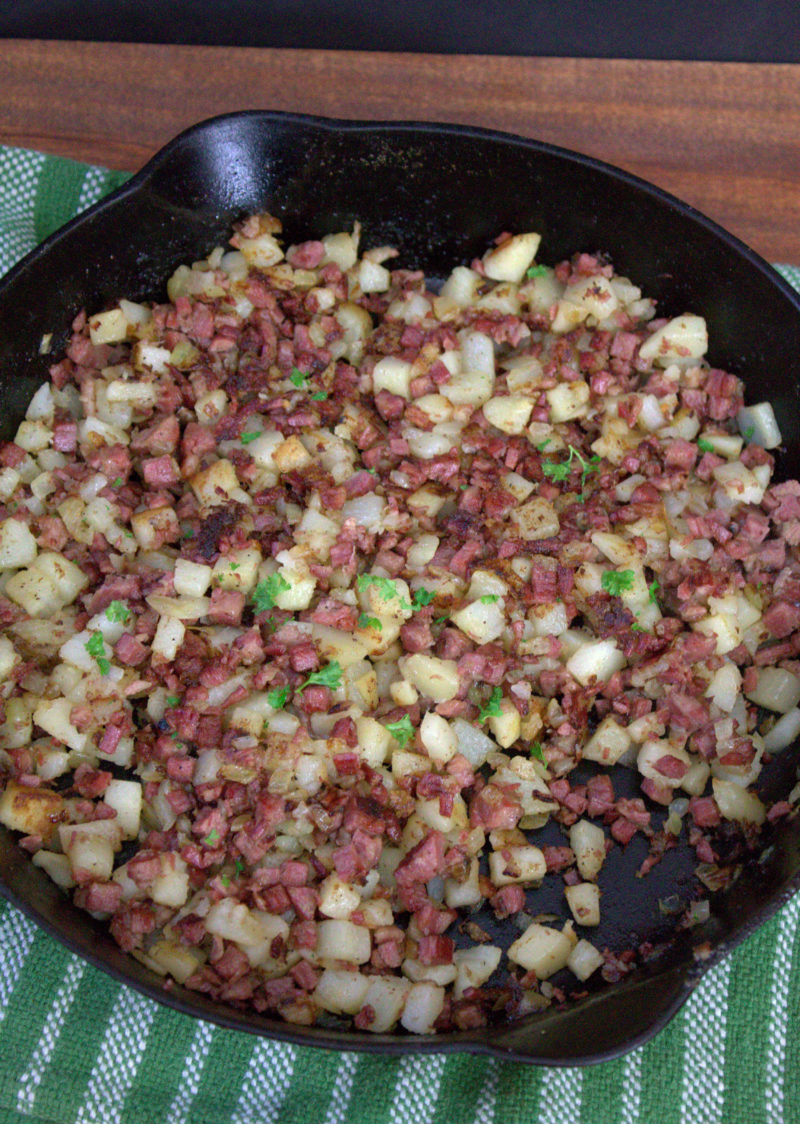 Quintessential Corned Beef Hash
Ingredients
2 cups peeled and diced potatoes
2 Tablespoons unsalted butter
1 small onion, finely chopped
2 cups finely chopped, cooked corned beef
Salt and pepper to taste
Chopped fresh parsley
Instructions
Bring a large pot of water to a boil. Add diced potatoes to the pot and cook for 5 or 6 minutes, until par cooked. Drain and set aside.
In a large skillet heat butter over medium-high heat. Add the onion and cook for 2 to 3 minutes, or until they begin to turn translucent.
Reduce the heat to medium. Add the potato and corned beef to the pan. Cook, stirring and flipping often to avoid burning. Allow the mixture to crisp slightly before flipping and cook for 15 to 20 minutes to the desired doneness.
Adjust seasonings and sprinkle with fresh parsley before serving.