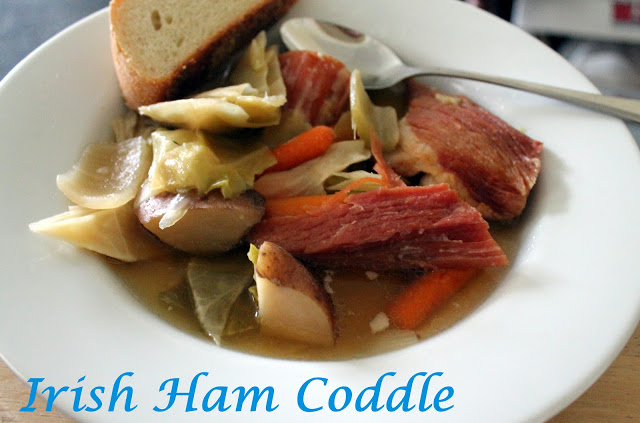 For those of you not familiar with coddle or boiled dinner.
Let me tell you about it.
In Ireland Coddle is a popular dinner, the Catholic culture
made it super popular because you can basically through all your leftover meat
into a pot on Thursday during lent and have a meat free house for Friday.
In my household growing up it was one of my father's
favorite things, and his good old fall back, because I'm telling you any one
can cook this.
Honestly I had no idea it was actually a traditional meal
until I started looking up typical Irish food for our trip last year. I think
it has a lot to do with the fact that in the old day's people didn't have the
best teeth and boiling things up made them soft and easy to bite, plus it was
easy, and the broth could help add flavor to things for those who couldn't
afford meat all the time.
I came across a recipe for Dublin Coddle in the Irish PubCook Book that I bought recently, and decided to give it a shot. This recipe
is very similar to the one in the book.
I always remember it being very bland growing up, but I
think that my dad just prefers simply made food, which I can appreciate. I
decided to add a few more herbs in mine, because well as you all know I am
obsessed with herbs. I also used a leftover ham that has been sitting in the
freezer for a while, but it's been known to be made with sausages, rasher
bacon, stew meat, chicken pieces (dad's favorite), or just about any other cut
of meat you can think of. The same goes for the vegetables; it's a veritable
left over, toss in everything but the Kitchen sink wonder.
You can make it on the stove, just put it on a simmer for
30-45 minutes, or until the vegetables start to soften. This particular time I
opted to use the crock pot. It uses less energy, and I don't have to watch it.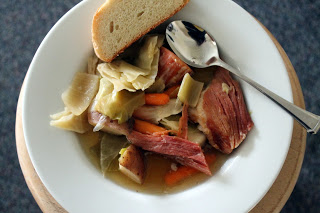 Irish Coddle with Ham
1 lb ham meat, cut into large chunks

4 medium potatoes, chopped

1 cup baby carrots, or 2 large carrots chopped

1/2 medium cabbage, chopped

2 bay leaves

2 tsp pepper

2 stalks celery, chopped

3 cloves of garlic, chopped

1 medium onion, chopped

½ tsp caraway seed

2 tbs chopped parsley

3-4 cups water

Add all ingredients to the crock pot and set to cook on low
for 8 hours or high for 4 hours. Serve warm. (Serves 4)