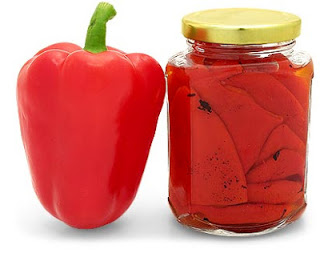 I've talked about it before. Roasting red peppers is
something I do quite often at the end of summer and into fall. I've learned a
few tricks of the trade overtime, and recently read that despite what all the
chef's will tell you about roasting your peppers over an open flame, and
pealing the skin off the only way to get that rich, smooth, and perfect
carmelization is to actually roast them in the oven. I've roasted them in the
oven a lot, but only under broil and for about 20 minutes. This particular
author and chef suggest however that they should be slow roasted for nearer to
40 minutes, and hers is an opinion that I would tend to believe. You are sure
to hear more about her later on don't worry.
So needless to say I tried it, and I agree.
I have never gotten my red peppers so wonderfully sweet and
slippery. I don't think I could possibly roast my red peppers any other way from now on. If you are wondering how I used to do it, I explained it fairly well
here.
Long Oven Roasted Red Peppers
2 large red bell peppers, quartered, and deseeded

Non stick spray

Preheat the oven to 500 degrees. On a greased baking sheet place peppers skin
side up and put int the oven to roast for 40-50 minutes. Once the peppers have
become blacked remove from the oven and set aside for 30 or so minutes until
they have become cool enough to handle. Using your hands remove and discard the
peel. Peppers can be placed in the refrigerator for 1-2 weeks, or jar with oil
for 2-3 weeks.
Oh and because this is what I did with my red peppers once they were deliciously roasted.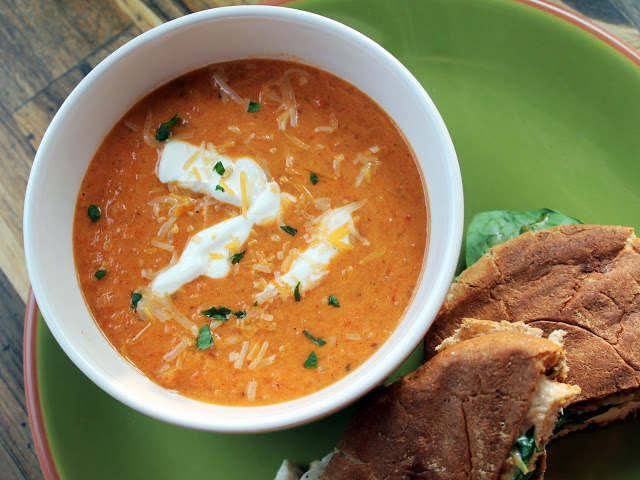 Creamy Roasted Red Pepper Soup
1 tbsp extra virgin olive oil

1 shallot, chopped

1 large potato, peeled, and chopped

2-3 Roasted red peppers (or 1 6 oz jar, drained &
rinsed)

2 cups low sodium chicken or vegetable broth

2 tbs sour cream

1 tbsp chopped cilantro

Shredded cheddar cheese

In a thick bottomed sauce pan sauté shallot, in oil over
medium high heat, for 1-2 minutes. As the shallot begins to become translucent,
add in red pepper, potato, and broth. Allow to simmer for 15-20 minutes, or
until the potato becomes soft. Transfer the soup to a blender, in batches if
needed and puree until smooth. Return to the pan and remove from heat. Stir in
sour cream until well blended. Serve warm topped with cilantro and cheese, as
well as additional sour cream if desired (Serves 2-3)