I have some sort of blues thing going on here. I'm in a funk I can't get out of.
I'm not an emotional eater by any means, drinking and cooking on the other hand; and I don't mean just boos. When I'm upset often time's tea or cocoa are the only things that will sooth me. Oh and cooking, especially baking. There is something about chopping vegetables, and stirring large bowl of batter, or whipping cream that just helps. Fortunately (or unfortunately depending on your point of view) for everyone that surrounds me I rarely eat anything that I make when I'm hurting, so it gets pawned off on everyone else.
I'm having an even harder time coming up with good posts. I have no end to my food photos and recipes but the rest of the post should be filled with words and feeling too, and I'm just having a hard time of it. I feel like with so many posts I am just going through the motions giving only a little blurb about whatever recipe I am posting, and that's not really the feeling I want to have from my blog, but with my mind clogged with so many other things it may be all I have to offer you for a time.
Bear with me for a little while. I'll get my mojo back soon. And in the mean time here's an amazing new recipe that I got originally from Bon Appetite. It sounded perfect for a late summer dinner with all the fresh tomatoes about. Even Chuck, who aside from actual sauce could do without tomatoes, actually liked it. This one is going to become a favorite I can tell, it tastes wonderful and I only had to alter the recipe a little to make it clean.
Oh I Just Don't Know & Herb Roasted Tomatoes over Chicken
Ingredients
3-4 tablespoons Extra Virgin Olive Oil
1 lb cherry tomatoes
2 tablespoons herbs de province
1 teaspoon Salt plus additional season
1 teaspoon Pepper plus additional season
1 tablespoons Worcestershire sauce
1 lb boneless skinless chicken breast
1 shallot, minced
2 tablespoons red wine vinegar
3 tablespoons flat leaf parsley, coarsely chopped
1 tablespoons of tarragon
Instructions
Preheat the oven to 450 degrees.
In a large bowl combine 1 tbsp oil, tomatoes, herbs de province, salt & pepper, tossing to combine.
In a large oven proof skillet heat 1 tbsp of oil over medium high heat. Add tomatoes and transfer the skillet to the oven to roast, for about 15 minutes or until the tomatoes burst. Transfer the contents of the pan to a bowl and drizzle with Worcestershire sauce.
Season the chicken breast with salt and pepper. In the same pan sear the chicken breast over medium high heat for 5-6 minutes a side, you may need to add a little more oil to the pan so it doesn't stick.
Once seared, transfer the pan back into the oven to roast for an additional 10-12 minutes, to cook through.
Transfer chicken to a cutting board to rest for 5-6 minutes, meanwhile, in the same skillet add an additional tbsp of oil to the pan and heat it over medium high heat, add the shallot and sauté for 1-2 minutes.
Deglaze the pan with the vinegar, scrapping up some of the brown bits from the bottom. Add the tomatoes and their juices back into the pan and cook again for an additional 2-3 minutes, until the sauce begins to thicken.
Adjust seasoning and serve warmed topped with a sprinkle of tarragon and parsley.
I paired this recipe with some brown rice, cooked in chicken broth, carrots and a few spices, Don't ask for the recipe I made it up as I went and have no idea what I actually did, but the above recipe defiantly feels like a rice side type of recipe. What do you think? What would you pair it with?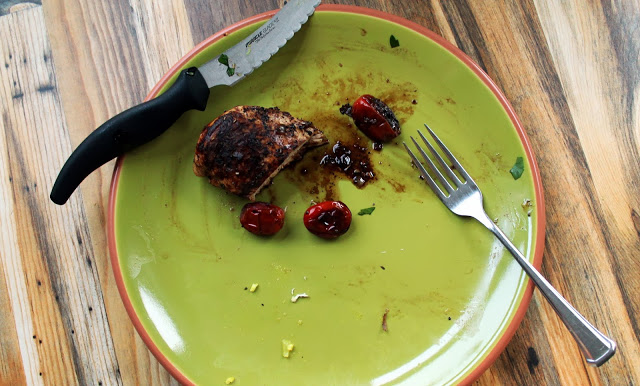 Similar Recipes: