Have you ever been to Five Below? That place is a maze of
awesomeness, it's just like the dollar store but the stuff lasts two weeks
instead of just one, and costs $5 or less. I happened to be poking around there
recently and came across this Irish Cook Book.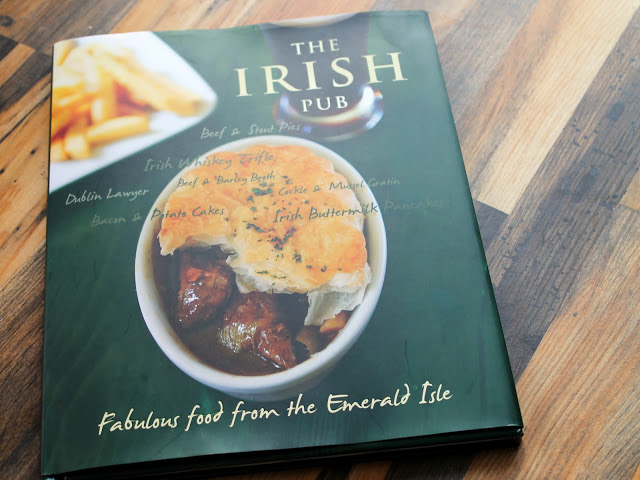 Now anyone who knows me knows I LOVE Ireland, especially the food. I grew up with stews, green peas, scones and tea; don't even get me started on my dad's favorite, boiled dinner. I flipped through this book thinking, that it would probably be wicked boring, and to my great surprise it was filled with recipes that I really wanted to try, so I sprung for the 4 bucks and bought it. I hope you are ready for about a trillion new Irish recipes.
Earlier this week I had a really awesome spring cold. The kind that feel like a bomb went off in your sinus cavity, yeah it was pretty fun. So on Monday I decided to make myself some chicken soup and use the herb dumpling recipe from this book.
The original recipe was for a roasted pork shoulder with the dumplings boiled separately, but I just tossed them in to the pot with my stew and they came out perfectly. Also the original instructions suggested using parsley and mint or anything other preferred herb. I went with chives because I had them, but my guess is that the use of mint would be great in a lamb stew. Just a thought.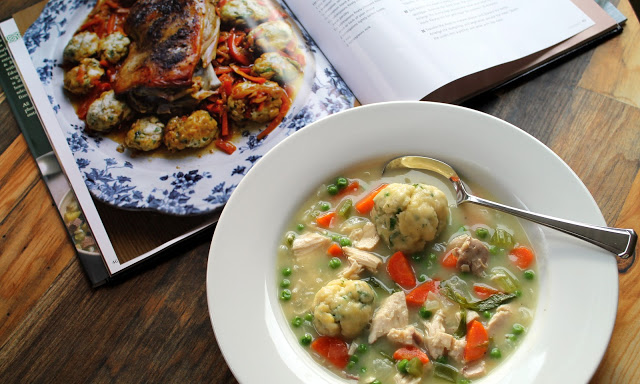 Irish Chicken & Herb Dumplings
Ingredients
1 tbs oil
2 tbs unsalted butter
4 carrots, chopped
1 onion, chopped
3 large celery ribs, chopped
1 tsp dried thyme
3 tbs all purpose flour
4 cups chicken broth
1 bay leaf
1 tsp pepper +more to taste
1 lb cooked chicken, shredded or chopped
1 cup frozen peas
Salt to taste
For dumplings:
1 cup flour
1 tsp baking powder
½ tsp salt
1 tbs flat leaf parsley, finely chopped
1 tbs chives, finely chopped
1 tsp pepper
2 tbs softened butter
1 egg
2 tbs milk
Instructions
In a thick bottomed sauce pan Heat oil, and melt butter.
Add carrots, onion, celery and thyme and cook for 3-4 minutes, or until the onion begins to soften.
Stir in flour until well blended before adding broth.
Bring to a boil, and then reduce to a simmer.
Add bay leaf, pepper, and chicken. Continue to cook, stirring occasionally for 15 minutes.
Meanwhile sift together flour, baking powder, salt, pepper, and herbs for dumplings. With a fork blend in butter, until it begins to forms loose crumbs. Carefully stir in egg and milk until a dough forms. With lightly floured hands form 2 inch diameter dumplings.
After 15 minutes stir frozen peas into the soup and continue to cook for another 5 minutes.
Add dumplings and allow to cook for 2-3 minutes, or until they begin to float.
Remove bay leaves, adjust seasonings, and serve warm.
 Even in my numbed taste buds enjoyed this one, and Chuck especially did. The stew was wonderfully creamy, and flavorful, the vegetables perfectly tender, and the dumplings light and refreshing. It was the perfect antidote for my cold symptoms. Ok maybe I had a little help from cough drops, honey, tea, and Alka-Seltzer, I'm still saying it was the soup though.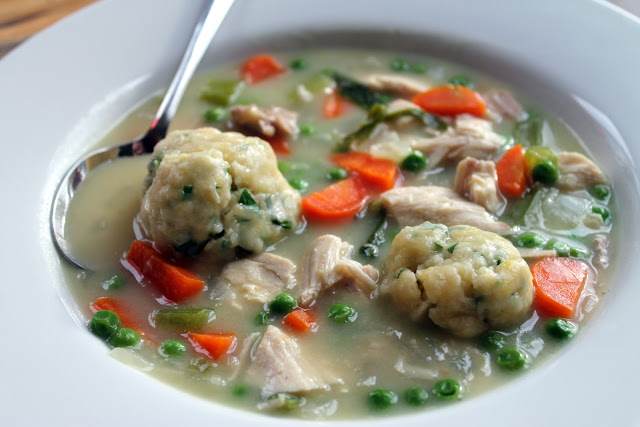 This might also be a helper (comfort meal?) in light of this weeks most recent events in Boston and in Texas. My prayers are filled with hope and sorrow.