Look!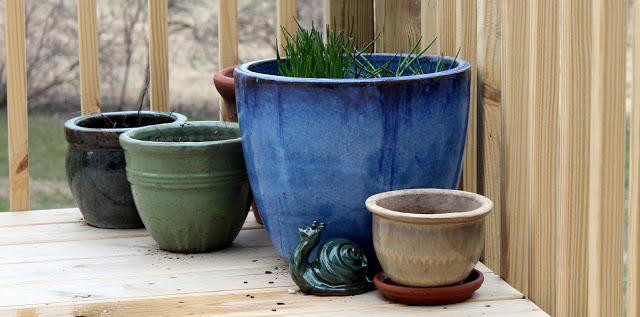 My chives are starting to poke their little heads out of the
dirt after a long winter! Is that not the most exciting thing ever?
I am currently working on a plan for a garden at the new
place. The back yard is small, we like to entertain and play outside so it's a
little tricky but I think I have a plan that will work that however is a post
for another day. Today my focus is on herbs in food.
Herbs are perhaps my absolute most Favorite ingredient that
I simply could not do without. I think we all know the power that herbs have
over the taste of any dish, but I particularly like them on their own. Though
Chuck may not agree with me, I think anything that has massive chunks of
parsley, or basil is pretty much the best thing ever, I even like basil in my
lemonade, and we aren't talking lemon basil either.
I keep telling myself that someday I will have a beautiful garden
full of fresh perennial herbs, I will someday learn to grow annuals from seeds
and they will actually live past a couple weeks. I will learn how to properly
dry, and store these herbs to enjoy them year round and know that I grew them.
When people try my food they will sing praises from the roof tops and exclaim
wonders of the pure and abundant flavor that comes from my cooking and my herbs.
I totally just started day dreaming there a little bit, did
you catch that?
I digress, the spring time weather has quite obviously got
me daydreaming of fresh herbs, so I decided to make this easy fresh pasta salad
for lunch the other day. Its great both warm and cold, though if left in the
fridge overnight I have found that it allows more herbaceous flavor to sink in.
Sorry for the fuzzy picture idk whats up with blogger
Herb & Ricotta
Pasta
1 cup pasta, cooked aldente

2 tbs extra virgin olive oil

1 small onion, chopped

4-5 basil leaves, chopped

1 bunch parsley, chopped

1 tbs chopped fresh chives

2-3 cloves of garlic, minced

¼ cup low fat milk

¼ – ½ cup low fat ricotta cheese

Salt & pepper to taste

In a sauce pan heat oil over medium high heat and sauté
onions for 2-3 minutes or until they begin to soften. Add all other herbs and
cook for an addition 2-3 minutes, they will start to become fragrant. Reduce
heat to low, and stir in milk. Add pasta and toss. Add ricotta cheese in
increments, thoroughly mixing until reaching desired cheesiness. Add salt &
pepper to taste, and serve warm, or refrigerate over night and serve cold.