Tuesday's run had an almost overwhelming affect on me. For starters I hadn't run in almost 6 months, and definitely not since we moved. We live just off a very busy road that I'm not entirely comfortable running down, but on google I found an old snowmobile trail that I could get to a side street on. So I took it, not entirely thinking about how wet and gross it would be, since it had after all rained all day, I was able to keep a good pace through the much and more that destroyed my shiny, still newish running shoes, and was out on the open road.
Then I wanted to DIE. I was coughing, and sneezing, and my nose was dripping like crazy, and of course I didn't bring tissues. I looked at my phone and realized that I had barely ran a mile. My goal was 2.62 in honor of Boston. And I was going to run it even if it did in fact kill me. So I switched the ipod to some skillet (your welcome) and pushed through it.
I made one stop at my turn around point to get my bearings and figure out how to get home then started off again, this time uphill (that was great). I did have to walk when I came back across the swamp, which I now noticed had a posted sign, whoops! I was mostly afraid for my sprain prone ankles and tired legs, but after getting out I jogged for the last .2 miles home, only of course to realize that I was short by .3 miles so I did a few laps on our little street in front of the house, I bet our neighbors think I'm crazy.
I'm honestly shocked by how well it all went. In the end I was fairly soaked, mud caked, and covered in snot (TMI? Sorry, it's true my face was leaking like a faucet), but I could finally breath. After 3 days of congestion the run knocked it all out of me (Hell yeah), and this morning I only felt a slight twinge of discomfort going down the stairs, so my legs didnt even mind the shock. I know that a half hour for 2.62 miles is friggin awful, but hell I feel good about it, I actually
feel great about it.
I'm proud of my run, that I pushed myself when I really didn't want to. I did it for something other than myself, for something bigger than me. For Boston.
Post run I was not in the mood for cooking so I pulled out one my super lazy day, back pocket meals.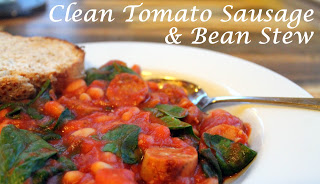 This one is one of my favorites because not only is it super quick and easy, but it's clean and there is always leftovers, because lazy days sometimes last for more than one day. I also really like it because unless there is a vegetarian in the house nearly everyone likes it, so you can't go wrong. This meal can be made in one pan, it can easily be multiplied for more people, or halved for fewer; and the flavor profile can easily be changed by simply changing the type of sausage. This is why I have voted it one of my favorite back pocket meals.

Tomato, Sausage & Bean Stew
Author: JC
Serves: 4 servings
Ingredients
1 lb precooked chicken sausage, sliced
1 tablespoon extra virgin olive oil
1 small onion, chopped
2 cloves of garlic, chopped
1 ( 15 ounce) cans unsalted cannellini beans, drained and rinsed
1 can diced tomatoes, with juices
1 cup water
1 8oz can tomato paste
1 large bunch fresh spinach (5-6 oz)
Salt & pepper to taste
Instructions
In a large skillet heat 1 tbs of oil and cook sausages on medium high heat, until they begin to brown, 2- 3 minutes.
Add the onion and garlic and saute for 1-2 minutes, or until the onion begins to soften.
Stir in the beans, tomatoes water and tomato paste until well blended. Cook, stirring occasionally for 7 to 8 minutes, or until the sauce thickens.
Gently fold in spinach and allow it to wilt.
Adjust seasoning and serve warm.
Note: I have been known to on very lazy days to skip the onion and garlic altogether and just toss in a can of low sodium tomatoes with onion and garlic added already. It really just depends on my mood.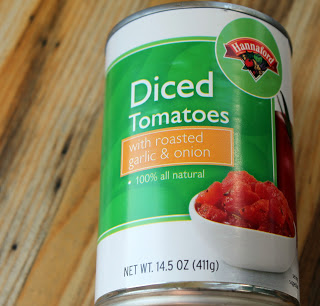 For another version of this that's similarly easy, but with 1 or 2 extra steps to change it up I will skip the beans and put it over pasta, much like this recipe from Clean Eating Magazine.