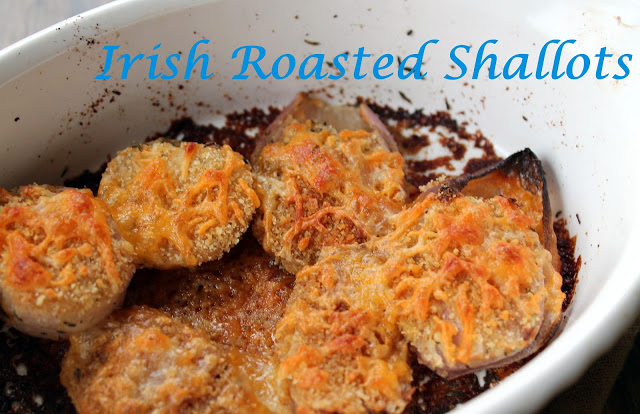 To be honest this recipe and the herb dumpling recipe are
the main reason that I bought this book, and I am so happy that I did.
These roasted shallots may very well be the best thing ever!
It's almost like eating onion rings, but better in my
opinion because there's cheese! And who doesn't love cheese? Besides they are
roasted, not fried, and not completely breaded so they are a little bit better
for you, and if you use whole wheat bread crumbs and low fat cheese its all the
better.
Can I take an aside to tell you about the dairy in Ireland.
It's freakin' fabulous! I swear I had some of the best cheese, and ice cream
imaginable there. Oh how I want to go back now!
Now back to this great little appetizer. I knew this would
be a good one for Chuck, but I was still a little surprised when he asked if I
could make them again tomorrow. They are really great, too bad shallots aren't
cheap, or I totally would have, maybe I can get a whole bunch at the end of the
season.
Irish Roasted Shallots
8 shallots or small onions
2 tsp apple cider vinegar

3-4 tablespoons olive oil

½ tbs thyme

¼ tsp black pepper

Salt to taste

2/3 cups breadcrumbs

1 cup shredded Irish cheddar cheese

1 tablespoon chopped fresh parsley for garnish


Preheat the oven to 425. Peel the shallots, and slice in
half lengthwise. In a small bowl whisk together vinegar, oil thyme, and pepper,
add shallots and toss. Transfer to a roasting pan in one single layer, add
salt, and bread crumbs. Roast in preheated oven for 25-30 minutes or until
shallots begin to blacken. Scatter with shredded cheddar cheese, and roast for
an additional 3-5 minutes, or until the cheese is melted and bubbling. Remove
from heat, garnish with parsley and serve warm. (Serves 4-6)
Oh and check out this complete meal. The rest of the recipes are comeing soon!