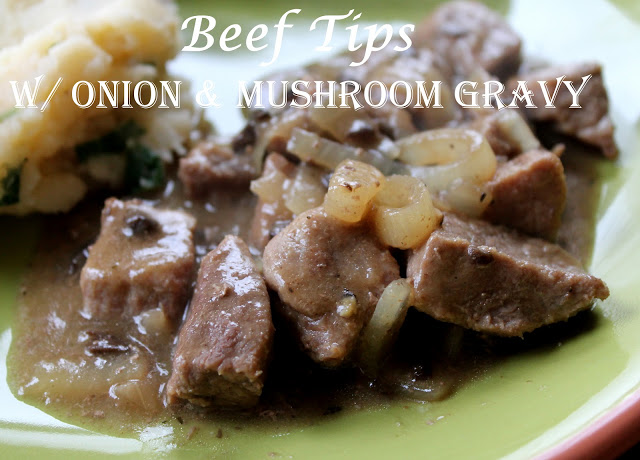 This week at the grocery store there were so many vegetables
that were on sale, and actually looked good! I was so excited I way over spent
on our budget, but for veggies I'm ok with it.
Having so much on hand made taking a classic and vegetizing
it a snap (your starting to like my made up words aren't you?). Along with my
classic beef tip recipe I simply added onion, and mushroom, which also gave it
so much more flavor, and texture than just plain gravy.
Beef tips with
Mushroom & Onion Gravy
1 medium onion, halved & sliced
In a large skillet heat oil over medium high heat; add stew
meat and brown lightly. Add in onions and mushrooms and saut until the onions
begin to carmelize, roughly 4-5 minutes. Stir in thyme, pepper and flour, until
well blended. Deglaze with beef broth. Bring to a boil and reduce to a simmer
until the sauce has thickened, and serve. (Serves 4)
If you have a family that enjoys mushrooms slicing is
probably the best way to prepare them, however Chuck still needs some
convincing so I made sure to chop them up small, and I'm pretty sure he didn't
even notice that they were in there. Also those that prefer thicker gravy can
just add another tablespoon of flour. That is something that is a constant
debate; should gravy be more like jello or thick soup broth? What do you think?
For the mashed potatoes I actually used another recipe from my irish cook bookd for champ, with the slight alteration of addin in a couple cloves of garlic while the potatoes boiled, and then mashing them up right along with the potatoes. You can find a similar recipe here.