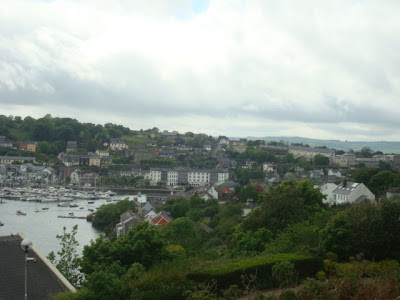 The little town of Kinsale
When my grandmother went Kinsale was one of her favorite places, I however was a little less than impressed. I think that Dingle is part to blame for that because it was so quintessentially the old fashioned fishing town, and we went there first so there's probably some biased. I think it also didn't help that we went to lunch in the first place we saw because we were starving. We should have made a note that it was a greasy bar that would obviously serve greasy food. The town it seemed had a lot going on, gift shops, boat rides, and all sorts of other activities, but nothing that really sparked our interest. We decided to see the **Fort as it was one of the major historic sights there, but I was loving ancient Ireland, so an 18th century British fort didn't do a whole lot for me. So we decided to head to Cashel, and get an early start for the next day.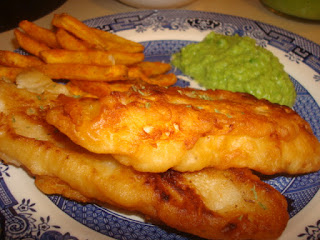 For this leg of the trip as it is still a fishing town I figured I would talk about fish and chips. Now fish and chips are usually prepared as they would be here in the US, but they are typically served with salad, or coleslaw and mushy peas. For this recipe I chose beer battered fish, pea and leak puree, and for lack of a deep fryer fries from a bag. Also I want to note that they do not typically provide ketchup, some places had small packets, but most places did not, so I take it that ketchup is not a typical Irish staple as it is in the US.