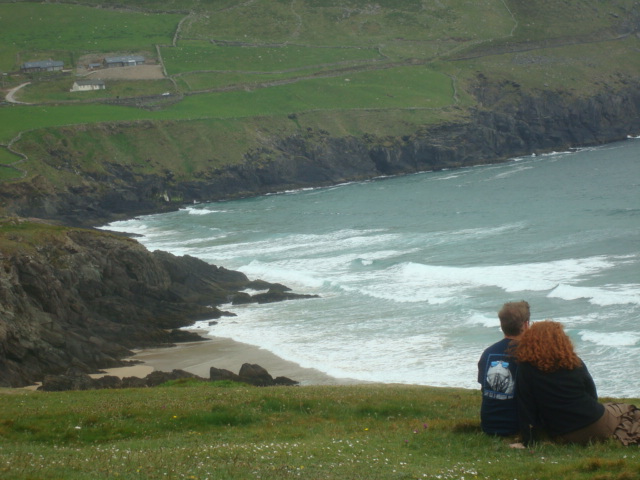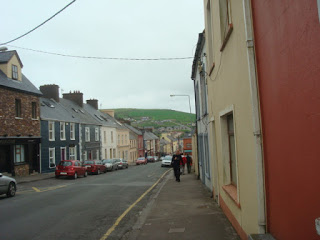 Early on day 5 we woke up and made our way to Dingle. It was the most adorable little fishing town, filled with brightly painted buildings, beautiful views, and numerous pubs. First order of business was lunch; a delicious seafood chowder, with huge chunks of fish, whole clams, and mussels. Then I had crab and prawn stuffed dumplings and Chuck had smoked salmon. We also tried a Local Cider Beer which we had seen in several places; it was very similar to woodchuck cider. The whole meal was probably the most expensive one that we had, but it was absolutely delicious, so much so that before we started our driving tour we decided that a short walk around town was needed to let our stomachs settle.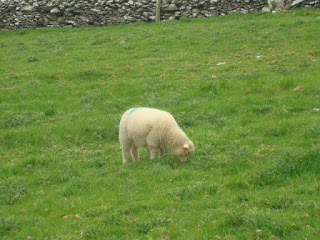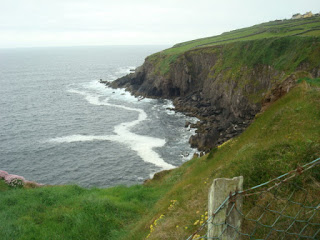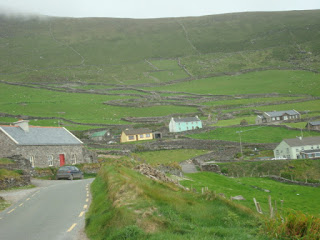 We opted to do this tour instead of the Ring of Kerry as it was shorter, and we were told less busy. The drive into dingle was breathtaking itself so I was very excited for the tour. I was very glad to have my Rick Steves book with me because the self-guided tour was really helpful. Being a nerd I really like to read about the sights and a lot of the historical locations such as the Iron Age ring forts or the early Christian beehive huts didn't have much description if any. Luckily we already viewed a lot of the artifacts at the museum in Dublin. The book also outlined many of the scenic stops which we may have otherwise missed. They snuck up on you, and with such a small twisty road turning around or backing up seemed rather dangerous.
Taking in all the sights was actually exhausting; It was literally overwhelming how much there was to see, and how beautiful it all was. Little homes and farms nestled into the rocky hills that sloped down to the massive ocean. Random coves with sandy beaches protected by massive rock outcrops, and closeby islands. Though the day was overcast I honestly think that it added to the beauty of it all, the bright green hills, and the blue ocean with grey skies and white clouds. My pictures cannot do it justice. The drive was only a few short hours, but it was probably my favorite part of the whole trip. I think we could have easily spent several days exploring this area.
That night ended with some more walking around town and a few pints at Murphy's Pub, where traditional Irish music was played. Here we were able to chat up the bartenders, a brother and sister team that had a good time busting on each other and cracking jokes with patrons. Here some of the cultural differences were very evident. One group ordered shots, and they came in large whiskey glasses instead of shot glasses, as that is not a typical Irish thing. Another patron ordered a gin & tonic with a twist, and the bartender had no idea what that was, so we kind of helped her out. Also they actually apologized for not being able to give me a Smithwick's glass with my beer, because it seems tradition to supply the proper glass for the proper drink there, which is so not the case back home.
For this portion of the trip I wanted to make White Wine sauce. This sauce was offered all over the country, as well as at our feast at Bunratty where it was served over chicken. For my recipe I put it over fish, as this is a fishing town, and that's mostly what was offered. I also served it with roasted veggies, and mashed potatoes, as we found were typical of just about every single meal we ordered.