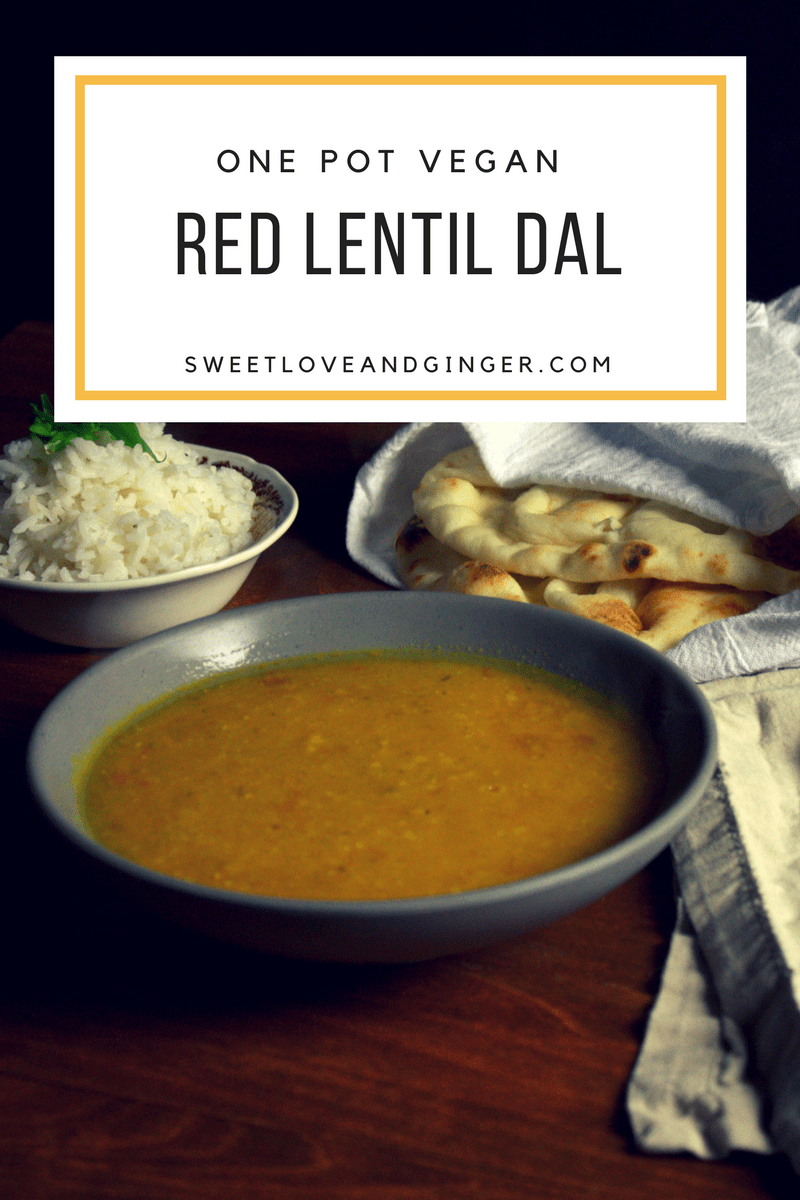 Dal is a traditionally Indian dish that has a tendency to look a little different depending on whose home you're in. It's kind of like tomato sauce in Italy. Every family has "their" recipe and it's the best one you'll ever have, according to them, anyway.
These are the kinds of recipes that I love. They are rustic and homey and so, so comforting. I may not have any Mideast or Asian genes in me (but really who knows these things?), but I can still appreciate all the feels that this dish brings. It was a welcome comfort after the wild weekend and stressful week that happened last week.
While I've seen this dish simplified, as well as overcomplicated in numerous ways, for this particular recipe I gave it my own twist. I took my favorite parts from the millions of recipes that I found and made it a little more accessible by using ingredients that I always have on hand. I'm not sure how actually authentic it is, but it's mine. Chuck and I both enjoy it and find our own comforts in it, and in the end, that's all that you can ask from a recipe.
I encourage you to take this recipe with a grain of salt and make it your own as well. It's not meant to be rigid and exact, but well used and well loved.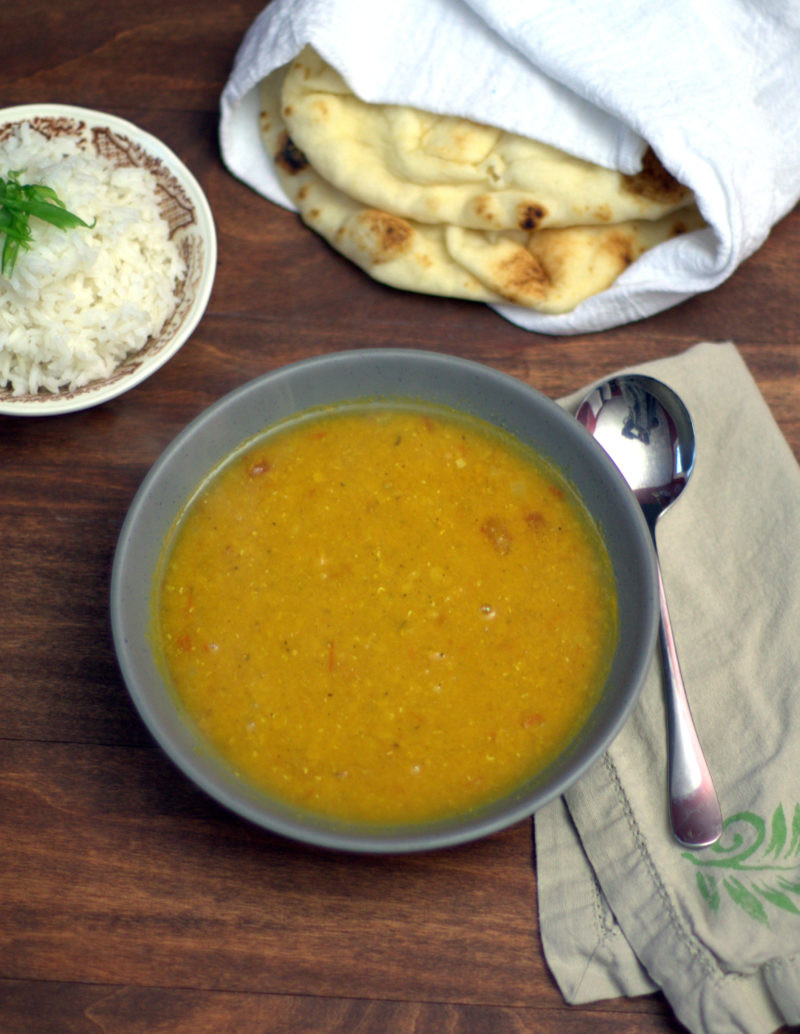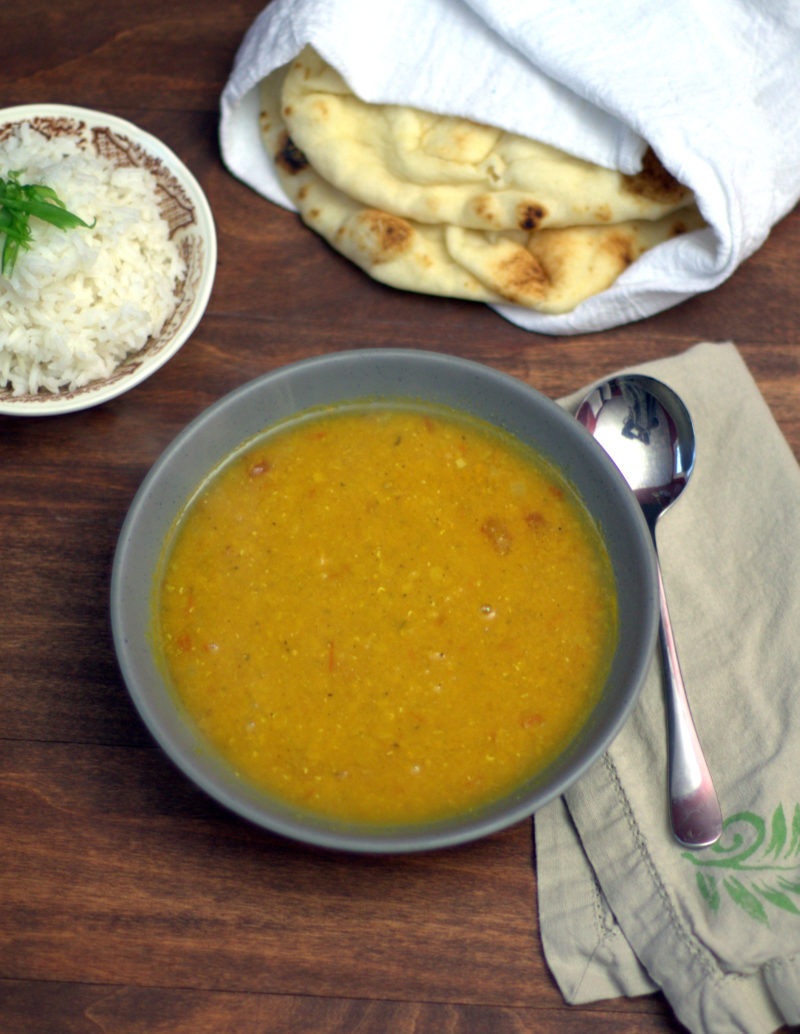 If you're not familiar with, and maybe even a little scared of trying exotic food, I can tell you that this is probably the best recipe to start with. It is simple, the spices are mild, and you can alter them as you see fit. I've even seen small children with picky pallets gobble this right up. It is bright yellow after all, who doesn't love something so bright and cheerful?
Try it for yourself and see.

One Pot Vegan Red Lentil Dal
Ingredients
1 tablespoon coconut oil
1 small green chili, deseeded & diced (optional)
1 shallot, diced
3 cloves of garlic, minced
1 tablespoon fresh grated ginger
2 teaspoons turmeric powder
1 teaspoon curry powder
½ teaspoon salt
¼ teaspoon pepper
½ cup diced tomatoes (about 1 large)
4 cups water (or broth, or coconut milk)
1 ½ cup red lentils, soaked, drained & rinsed
Instructions
Melt the coconut oil in a large thick-bottomed saucepan over medium high heat. Add chili (optional), shallot, garlic, ginger, turmeric, curry, salt and pepper and sauté for 2 to 3 minutes, or until the onion and garlic have softened.
Add tomatoes and sauté for another 3 to 4 minutes, or until the tomatoes have cooked down and liquid has evaporated.
Add the water and lentils to the pan and stir well to combine. Bring the mixture up to a boil, and then reduce to a simmer and cook for 15 to 20 minutes, or until the lentils are cooked, and the liquid height has reduced to the height of the lentils. Remove from heat.
Using a potato masher mash the lentils to desired consistency, and immersion blender is also useful for this). If there is too much liquid return the mashed/pureed mixture to the stove and simmer until desired consistency is reached.
Adjust seasonings and serve immediately.