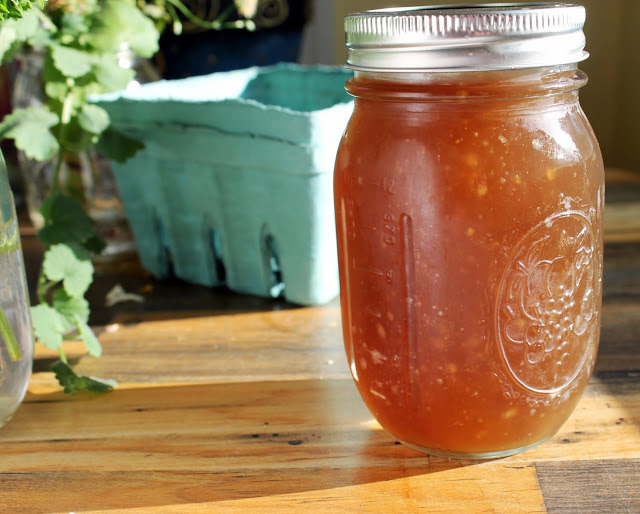 Homemade chicken broth is the best kind of broth, that's for
sure. It is so versatile that I use it nearly every day, but with a full time
job, and a social life finding time to spend hours simmering a pot of broth on
the stove is not always possible.
To be honest I feel silly for not having thought of this
before. There have been numerous time when my heart broke to have to throw out
an entire chicken carcass; it's just a complete waste. But now I have the
perfect solution; the crock pot.
I usually roast my chicken in a crock pot anyway, for the
same reasons I don't always make broth (my busy life), so why not make the
broth in a crock pot?
On this particular occasion I had roasted an entire chicken
for the sole reason to supply Chuck with lunch meat. When I see whole chicken
for sale for less than a dollar, you can bet that always buy one sometimes 2 or
3. You cannot beat that price for a couple dinners and/or a week's worth of
lunches.
Roasting a chicken in a crock pot is pretty easy, I just rub
it and stuff it with whatever spices are on my mind at the time with (usually 2
tsp salt, 2 tsp pepper, 2 tsp garlic powder, 1 tsp curry, and stuffed ½ an
onion and a couple cloves of garlic), line the pot with tinfoil, as shown
below, and put it on low for 8 hours. Once it's done its edible, but I like the
crispy skin and carmelization that you get from roasting, so I use the tin foil
to transfer the chicken over to a roasting pan and pop it in the oven at 425
for 20-30 minutes, until the skin is golden and crispy.
Now since I was just planning on using it for lunches I used
the tin foil to transfer it to a cutting board where I could break it down more
easily. Everything that isn't going into sandwiches or salads goes back into
the crockpot, along with some other things of course; the recipe is below for
all of that.
Finding time to make old recipes, and homemade food work in
this busy modern life is truly a wonderful blessing that makes my heart happy.
Crock Pot Chicken Broth
1 leftover chicken Carcass (or bones), meat removed

1 onion chopped (leave the peel on)

1 rib of celery

1 carrot, roughly chopped

1 sprig fresh parsley

1 sprig of fresh thyme

1 tsp salt

1 tsp pepper

2 bay leaves

Place all ingredients in the crock pot and cover with water
(leaving at least ½" at the top). Place the crock pot on low for 8-10 hours;
Once cooked pass the stock through a fine sieve to remove the leftover herbs,
bones and pieces. At this point you may simmer on the stovetop for 30 minutes
to an hour to further reduce, or use as is. It can remain refrigerated for
roughly 5 days, or frozen for later use.
Random Side note: DO NOT leave the butter Dish next to the
crock pot while it is doing its thing. I have done this at least 3 times
recently, and it never ends well.