Right now I am basking in the wonder that is the great
Adirondacks in upstate NY, completely void of technology. This post I have had
ready and waiting in the wings for a while, and so it is posting on auto pilot
while I am away enjoying the awesomely long 4th of July weekend. I
hope you like it!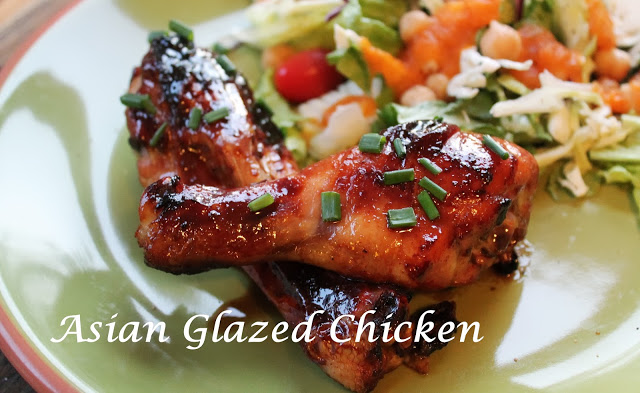 These quick and easy Asian Glazed Chicken Legs are an
awesome new twist for tossing chicken on the grill, and this zingy Asian style
dressing over a salad is the perfect pairing for a quick and simple summer
meal.
Asian Glazed Chicken Legs
1/3 cup low sodium soy sauce
1 tbsp fresh grated ginger root
In a large bowl stir together honey, soy sauce, ginger, and
garlic. Place chicken in the bowl and refrigerate for at least an hour (can be
left over night). Once marinated place chicken on a preheated grill over medium
high heat for 20-30 minutes, rotating every 5-10 minutes, until well done.
While the chicken is cooking pour the remaining marinade into a sauce pan and
simmer over low heat for about 10 minutes until it thickens. Use this liquid to
baste the chicken once it's done. Serve warm.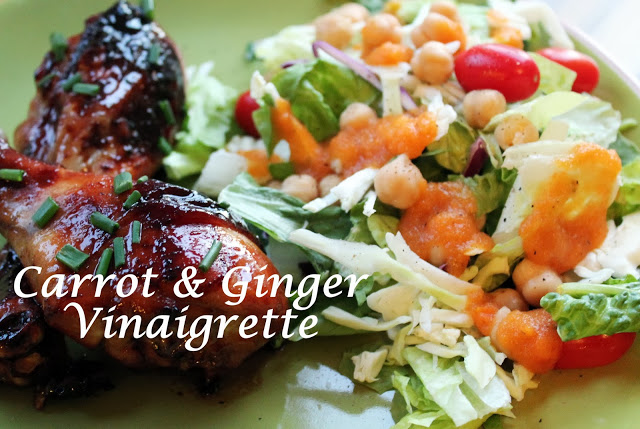 The dressing may look complicated because you have to cook
down the carrot, but leftover grilled, or roasted carrots work as well, and you
can always make the dressing a few days ahead, and use it as a dip, or on
additional salads throughout the week.
Carrot Ginger Dressing
2 tsp low sodium soy sauce
Place all ingredients in the blender and blend until smooth.
Serve chilled.