So I'm pretty much a genius, just saying.
I found this recipe in
Clean Eating Magazine
recently and
was very interested in it. I mean who doesn't love twice backed potatoes, and
cheese, and bacon? I added & changed a few things, but it turned out
wonderfully!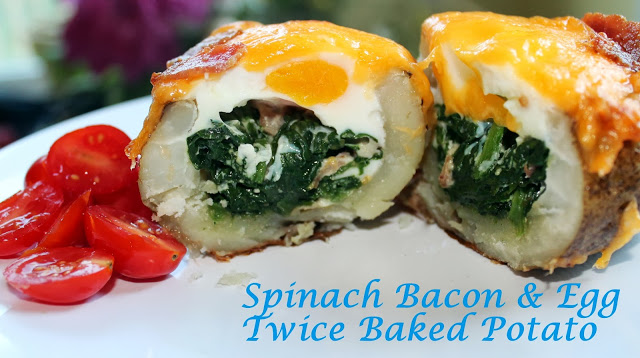 Loaded Spinach & Egg Baked Potatoes
1 large Yukon gold potato

1 tsp oil

½ cup spinach

1 clove of garlic, minced

1 tbsp chopped onion

2 strips of bacon, cooked and crumbled

1 egg

1-2 tbsp shredded cheddar cheese

½ tbsp chives, chopped
Preheat the oven to 350 degrees. With a fork stick a few
holes into the potato at various angles. Place in the microwave and using 45
second intervals cook until it begins to soften, 1-2 minutes. Meanwhile in a
small skillet sauté spinach, garlic, onion, and half of the bacon in oil, until
the spinach becomes wilted, and remove from heat. Once the potatoes are cooked,
cut an oval out of the top and use a spoon to scoop out the insides, leaving
about ¼ to ½ inch around the edge, and discard. Place the spinach mixture
inside the potato and carefully crack an egg into the potato, and top with cheese
and bacon. Place the potato into the oven and back for 15-20 minutes, or until
desired doneness of egg. Once cooked top with chives and serve with sour cream,
or salsa.
Now once I made this delectable little concoction I was at a
huge loss as to what to do with the leftover cooked potato insides. I thought
of mashed potatoes, potato pancakes, and soup, you know all the usual things.
That's when it hit me.
It was like a ton of bricks.
Loaded Potato Grilled
Cheese!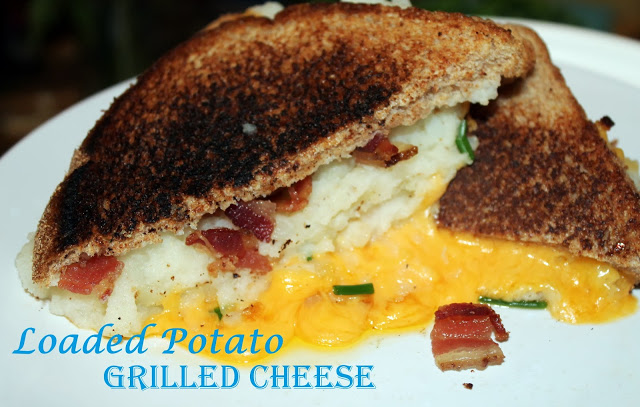 I saw a recipe several weeks ago from one of my new favorite
blogs B.S. in the kitchen for
Perrogie Grilled Cheese
, and well let's be
honest if Bob & Carlene can do it than there is no reason I can't do it too. And I did,
for lunch the next day, in between attempting to organize at least one more
room in this house.
Loaded Potato Grilled Cheese
2 slices of bread

1 small pat of butter

¼ cup traditional mashed potatoes

¼ cup cheddar cheese

1 slice of bacon cooked & Crumbled

1 tbsp chopped chives

Spread the mashed potato on one slice of bread. Top with
chives, bacon, and cheese, and the additional piece of bread. Butter both
pieces of bread and place in a preheated skillet over medium heat. Cook until
the outside is toasted and the cheese is melted. Serve warm.
And there you have 1 potato, 1 person and two meals for the single person.