This is a recipe for a roasted beet salad that is full of flavor and tons of greens!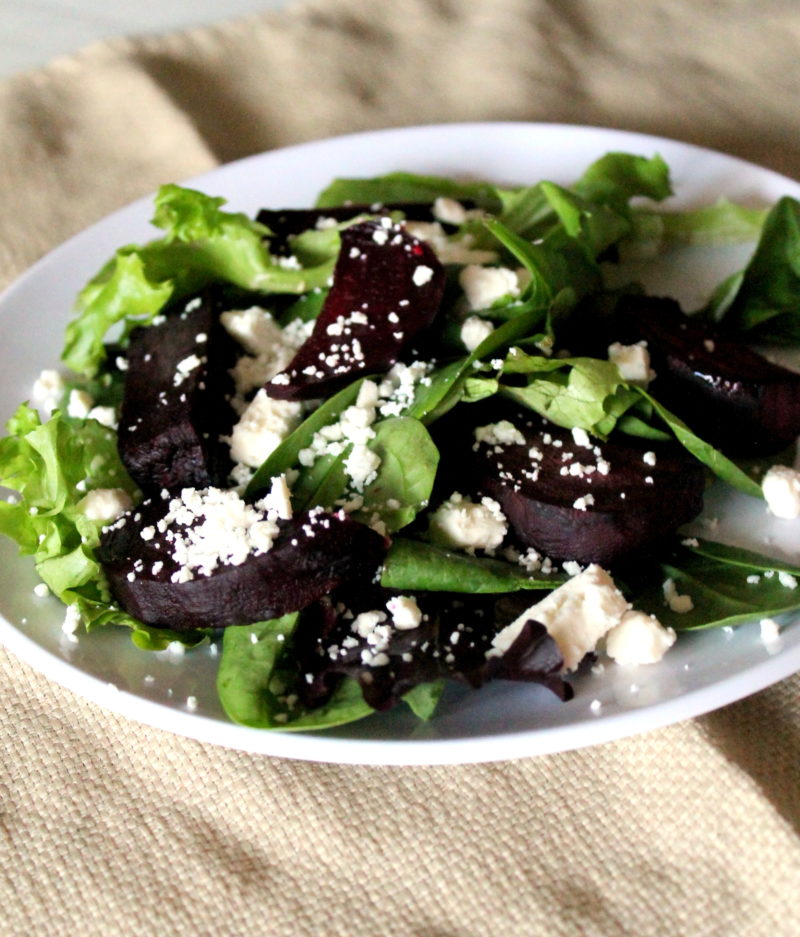 I'm not going to lie beets are kind of a new thing around our house. Aside from the token serving of Harvard beets at the holidays at Momma Chuck's house I had never really been exposed to them. That Harvard beet recipe is delicious by the way; I'm just told it's a lot of work.
Honestly I think I was afraid of them. That sounds ridiculous but let me explain. Beets are messy, and  they stain everything. They have a very strong flavor and what the hell do you cook with them? However since I started this whole Part Time Vegetarian thing that I waxed on about earlier this week I have gotten so much more adventurous with my foods.
I don't know where but somewhere I read that our ancestors ate something like 150 ingredients in a week and the modern western diet includes 20 items. Based on this idea I can't believe that we are getting all the vitamins and nutrients that we need from these 20 items alone. There are so many more fruits and vegetables available for me locally than I often eat so I'm kind of on a quest to try them all and add them to my regular diet. If I eat more varied stuff I eat regularly the more good stuff I can get in my body from nature and therefore hopefully gain a higher functioning, healthier body. Right? Isn't that the goal? I think it is.
So anyway that's why I decided to try beets and as it turns out they are actually pretty good. Chuck even approves. So far I have roasted them up with a bunch of other vegetables and with this salad. What I really like about this salad is that it's unique and can be served as a great starter for just about any fall dinner. The ton of antioxidants and health food power in it is just a bonus.

Roasted Beet Salad with Feta & Balsamic
Ingredients
6 small beets, peeled and cut into chunks
1 tablespoon olive oil
Salt and pepper to taste
2 teaspoons lemon juice
2 tablespoon balsamic vinegar
1 tablespoons Dijon mustard
1 teaspoon honey
3 tablespoons olive oil
1 cup baby arugula
2 cups baby spinach
1 cup baby Swiss chard
2 cups kale, chopped
4 ounces feta cheese
Instructions
Preheat the oven to 450 degrees.
Toss the beets with oil, salt, pepper and place on a rimmed baking sheet. Roast for 35 to 40 minutes, stirring once or twice. Should be tender when poked with a fork. Sprits with lemon juice and let stand for 3 to 4 minutes.
For the Dressing: In a small bowl combine the balsamic vinegar, Dijon, honey, and olive oil until well combined.
In a large serving bowl toss the lettuces together. Top with beets and crumbled feta.
Serve with dressing on the side.