I think Valentine's Day is making me nostalgic because I have been dying to make this recipe. It was part of the first real meal I ever made Chuck before we even started dating. I was still in my "Eat Clean" only phase of life so it's also a completely clean recipe, even though you would never guess it once you taste it.
A couple things to take note of: I used broth in the baking dish helps to keep the chicken moist, while also adding just a touch more flavor. I have also used frozen spinach and skipped the sautéing step, I just think fresh spinach is so much better, that's personal taste though. I have also added a little cracked red pepper to the spinach mix for something a little different, however again it's up to your personal tastes.
Spinach & Mozzarella Stuffed Chicken
1/2 cup chicken broth
1 tsp basil
1 tsp oregano
1 tsp parsley
½ tsp thyme
2 cups fresh baby spinach
½ cup shredded mozzarella (fat free)
2 boneless skinless chicken breasts
Pre heat the oven to 350. In a small baking dish combine the first 5 ingredients, and set aside. In a small sauté pan sauté the spinach with oil just enough to get a good wilt on it (1-2 minutes). Then remove from heat and combine in a bowl with the mozzarella. Trim any gristle and fat from the chicken, and laying it flat cut a slit along the side of the chicken, deep enough to create a pocket. With your hands stuff the pocket with the spinach mixture. You may need to secure it in place with a tooth pick. Place the chicken in the baking dish and spoon the broth over the top. Place in the oven and cook for 30-40 minutes, occasionally spooning the broth over the top. Serve warm.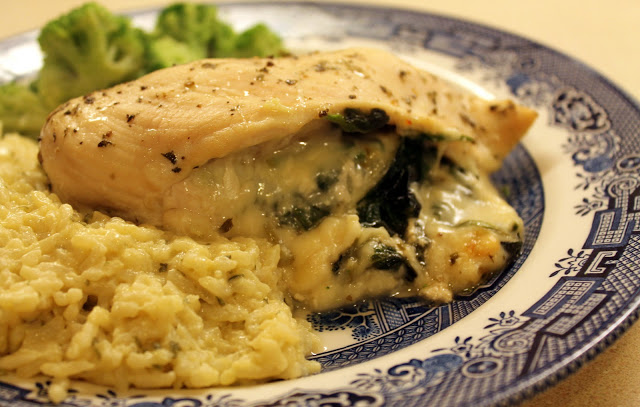 I love this dish because it goes with a lot and can also stand on its own. The juicy chicken is moist and flavorful, while the inside is all melty and comforting. This time I chose to serve it with rice and broccoli, but I have also served it with pasta and tomato sauce. It's so good, and even makes great leftovers.