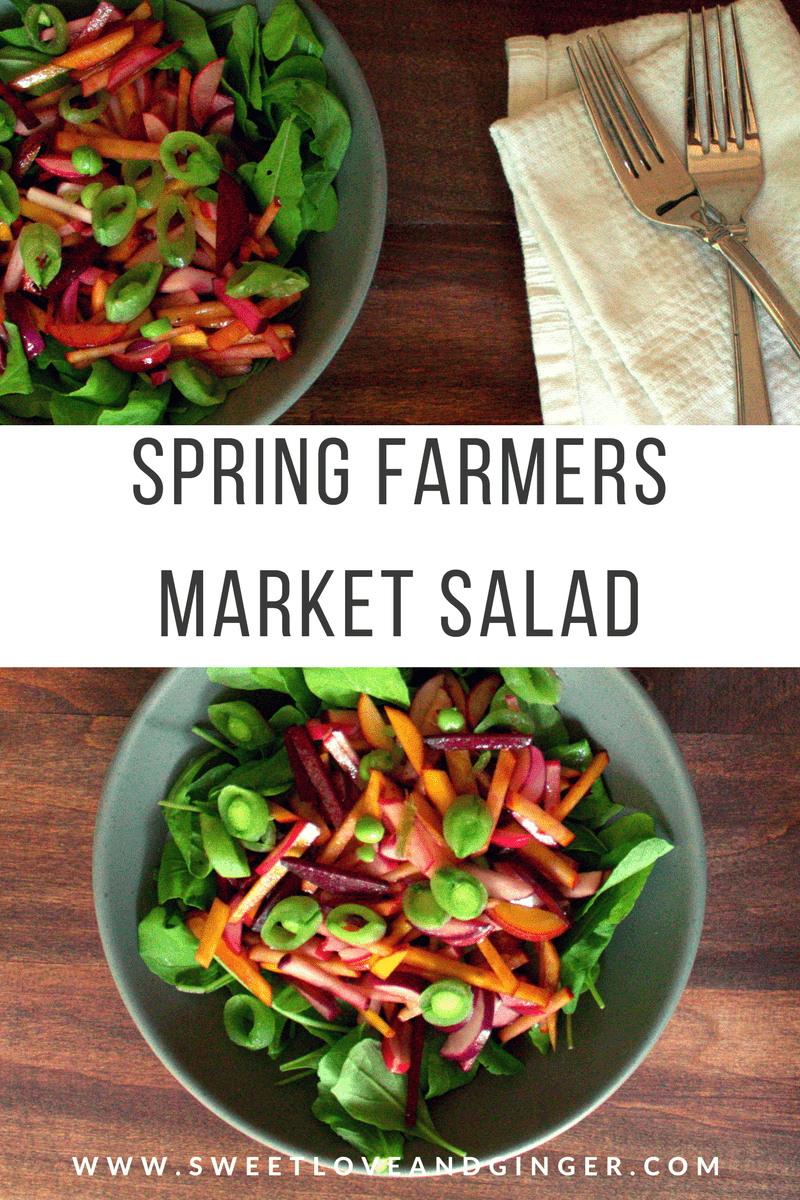 I realise that it's summer now, and most places have already begun to move on from beets and radishes, but around here they are just starting to wane. So I'm posting this recipe anyway.
Last weekend Chuck and I found ourselves at the farmers market, ogling all the bright beauties and I couldn't help myself from buying them. I didn't need pink and purple radishes or orange beets, but sometimes you just have to go with your gut right?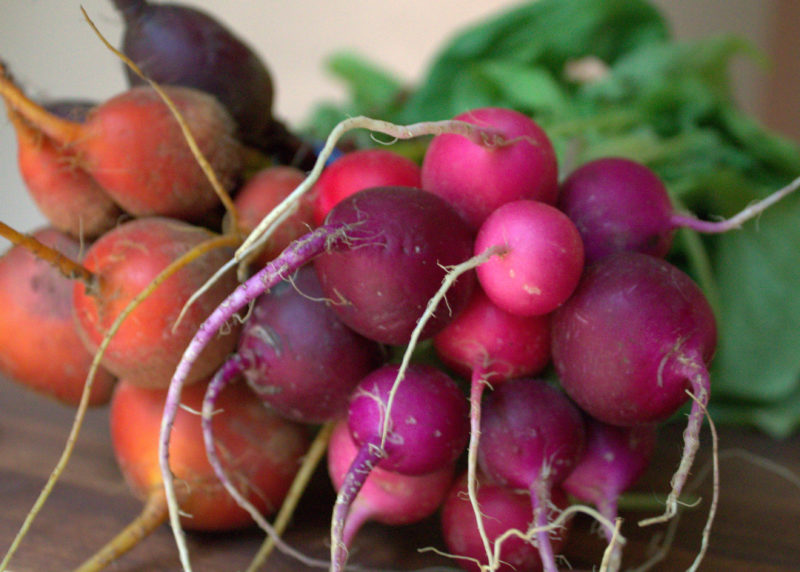 My gut was so pleased with this decision.
I really love the farmers market. Stalls and stalls of fresh produce, handmade products and so many smiling faces. I mean seriously, everyone there is always so happy and interested in chatting. I've found lately that people are especially chatty with me probably because as Chuck says "everyone loves a pregnant lady". As an introvert, this has taken some getting used to, but I find it refreshing that people are generally so pleasant toward me. I don't think this has been the norm and I'm interested to see if it changes when I'm on my own and no longer showing. Maybe the burgeoning belly just makes me a more approachable. Who knows.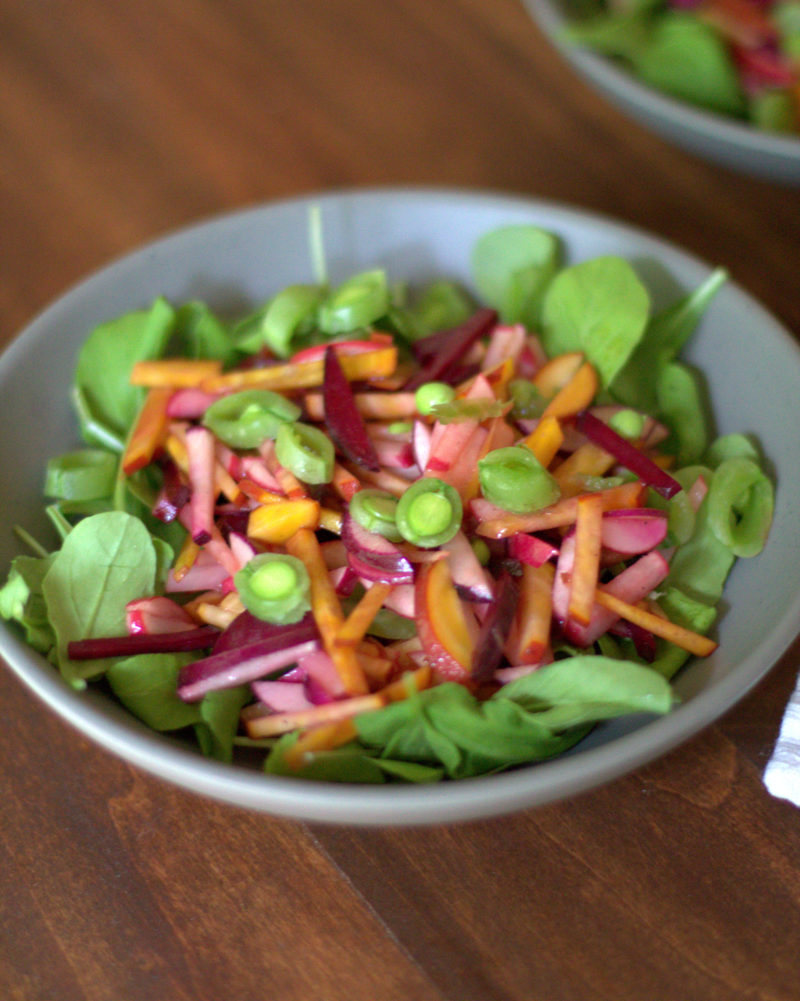 Anywhoodles, we strolled the market, with no real purpose. Chuck got boklava, and I got a green smoothy. We tasted cheeses and squeezed produce before settling on the pretty root veggies, and some arugula.
I didn't have a plan for anything, so I flipped through a few cookbooks to find a simple beet and radish slaw. I used the slaw as a base and put it over a bed of the arugula with sliced pea pods from the garden. It was so simple, yet so delicious!
The dressing helped mellow out the radish, which is not my favourite vegetable if we are being honest, and melded perfectly with the beets, which weren't overly sweet.
I served it that night with some grilled pork chops and rice. Nothing fancy. Who needs that when you have such a bright and delicious salad/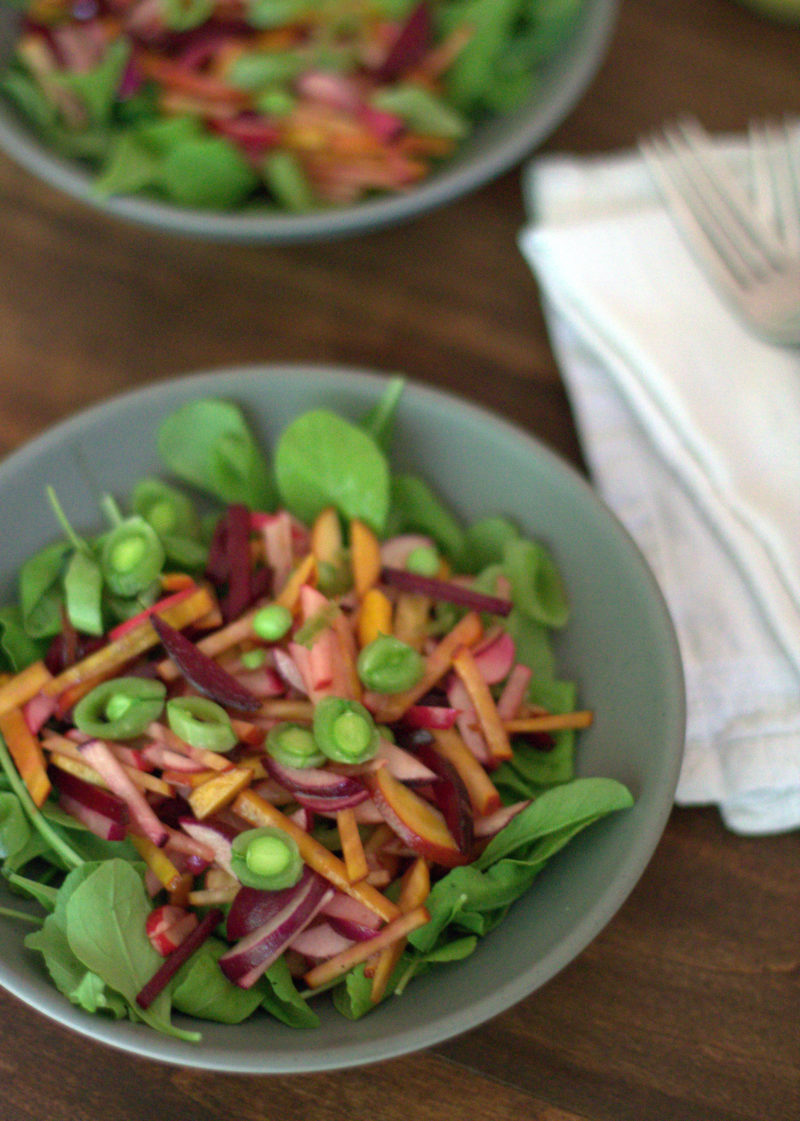 The next day I had the leftovers tossed with some canned chickpeas to make a heartier vegetarian meal. It was pretty divine if you ask me. It always amazes me how good simple food can be when you have really good ingredients. I have always been in love with my own garden produce, but I haven't got the space or know-how to grow it all (well) yet, so until then I'll still be making my way to the local farmers market.
Something that I would encourage everyone to do is to really put some thought into where your food is coming from. If there anything I have learned it's that you can taste the difference.
Spring Farmers Market Salad
Ingredients
1 bunch radishes, cleaned and chopped into matchsticks
1 bunch beets, cleaned and chopped into matchsticks
1 tablespoon olive oil
1 teaspoon white wine vinegar
1 teaspoon lemon juice
1 teaspoon Dijon mustard
Pinch of salt
6 cups greens of choice
¼ cup chopped (in-pod) peas
Instructions
In a medium bowl, combine the radishes, beets, olive oil, vinegar, lemon juice, Dijon, and salt. Toss well to combine and let stand for 5 minutes.
To serve separate the greens amongst 4 bowls, spoon an equal amount of the radish, beet mixture over the top, be sure to include some of the accumulated juices, and sprinkle with chopped peas. Serve immediately.