I love a good carbonara. It's got all the essentials, starchy pasta, tossed with a thick creamy sauce and pops of salty flavor from the pancetta. Then there are the additions, which are really just there so you don't overload on the aforementioned factors. In this case, I decided to go with a handful of my favorites from this early spring season, and a spritz of lemon. Al-together this spring vegetable carbonara is a dream on a plate.
Asparagus carbonara is probably one of mine and Chucks favorite ways to make carbonara, though you can do a lot more with the dish. I think it's a great way to use up thinner stalks. We don't really love thin asparagus, but it's inevitable and goes well with thick spaghetti or fettuccine. Much of this asparagus came from my mother-in-laws garden as we do not ae an established asparagus patch.
To take this from just an asparagus carbonara to a spring vegetable carbonara I added green garlic, from my garden thinning, peas and snap peas from the farmers market. The final touch is a splash of lemon to add some acidity and balance out all the flavors going on with these veggies.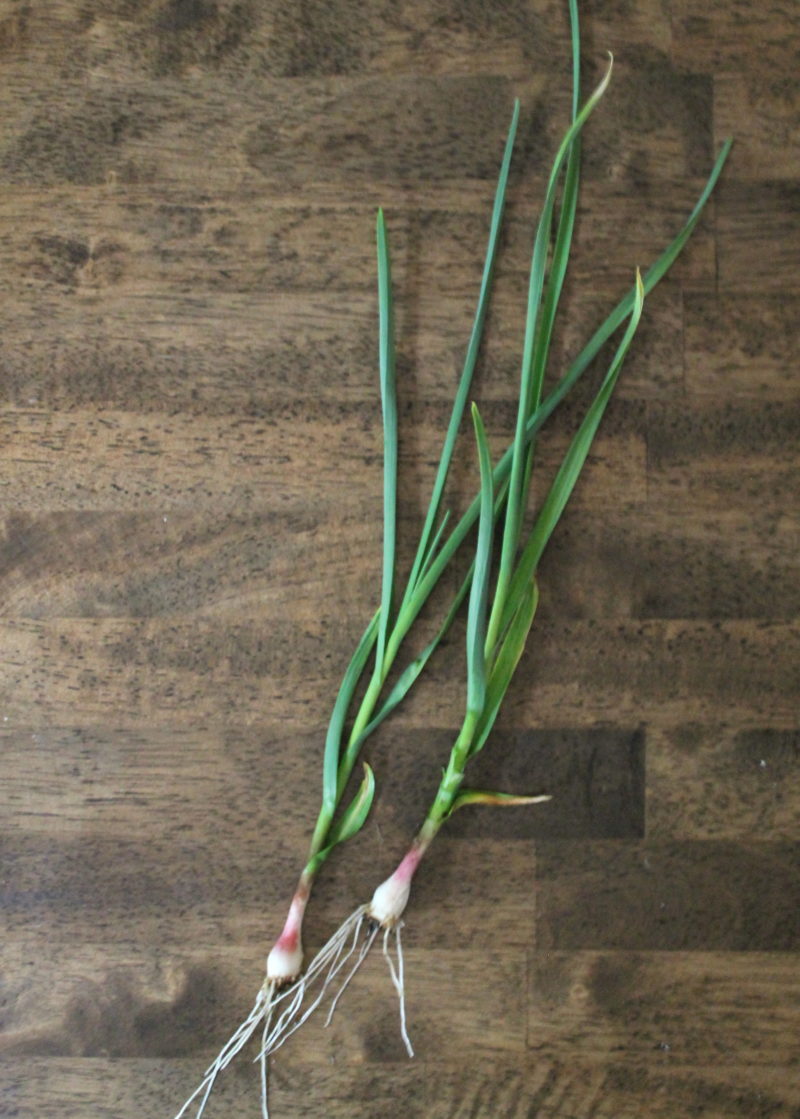 If I can give you any piece of advice when making carbonara is to use quality cheese. Avoid that shaker can non-sense. Attaining that super silky sauce can only be achieved with real, good parmesan cheese. The shaker can stuff never fully melts, and leaves a gritty texture, while the good stuff, hand shredded, will melt beautifully and gracefully into the egg, and become the silkiest sauce ever.
I learned this when we were in Italy a few years ago. Check out the carbonara I made from the farmers market while we were there.
Also, use a thick pasta. I've made this dish with all kinds of different pasta shapes, and hands down, thick long pasta is the way to go. It holds onto the sauce and balances the size of the veggies well. Shorter pastas just cant hold the sauce, and thinner pasta doesn't stack up against the veggies. I like to go with thick spaghetti or fettuccine as mentioned above.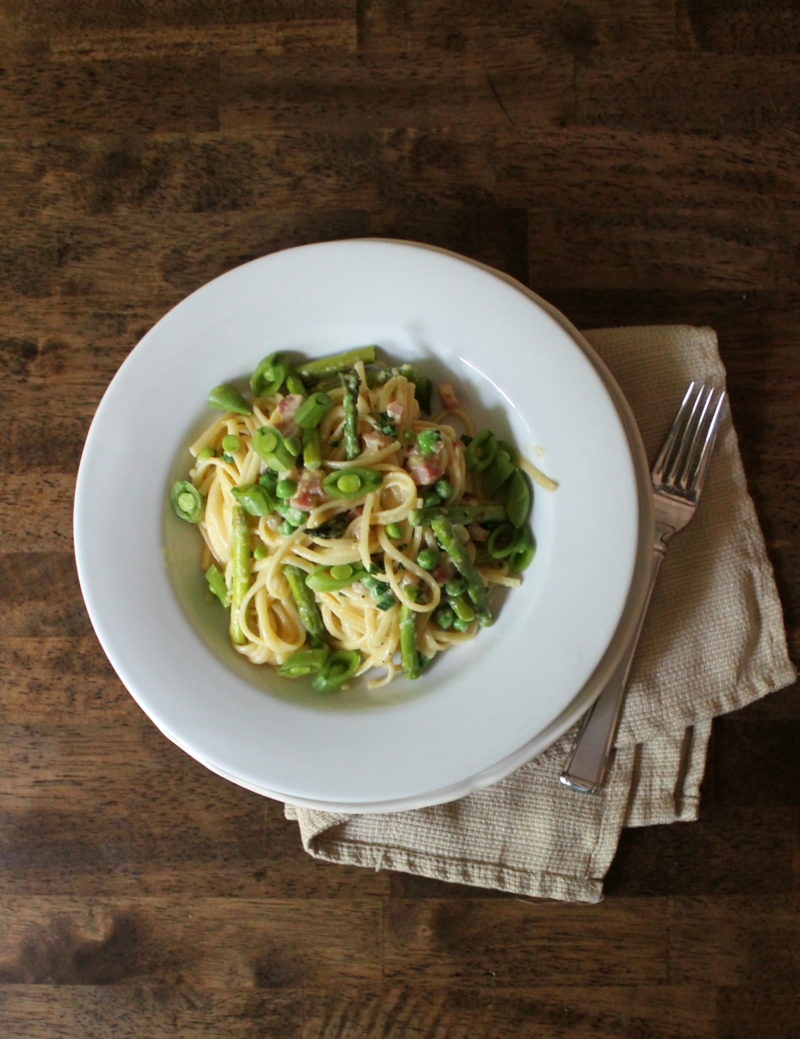 Spring Vegetable Carbonara
Prep Time 10 minutes
Cook Time 30 minutes
Ingredients
1 pound dry spaghetti or fettuccini
4 Large fresh eggs
½ cup freshly grated Parmesan Cheese
½ cup freshly grated Pecorino Cheese
8 ounces pancetta or slab bacon cubed
1 tablespoon green garlic minced
1 lb fresh asparagus cut to 2" lengths
½ cup shelled peas fresh or frozen
Fresh snap peas for garnish
Freshly cracked black pepper to taste
1/2 Lemon cut into wedges
Instructions
Cook the pasta according to package instructions to al dente (cooked, though slightly firm). Reserve 1 cup of the pasta water before draining and set aside.

In a medium size bowl whisk together the eggs and cheese until well blended and set aside.

While the pasta is cooking heat a large skillet over medium high heat. Add the pancetta and sauté for 2 to 3 minutes. The pancetta should begin to brown and crisp.

Add the green garlic, and asparagus, and sauté for another minute.

Stir in ¼ cup of the reserved pasta water until well combined. Add the pasta and peas to the pan and toss lightly.

Remove the pan from the heat and add the egg mixture, stirring quickly so that the eggs do not have time to scramble. As you stir and toss the pasta the eggs will thicken into a sauce. If the sauce becomes too thick slowly stir in more reserved pasta water.

Top generously with pepper, and serve immediately, garnished with lemon wedges.
Similar Recipes:
Authentic Carbonara

Spring Market Salad

Spring Risotto