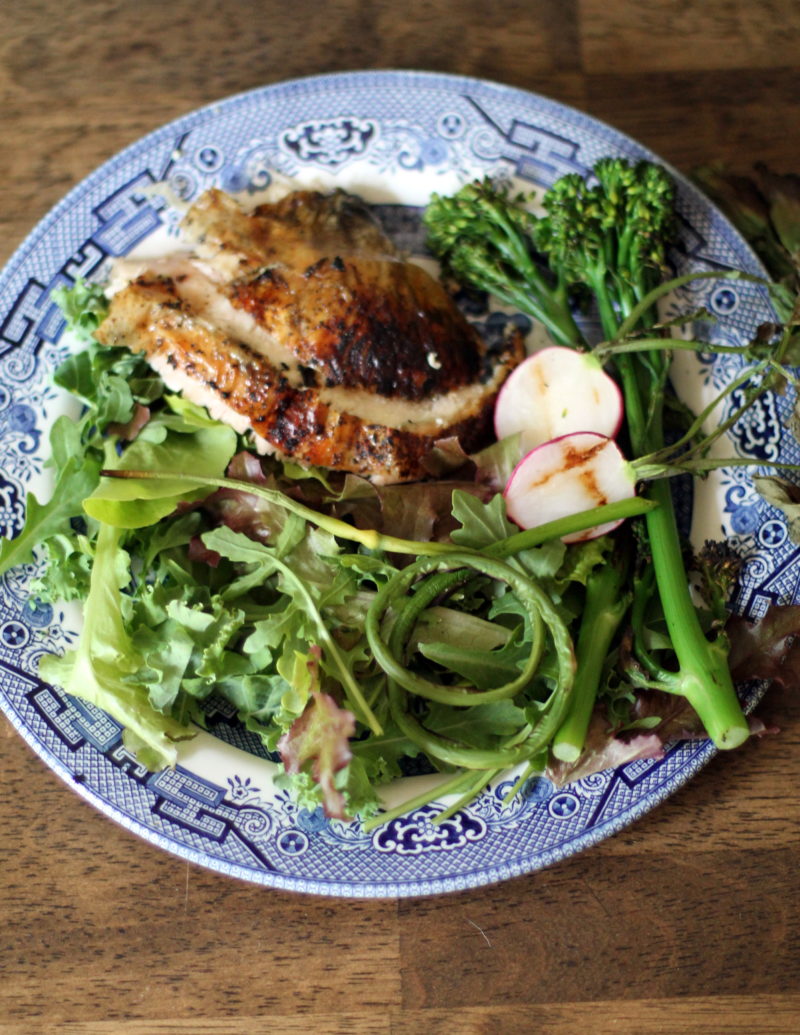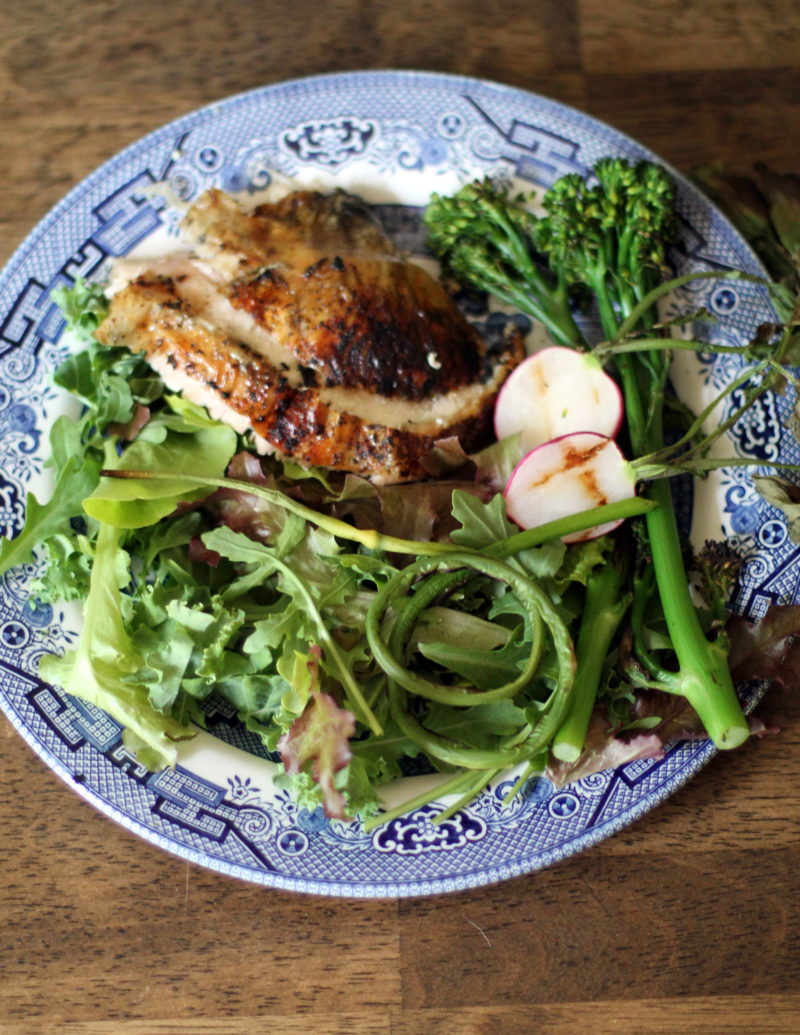 I absolutely realize that I's been summer for something like a week so far, but I shot this recipe the day before the solstice, so I'm running with the title spring vegetables title. Can you handle it?
What I love most about this recipe is its versatility. Spring is a whacky time of year here in the northeast. It could be 70 degrees and sunny that afternoon and drop to freezing at night. And you never know when it's going to start down pouring. I talked a bit about this in my most recent newsletter. Do you get my newsletter by the way? If not, you can sign up right over in the side bar.
Anywhoodles, back to chicken and veggies. What I was getting at is that you can easily roast the chicken in the oven or on the grill depending on the weather. You could even swap out the whole chicken for legs or thighs. You will, however, need to adjust the cooking times accordingly for smaller cuts.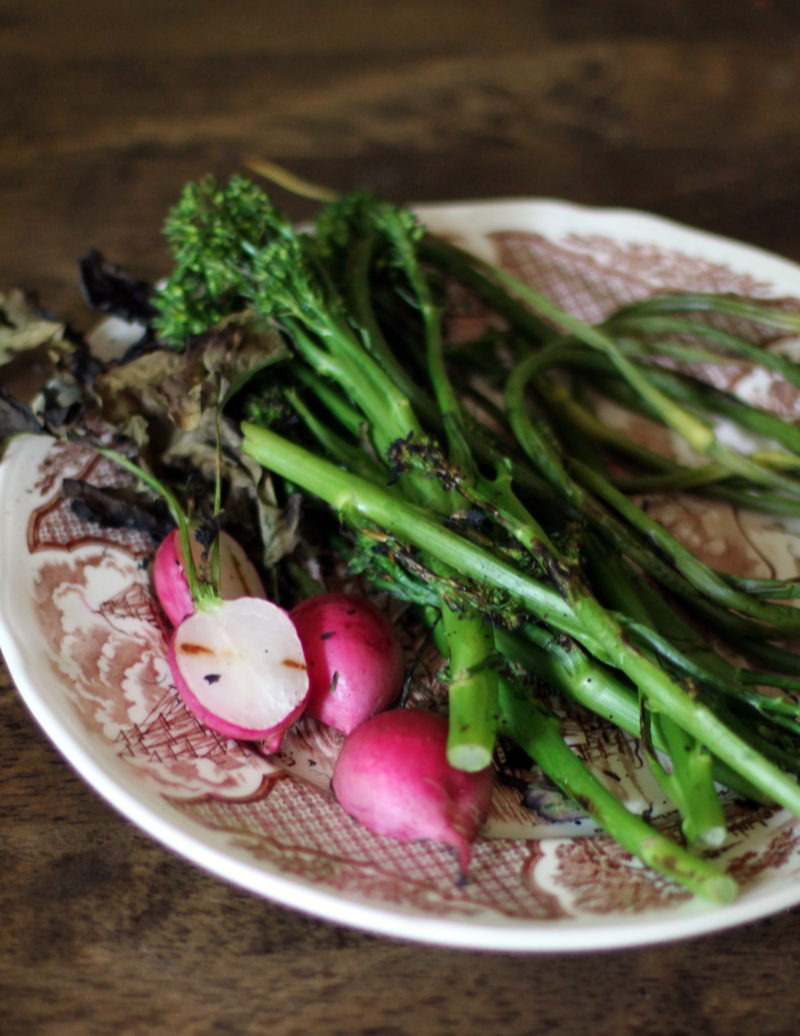 This is one of those meals that is super simple. It requires only that the chicken and veggies are fresh. Toss them simply with a little fat and salt and then grill or roast accordingly. Serve them on their own with a starchy side, or tossed with a salad as I've done here. I chose a salad because we are nearing that time of year when salad greens are fading and need to be used up. I've also served this same basic meal with a side of potatoes, rice or couscous depending on the occasion.
For this recipe I left it simple, but don't be afraid to also toss the veggies with a drizzle of dressing or a squeeze of lemon. For this actual meal (because we eat everything you see on here), I ate it with a bit of cilantro lime dressing, and Chuck went with ranch. It was delicious both ways.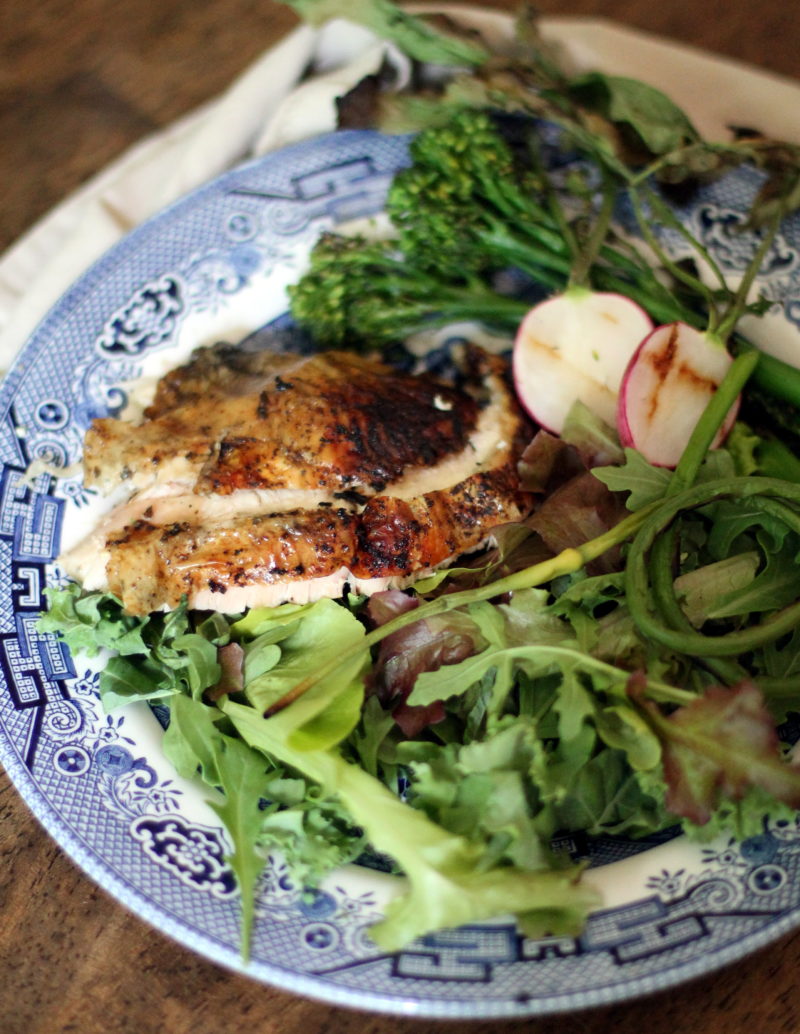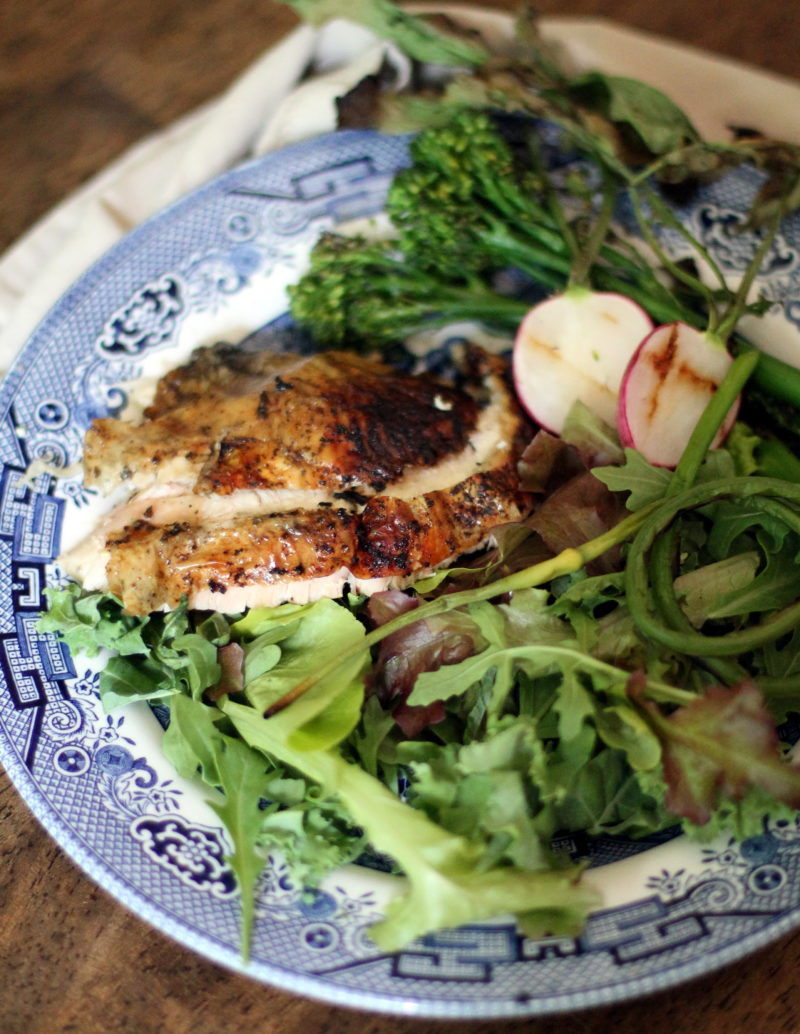 Grilled Chicken and Spring Vegetables
Prep Time 30 minutes
Cook Time 1 hour 26 minutes
Ingredients
4-5 lb roasting chicken
2 tablespoons extra virgin olive oil plus more
4 cloves of garlic crushed
1 tablespoon white wine vinegar
1 teaspoon chopped fresh parsley
1 teaspoon chopped fresh basil
½ teaspoon chopped fresh oregano
Salt & pepper
Assorted spring vegetables prepared as desired
Instructions
Let chicken come up to room temperature, and pat all over with paper towels to dry.

In a small bowl, combine 2 tablespoons of olive oil with garlic, vinegar, herbs and 1 teaspoon each of salt and pepper. Rub the olive oil mixture over and all around the chicken.

Place the chicken on a preheated grill, but off direct heat (accomplish this by turning off the burners directly below the chicken). Keep the grill at 400 degrees and cook for about 15-20 minutes per pound or until the internal temperature reaches 165 degrees. Remove from heat and let rest for 20 minutes.

Place the prepared vegetables in a large bowl toss with oil, salt and pepper to taste, until well coated. Once the chicken is done cooking return all burners to medium-high heat and place the vegetables on the grill. Cook until desired doneness, about 5-6 minutes per side. Remove to a place and serve alongside sliced chicken.
Similar Recipes: