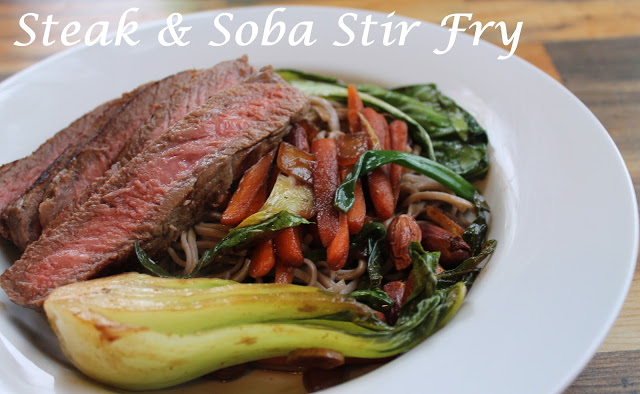 Part of my most resent quest to make vegetables the
spotlight means trying new things. I saw
this recipe
in my Bon Appétit magazine recently and knew I had to try it. I've eaten bok
choy plenty of times in the average Chinese food take out, but I've never
cooked with it. Besides the picture is so pretty isn't it? It makes me want to
dive right in and gobble it all up.
This recipe is my own take on that one. I wanted to include
more vegetables, and avoid purchasing oyster sauce which I would rarely use,
and I wanted it a little more liquidy (yeah I made up my own word there). It
being my first foray with soba noodles I don't know whether I over cooked them
or if they are naturally just sticky, but the extra liquid I tossed them in
really helped. I also wanted to clean it up a bit, not that there is a whole
lot in need on cleaning on this one. It's pretty darn healthy already.
The result was amazing. I loved this recipe; the mixture of
textures and flavors is really awesome. Beware it's much more filling that you
would think, so start with a small portion.
Steak & Soba Stir
Fry
6 oz soba noodles
16oz flank steak
Salt & pepper to taste
Olive oil cooking spray
1 tbs extra virgin olive oil
1 small onion, chopped
4 cloves of garlic, sliced
1 tablespoon ginger, peeled and grated
2 heads baby bok choy, cut into 8th's
2-3 carrots cut into match sticks
4 tbs soy sauce
3 tablespoons rice wine vinegar
1tbs toasted sesame oil
½ cup vegetable or beef broth
1 bunch scallions, greens cut into 2 inch strips
1 handful roasted almonds

Cook soba noodles according to package instructions and set
aside. Generously season steak with salt and pepper, and placed in a greased
skillet over medium high heat. Cook 4-6 minutes per side, or until medium rare,
remove from heat and let rest for at least 10 minutes, while the stir fry is
prepared. Wipe out the skillet and heat oil over medium heat. Sauté onion,
garlic, and ginger until softened, roughly 1-2 minutes. Add bok choy and carrot
and cook for 4-5 minutes, tossing occasionally. In a small bowl mix together
soy, sesame oil, vinegar, and broth. Add to pan, tossing lightly. Stir in
scallions and almonds cooking for an additional minute or two. Remove
vegetables from heat, leaving remaining liquid in pan, then add soba to pan and
toss to coat. Add to stir fry mixture. Slice Steak into ½ to ½ inch ling slices
and serve. (serves 4)