Have you noticed and influx of grilled cheese recipes from
me lately? I have, am beginning to think that I have a problem.
The last few months we haven't been eating a lot of bread. I
mean really, Chuck and I have the same 2 loafs of Italian bread, and sliced
bread in our freezer since before we moved almost 2 months ago. So maybe I am
just going through bread withdrawal and my body wants it back.
Maybe it's the weather. I mean there's a little nip in the
air still and grilled cheese has cozy connotations.
It could also be because when we moved Momma chuck loaded us
up with cold cuts so we wouldn't have to worry about food, and we don't want
the cheese to go bad.
Maybe it's because I started running again. I already
admitted to you
that I haven't exactly been on the workout
band wagon, so this has probably been pretty shocking for my body.
I don't know what happened. I forced myself to run the 2.62
miles for Boston, and despite the crappy feeling and circumstances going in, I
felt freakin wonderful after. The following weekend my college roommate came to
visit, and forced me to run with her, because she wasn't familiar with the
area, but I'm glad she did, because the following Monday I was at it again.
After running an easy 3 miles I still had the enegery to do an ab workout and a
yoga session. And this has persisted ever since!
Where is this energy coming from? I'm seriously questioning
how on earth I have been able to jump back in; when in the past getting back
into the swing of things has been a very slow process.
Maybe I shouldn't question it.
Whatever the reasons are for my new found energy or my
grilled cheese obsession here is the latest creation that I made for leftover
lunch the other day when there was no pasta left to go with my chicken parm.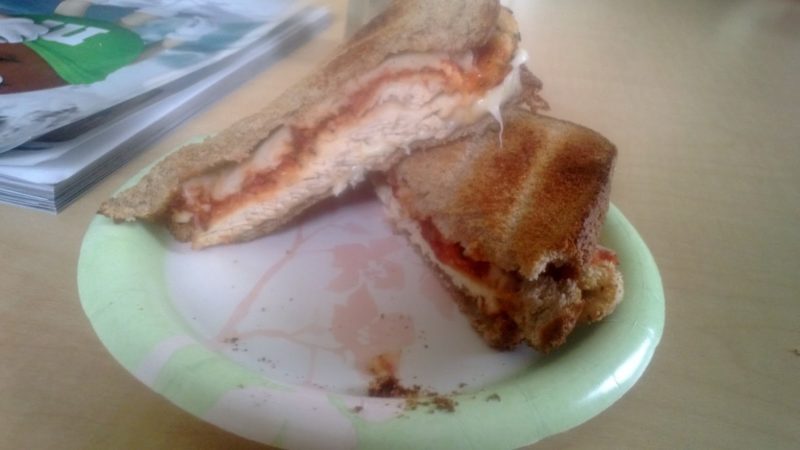 Sorry for the crappy picture. It's from work, but I still ahd to share.
Chicken Parmesan
Grilled Cheese
1 prepared parmesan chicken breast
2 slices of mozzarella cheese
2 slices bread of choice
1 tbs butter
Warm the chicken either in the microwave or the oven. Place cheese side down on 1 slice of bread. Add both slices of cheese and top with remaining piece of bread. Butter both sides of the bread and place in a skillet on medium heat. Cook until the bread is toasted and cheese melted. Serve.
How can you not love this; this cheesy saucy toasty sandwich
of wonder? I mean come on!