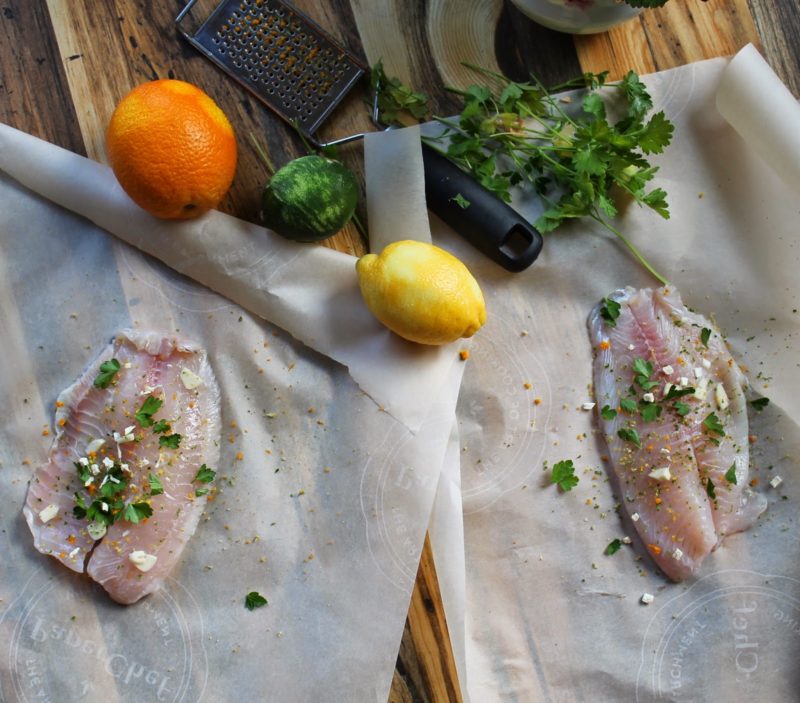 The thing about the summer is that it's hot. Sometimes it's so hot that the idea of eating food actually makes my stomach flip. How could I possibly be hungry when the rest of my body feels all floppy and in coherent?
But then hungry and floppy almost instantly becomes hangry, like seriously hangry. When you are already uncomfortable little things seem 10 times worse than they actually are.
This was one of those days.
Luckily for me we can't open our freezer without a landslide of food falling on us. I like to keep stocked up on good sales, and quickly defrosting stuff to help curb out Chinese takeout addiction. Tilapia is one of those things that defrosts pretty quickly, and cooks just as fast, saving time away from the super hot oven.
I basically tossed the fillets into parchment with some herbs, and citrus zest from whatever we happened to have on hand. Did I mention it was hot? I wanted fresh and bright flavor, and very little work. My plan  worked because the tilapia came out moist and bright, and in only 20 minutes. I paired it with some leftover wild rice pilaf, and raw broccoli. Our veggies tend to be raw when I am feeling lazy. I'm told they are better for us that way, which is just an added bonus to the energy I'm saving, and dishes we don't have to wash.
At least this is what I tell people instead of just "yeah I was lazy". I'm sure they totally buy it. At least Chuck likes most vegetables raw anyway, sans dip.
He is weird I know.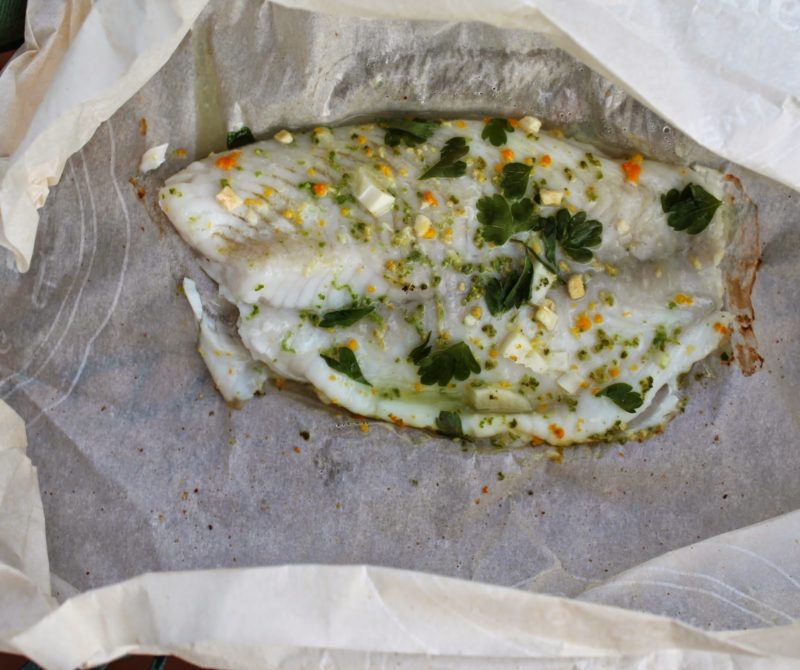 This recipe is super easy and perfect for summer, or in winter when you are dreaming of summery beach days.
Summery Citrus Tilapia
Ingredients
3 tilapia fillets (about 1 lb)
1 clove of garlic, minced
Zest from one orange
Zest from one lemon
Zest from one lime
1 tablespoon fresh parsley coarsely chopped
Slat & pepper to taste
Instructions
Preheat the oven to 450 degrees.
Place 1 tilapia fillet on a large piece of parchment paper and top with ⅓ of the garlic, zests, parsley, salt & Pepper. Repeat with the remaining fillets. Fold up the sides of the parchment to create a pouch and seal in the fish.
Place in the oven on a baking sheet and cook for 12-15 minutes or until the fish flakes easily with a fork.
Carefully remove from the oven and open the packets slightly. Let cool for 3-5 minutes and serve.