This is a easy and healthy recipe based on traditional Indian Kchidhi.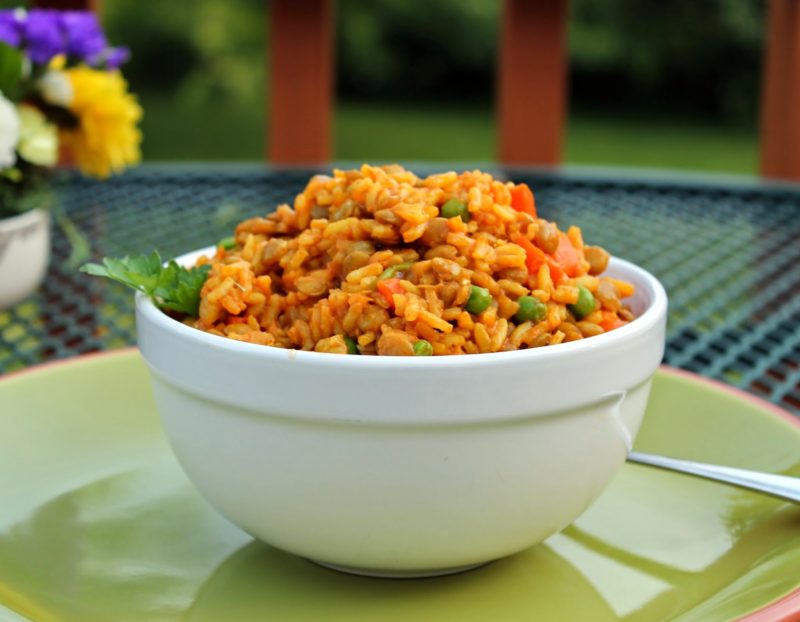 In my vegetarian adventures lately I have been stumbling across some really interesting new blogs that I will definitely be sharing with
you guys in the near future. This recipe is one that I adapted from one of these blogs, Holy Cow. It's a super simple rice dish that I made for my lunch
at the beginning of the week. It was actually filling and satisfying enough to get me through the entire week without getting bored. That is something that never happens.
This recipe actually serves 4-6 people, but I'm sharing it here today because I think it's a great vehicle for the single person to eat
all week. I just added whatever leftover veggies we had the night before, or steamed up some new ones and I had a complete meal that varied a little
throughout the week.
The version you see here is a simpler version, I guess you could say I "Americanized" it, but I wanted it to be an approachable recipe. The
original recipe isn't difficult by any means, but I opted not to use a pressure cooker, and frozen veggies, to speed up the whole process.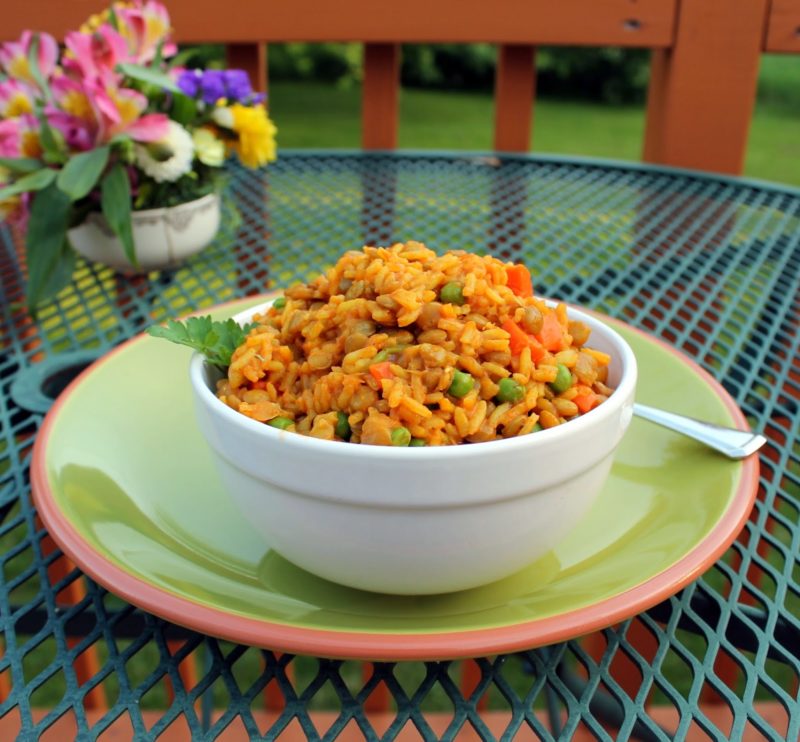 Note: Garam Marsala was not available at my regular grocery store, however I did find it at whole foods.
Kchidhi - Easy, Clean, Vegan, and Delicious
Ingredients
1 tsp vegetable oil
1 large onion, chopped
¼ tsp turmeric
½ tsp cayenne
1 tbsp coriander
1 tsp garam masala
1 tbsp dried ginger
1 tbsp tomato paste
1 ½ cups brown rice
1 cup moong dal (lentils)
1 cup frozen peas and carrots
Salt & pepper to taste
Instructions
Place the moong dal in a bowl with 1 cup of water and let it sit for 15 minutes.
Meanwhile heat oil in a large thick bottomed sauce pan, saute the onion for 5 minutes or so, until it is translucent and begins to carmelize.
Add turmeric, cayenne, coriander, and ginger stirring for an additional minute.
Stir in tomato paste for one minute then add rice moong dal (with liquid) and then 4 cups more water. Stir well and bring liquid to a boil. Reduce to a simmer, cover and cook for 35-40 minutes or until the rice and lentils are soft.
Stir in the frozen vegetables and garam masala. Then remove from heat. There should be some liquid left in the bottom of the pan so that the consistency is similar to a risotto. Serve warm.