Everyone seems to be into these Thai lettuce wraps and what not, but lettuce wraps have never been
my thing
. I mean there's only so much you can pack into a lettuce wrap before your lettuce is exploding all over the place.
Now I am a fan of messy food, usually the messier the better, but the ratio of the mess to food that actually makes it o my mouth needs to lean a certain way if you know what I mean. Why not just take all that goodness and plop it in a bowl, and eat it with a fork. It's still messy but I get so much more into my mouth this way!
It's this line of thinking that got me to come up with this amazing recipe. It's not just a Thai ground chicken salad, but it's a Thai ground chicken salad on top of a loaded green salad and soaked in delicious peanut sauce.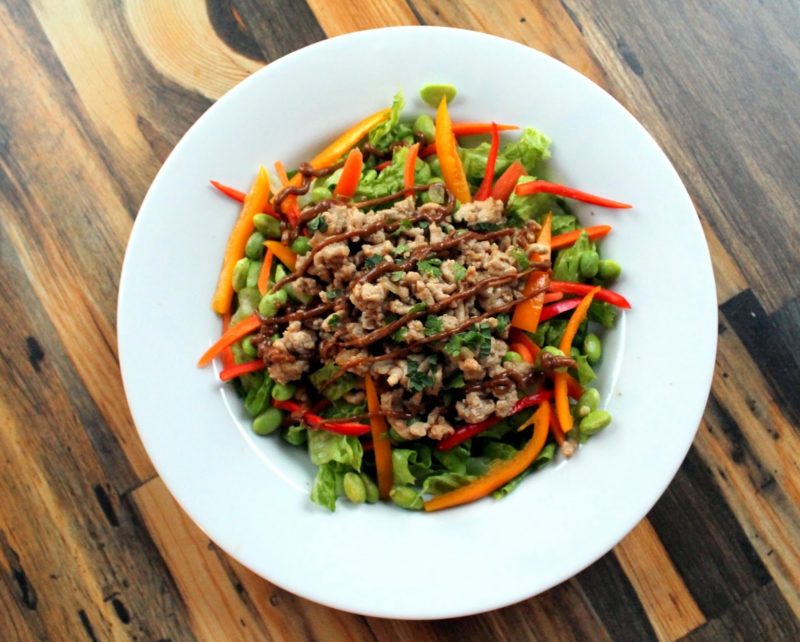 By the way, did you know that thai ground (or minced) chicken salad is a thing? Before researching this recipe (yep I'm  nerd) I had no idea, but it's a traditional dish that's usually served with sticky rice and it's called Larb Gai. There that's your piece of trivia for the day.
Back to the salad.
Seriously I could eat/talk about this thing all week.
I won't torture you that way I'll just give you the recipe.
A little note: make more peanut sauce than you think you will need. I promise it will end up on all kinds of things that you don't expect, and you will run out before you are ready.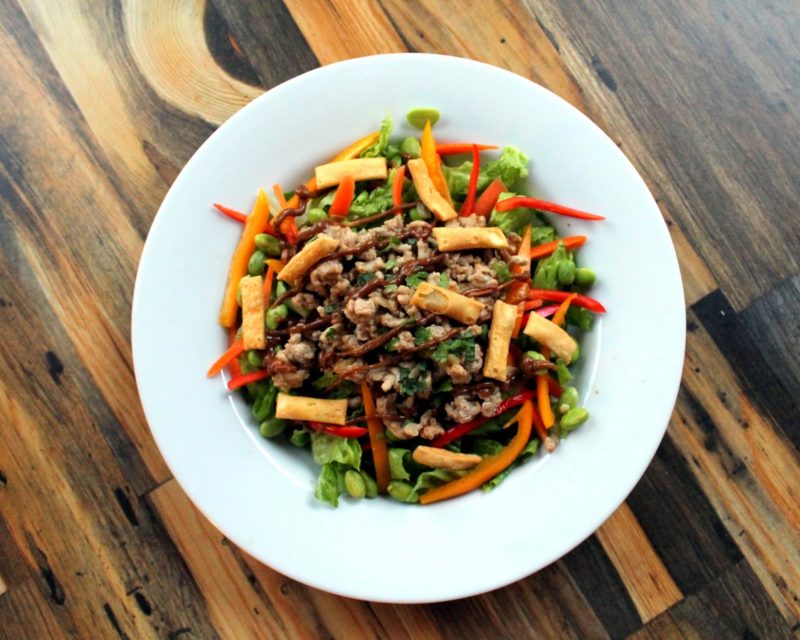 Thai Ground Chicken Salad with Peanut Sauce
Ingredients
1 lb ground chicken
1 teaspoon coconut oil
1 small shallot, peeled and minced
⅓ cup mint, chopped
⅓ cup cilantro, chopped
1 tablespoon lime juice
1 ½ tablespoons fish sauce
1 tablespoon rice flour
½ teaspoon chili flakes
2 teaspoons garlic powder
1 teaspoon ground ginger
3 tablespoons soy sauce
2 tablespoon rice wine vinegar
1 tablespoon fresh lime juice
1 tablespoon oil
½ cup peanut butter
¼ cup water
1 cup shredded lettuce of choice
1 cup shredded cabbage
1 large carrot, julienned
4 red, yellow or orange sweet peppers, julienned
½ cup green onions, chopped
1 cup frozen edamame, defrosted
½ cup crispy wonton strips
Instructions
Heat a oil in a large skillet over medium-high heat.
Add the ground chicken and cook, crumbling it as you go until the chicken is cooked through, about 3-5 minutes.
Add the shallots and cook for another minute. Remove from heat and add the lime juice, fish sauce, rice flour, and chili flakes tossing to combine. Set aside.
In a medium sized mixing bowl whisk together the garlic powder, ginger, soy sauce, vinegar, lime juice, oil, peanut butter, and water. Adjust the seasonings and set aside.
In a large bowl toss the lettuce, cabbage, carrot, peppers, onions, and edamame.
Top with the cooled chicken mixture. Drizzle with peanut sauce and top with crispy wonton strips.
Serve immediately.