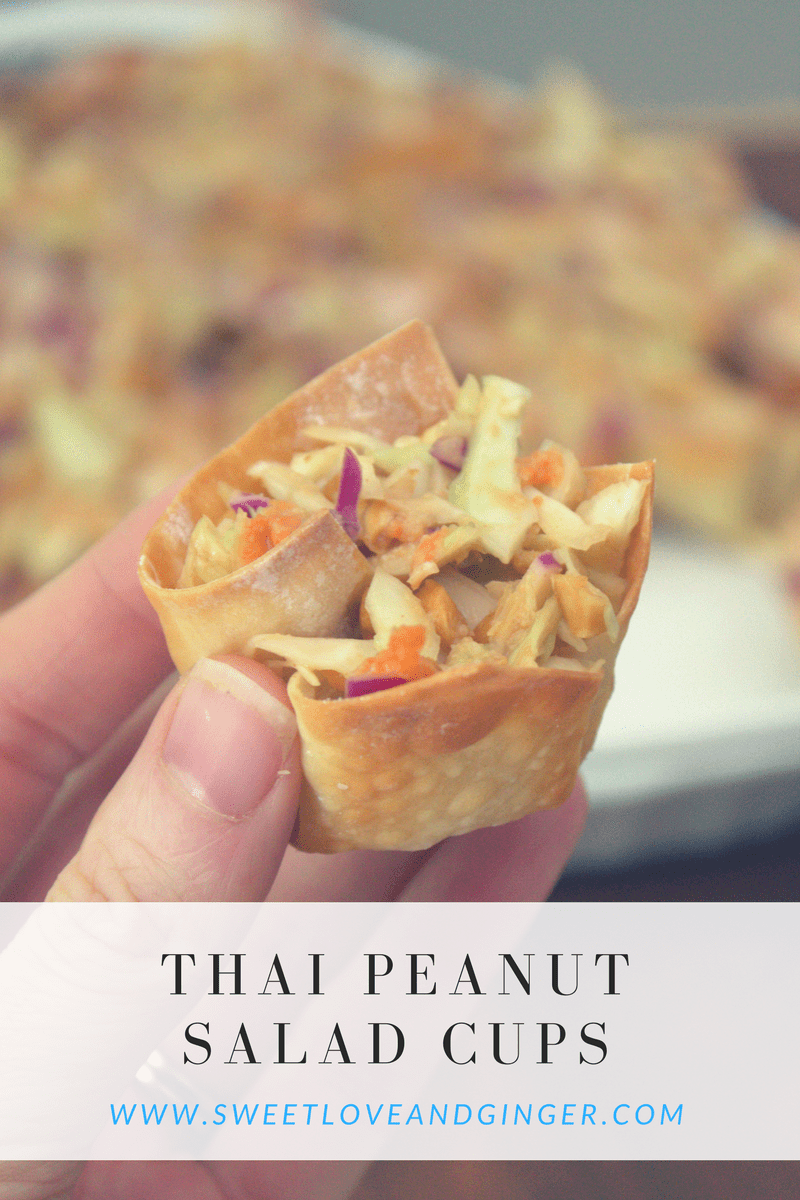 A few weeks ago I had my first baby shower. Yes, I had two. We decided to have one in Chuck's hometown as well as my own to make it easier for people, especially the older ladies to attend. The first one was held at my dear friend Amanda's house for all of our local people.
I, of course, begged them to let me make something to bring, since it was a potluck style event. With a little cajoling they did eventually agree to let me make something for my own shower. After about 5.3 seconds of research on pinterest I stumbled across these adorable little appetizers.
I figured they would be perfect for the occasion since it checked most of our dietary restriction boxes (surprisingly we have no peanut allergies). I could easily make them vegan, they are single serving (so easy to eat), and pretty healthy. Not to mention the fact that they are totally cute.
Everyone at the party gave them the thumbs up for taste and convenience, so I definitely think it was a success.
What I loved most about these little guys was the ease with which they came together. Seriously, I popped the wrappers in the oven and whipped up the filling while they baked and cooled. Filling them was just as easy and then boom, I was done!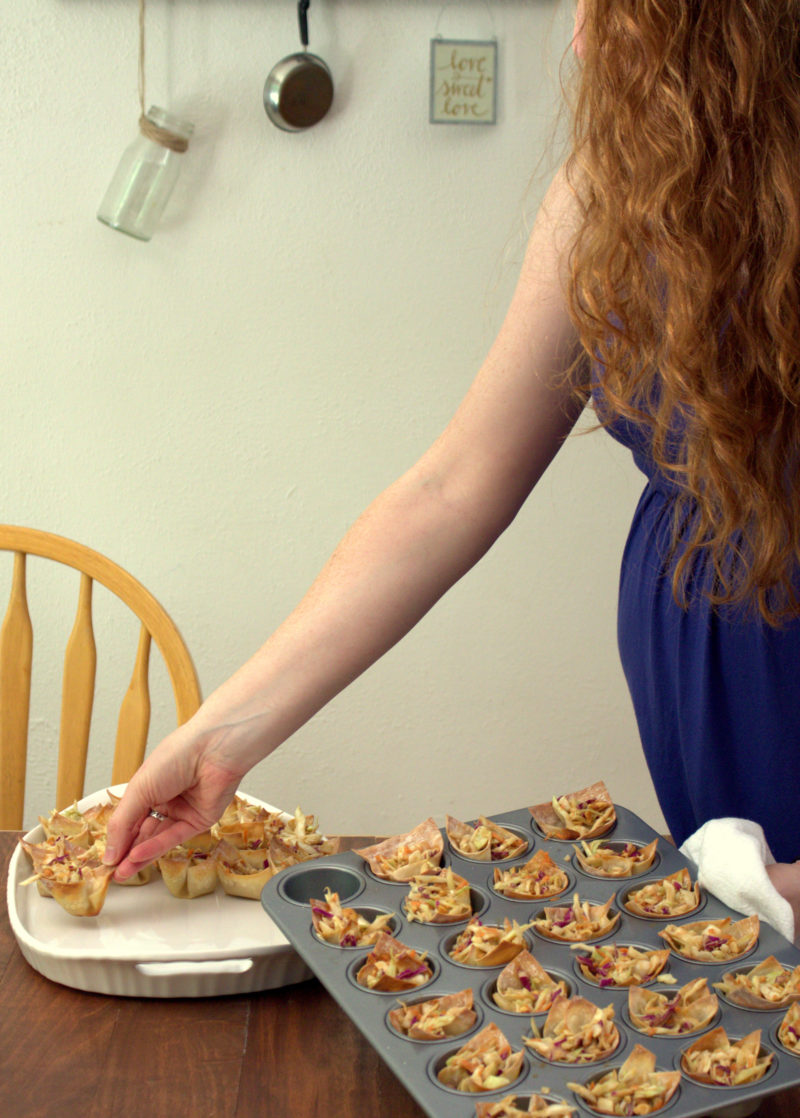 Also any of the filling that's leftover makes a really great side dish or salad topping. I ate the small helping of leftover filling just on its own, and it was pretty fabulous.
My Tips:
Don't just push the wonton wrappers into the tin and let it be, try to push the folds to the sides so that you make a really nice, round opening in the middle. Otherwise it gets a little difficult to get all of your awesome filling in there.
If you want to make this ahead, I suggest not filling the cups until just before serving. The longer the filling sits in them the soggier and less pleasant they become. For prep-ahead storage place the cups in a ziplock bag in a safe place (they are easily crushed) and place the filling in a sealed container in the fridge.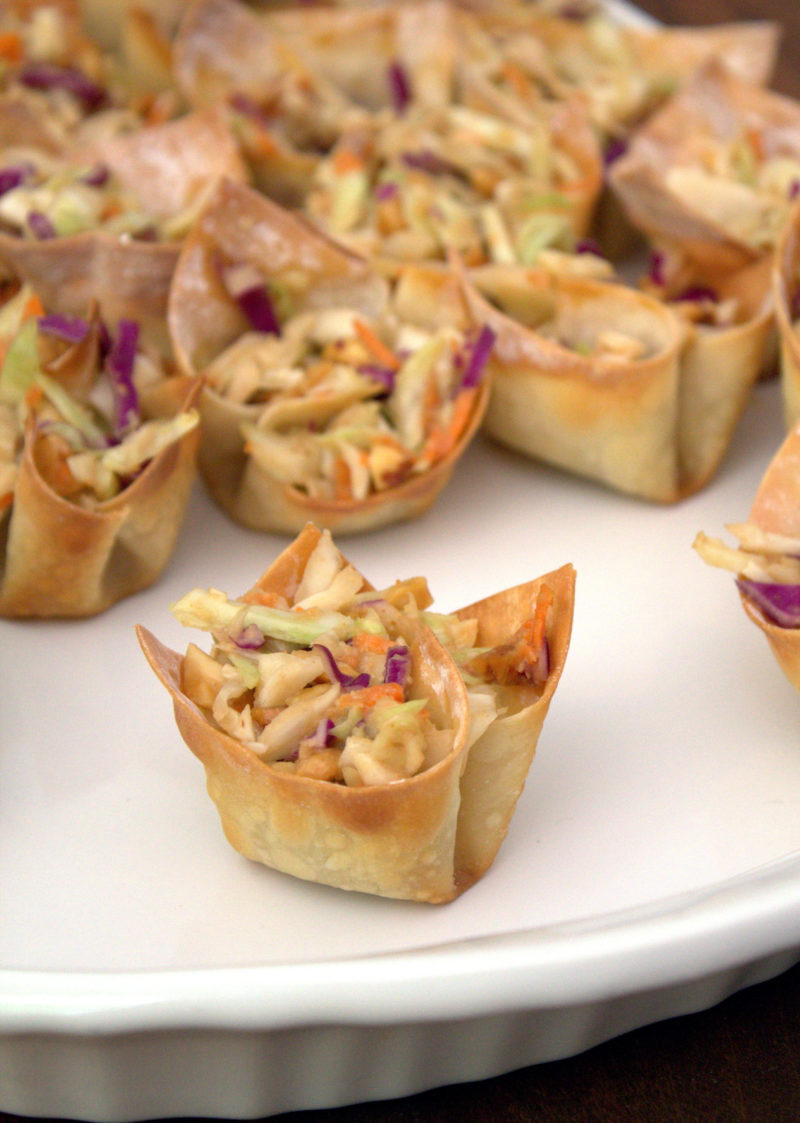 Thai Peanut Salad Cups
Ingredients
24 wonton wrappers (eggless if you're going vegan for this)
vegetable oil cooking spray
¼ cup all natural peanut butter
2 tablespoon rice vinegar
2 tablespoon fresh lime juice
3 teaspoon vegetable oil
1 tablespoon soy sauce
2 tablespoon honey
2 cloves garlic finely minced
1 tablespoon grated ginger or lemon grass
¼ teaspoon salt
2 cups shredded green cabbage
1 large carrot, shredded
1 cup shredded red cabbage
2 tablespoons chopped dry roasted peanuts
2 tablespoons chopped green onions, for garnish
Instructions
Preheat your oven to 350 degrees.
Spray a 12-cup muffin tin with cooking spray and place a wonton wrapper inside each muffin cup. Push the wrappers down into the muffin cups, making a well in the center.
Place in the oven and bake for about 10-12 minutes or until the cups are crispy and slightly browned.
Remove from heat and let cool to room temperature. (you can remove the cups at this point, but they are easier to fill still in the pan).
In a small, microwave safe bowl combine the peanut butter, rice vinegar, lime juice, oil, soy sauce, honey, minced garlic, grated ginger (or lemon grass). Place in the microwave for 30 seconds to 1 minute. Whisk until all ingredients are well incorporated. The sauce should be thick but still drip off a spoon. If it is too thick water a teaspoon at a time and whisk until the desired thickens is reached. Add salt and set aside.
In a large bowl combine the cabbage, carrots, and peanuts. Toss well to combine. Pour the sauce over the top and toss again to combine.
Use a tablespoon to spoon the salad mixture into each individual cup.
Once filled arrange on a serving tray and sprinkle with green onions. Serve immediately.