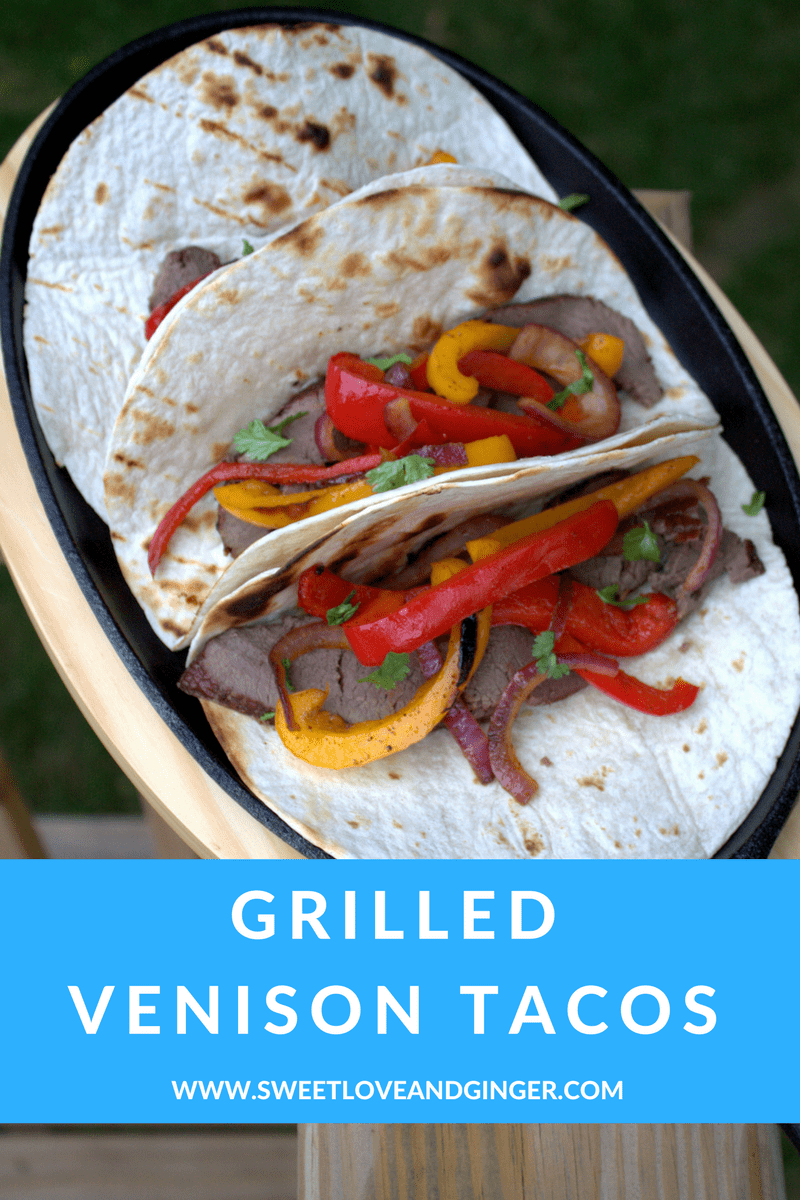 This recipe has become a true summer favourite in our house. It's easy to toss together, full of veggies, doesn't heat up the house, and cleanup is a breeze! We have cooked it up and served it with wraps, as shown, on salad, or over rice.
Something that I discovered while taking photographs for this post is that baking sheets work wonders for serving multi-pieced meals. I mean honestly, the set up you see here was all done for the looks, but I've already utilised my baking sheets twice since this (which was last week). Why dirty 5 different plates for all the things coming off the grill? Tossing hot food straight to the big tray and then plopping it down all full of bright delicious food on the table, makes for a nice presentation and is so much easier than balancing multiple serving platters. I mean this stuff is getting all mixed up on our plates anyway right?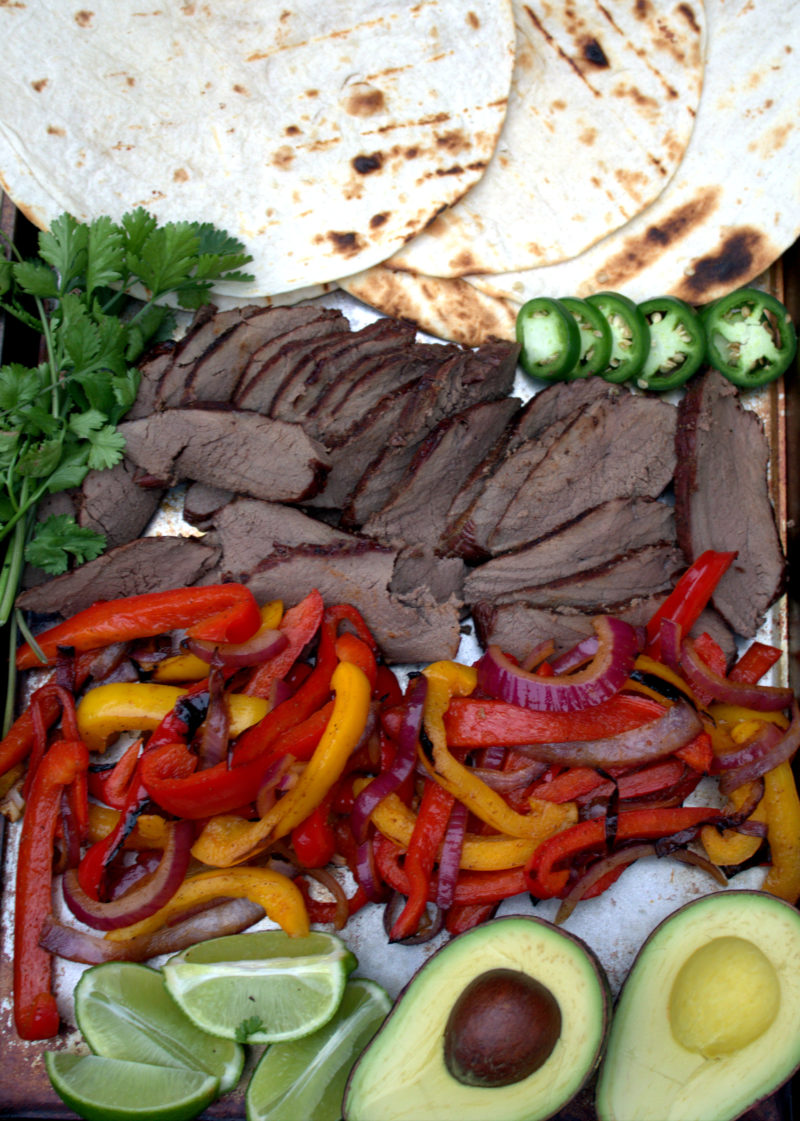 Additionally, Chuck has declared that if possible all wraps should be slightly charred for dinner and I tend to agree. I originally just toasted these little wraps up on the grill while the venison rested to get a little colour on them for the pictures, but you guys, they were so good that way! Not only are they soft from the heat, but they have these little crispy spots and some delicious charring here and there which just add to the amazing flavour already happening.
I have to admit I've learned a lot over the years of cooking and photographing recipes for this blog. It never ceases to amaze me that there is still so much more to learn, even just little things like the ones I mention here. These little tweaks and changes, add up to a whole lot of lessons that have really made me the cook I am today. I still feel like I have so far to go (really guys, so, so far, I'm not real chef here), but am thankful every single time I do learn something new.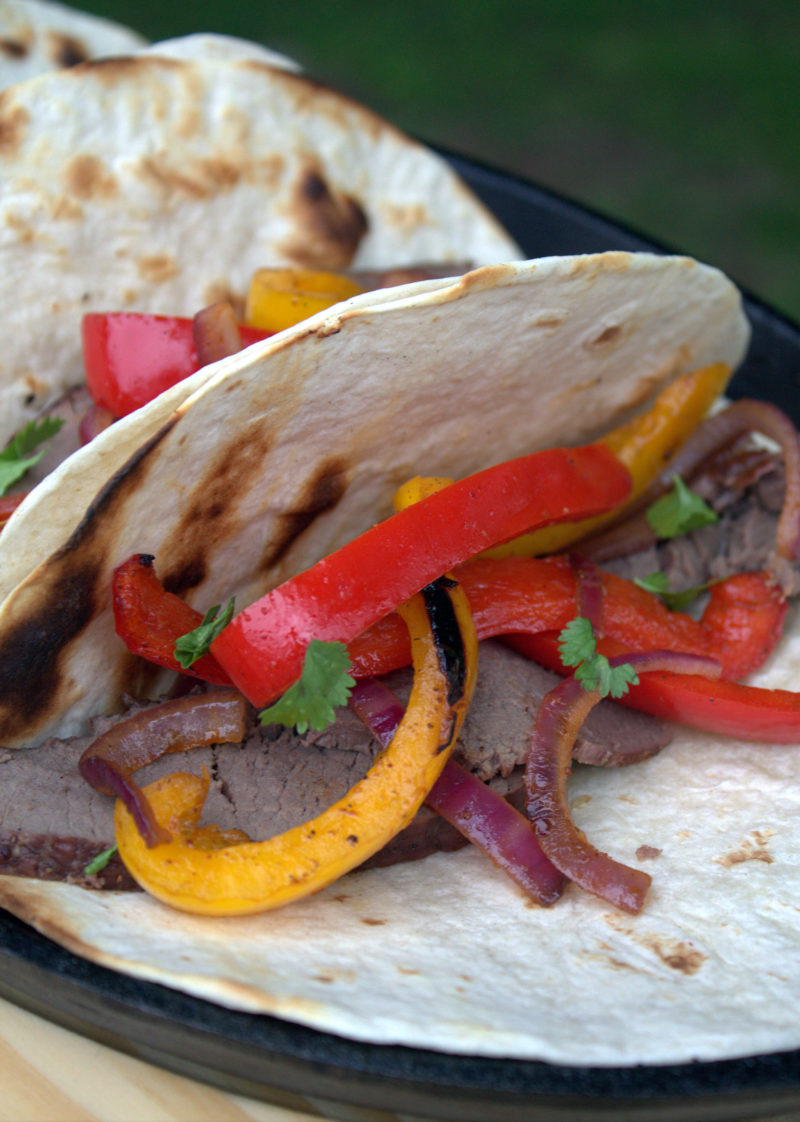 So, back to this amazing recipe. A few simple spices, a hot grill, and your favourite toppings are really all that you need to pull this together. If you aren't a fan of venison a lean cut of beef will work similarly well.

Easy Grilled Venison Tacos
Ingredients
2- 3 bell peppers deseeded and sliced
1 large onion, peeled and sliced
1 teaspoon Taco Seasoning
Vegetable oil to coat (plus more)
2 pounds venison steak, all sinew and silverskin removed
Salt and pepper to taste
½ teaspoon Chipotle powder
Instructions
Take out the venison and let it come up to room temperature.
Preheat the grill and clear the surface of debris.
Combine the onions and peppers in a large bowl with taco seasoning and about 1 to 2 teaspoons of oil. Toss to coat. Carefully toss the vegetables onto a hot grill basket and let cook for 8 to10 minutes, tossing regularly. Remove from heat to a serving dish.
Meanwhile, lightly coat the venison with another 1 to 2 tablespoons of oil, and season with salt, pepper and chipotle powder. Place the venison on a very hot grill and sear it for 3 to 4 minutes. Flip and sear for another 2 to 3 minutes or until desired doneness. When done remove the meat to a platter or cutting board and let stand for 5 minutes before slicing and serving.