This is a simple and delicious recipe for Thai Style Sweet Chili Sauce.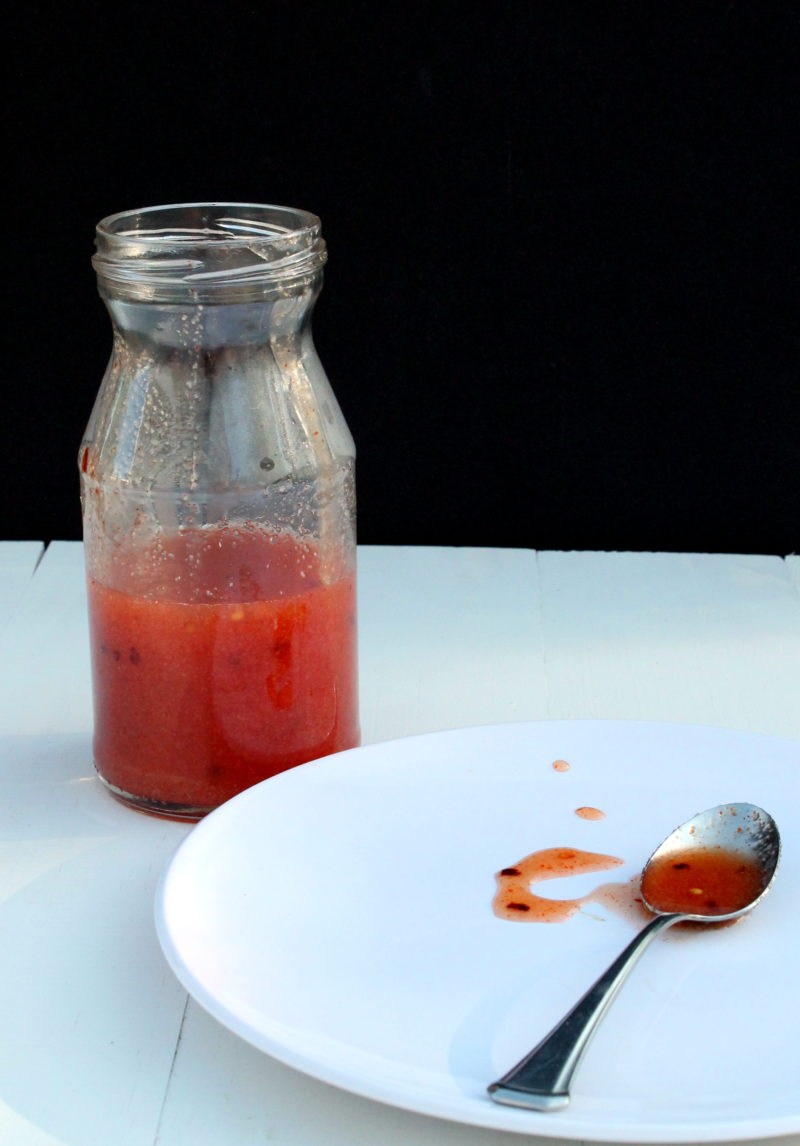 This is an unscheduled post.
I hope you don't mind but as I was typing up tomorrows post I realized that this little sauce needed its own post. It has too many wonderful attributes and uses to be tucked into another post with the focus not on it.
So without further ado let's talk about sweet chili sauce.
I love sweet chili sauce.
It's great on wings, shrimp, fried chicken, wontons, egg rolls, salmon, and you get the idea.
Now In my infinite wisdom I thought I would try to come up with a clean alternative for the store bought, or take out stuff, but every single one that I tried just did not match up. So eventually I broke down and made the recipe below inspired by Life Tastes Like Food. Turns out it pays to be bad sometimes because this is the best sweet chili sauce that I have ever had.
The best part is that it has a pretty long shelf life so I can make a larger batch and use it in a few different meals throughout the week, or bring it to a potluck on the weekend.

Thai Style Sweet Chili Sauce
Ingredients
¾ cup sugar
¼ cup Rice wine Vinegar
¼ cup water
1 ½ teaspoons garlic powder
1 teaspoon crushed red pepper flakes
1 teaspoon sriracha
1 tbsp cornstarch
½ teaspoon salt
Instructions
In a small sauce pan combine the water, vinegar, sugar garlic and red pepper flakes.
Bring the mixture to a boil and then reduce the heat to a simmer. Allow it to cook for 1 to 2 minutes. A thin sauce should form.
Whisk in the sriracha and then the cornstarch until it is well blended. Bring the mixture to boil and then reduce to a simmer. Continue to cook and stir the mixture until it has thickened, about 3 minutes.
Remove from heat and let stand for 5 minutes before serving.
Serve immediately, or store in the fridge for up to 10 days.