This is a simple recipe based on McDonald's Sweet Chili Chicken Wrap for a Sweet Chili Chicken Salad.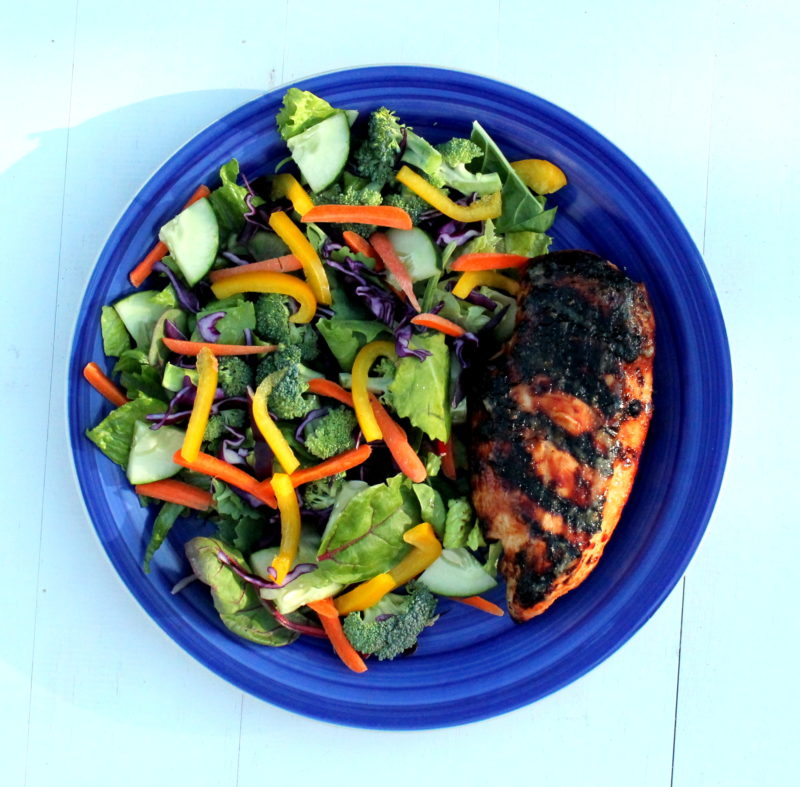 I have to admit something to you.
Sometimes I eat fast food.
I know I know, the stigma of a semi-healthy food blogger stopping at drive through windows is quite unsettling, but I'm human!
Besides, sometimes fast food is the best place to get inspiration. For example one of my most popular posts is my Copy Cat Recipe for Panera's Soba Noodle Broth Bowls, and my second most popular post is my version of Evelyns Favorite Pasta from the Cheesecake Factory.
For this particular recipe I actually took my inspiration from McDonald's. Yep Good O;' Mc D's. We have been traveling a lot and it seems to me that the golden arches may very well have a monopoly on the rest stops on our local highway system, so I've eaten there more in the last couple months than I think I have ever in my life. I've been trying a few of the healthier options and really liked the Sweet Chili Chicken wrap, so much so that I thought I would try my own version of it at home, except I opted to make it in salad form, because we can't seem to eat enough salad lately.
I started by copying the golden arches chicken marinade, which I used to grill the chicken before tossing it in my homemade sweet chili sauce. I made a big hearty salad with mixed spring greens, baby Swiss chard, broccoli, carrot, shredded green and purple cabbage, sliced bell pepper, and cucumber.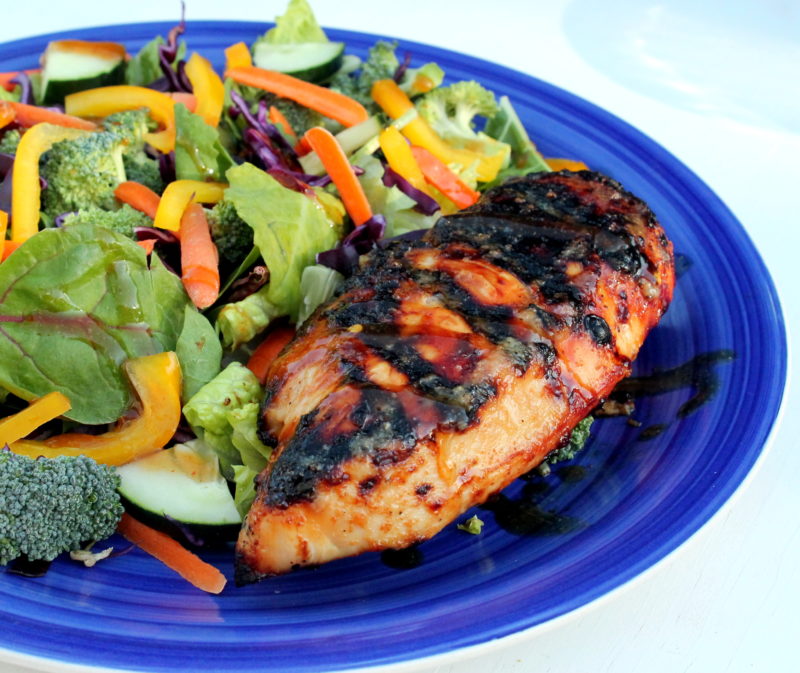 For the dressing I mixed the sweet chili sauce with some bright Asian flavors. It came out perfectly and complimented the rest of the salad. Overall it turned out great and will definitely be on our regular summer food rotation.
You can find the sweet chili sauce recipe here.

Sweet Chili Grilled Chicken Salad
Author: JC
Serves: Serves 4
Ingredients
Sweet Chili Dressing
½ cup sweet chili sauce
2 tablespoons lime juice
2 tablespoons fish sauce
1 teaspoon salt
1 teaspoon dried ginger
½ tablespoon sesame oil
Honey Glazed Grilled Chicken
⅓ cup honey
1 tablespoon rice wine vinegar
1 tablespoon water
½ teaspoon salt
½ teaspoon pepper
½ teaspoon onion powder
1 teaspoon garlic powder
1 teaspoon lemon juice
¼ teaspoon paprika
1 lb boneless skinless chicken breasts (2-3 breasts)
4 cups of prepared salad with ingredients of choice
Instructions
Combine sweet chili sauce, lime juice, fish sauce, salt, ginger, and sesame oil in a small bowl, and whisk until incorporated. Set aside.
Combine the honey, vinegar, water, and spices in a shallow baking dish until well combined.
Add the chicken and toss to coat.
Cover and let sit for at least 30 minutes, or overnight.
Place chicken on a preheated grill and cook for 5 minutes. Flip and cook for another 5 minutes or until cooked through.
Let stand for 3 to 5 minutes and toss with sweet chili sauce.
Serve salad ingredients topped with chopped chicken and dressing.