Taco dip.
The old classic.
Hands down one of my favorites.
AAaaand after a little experimenting I think I just brought it to a new level.
You guys, it was so good!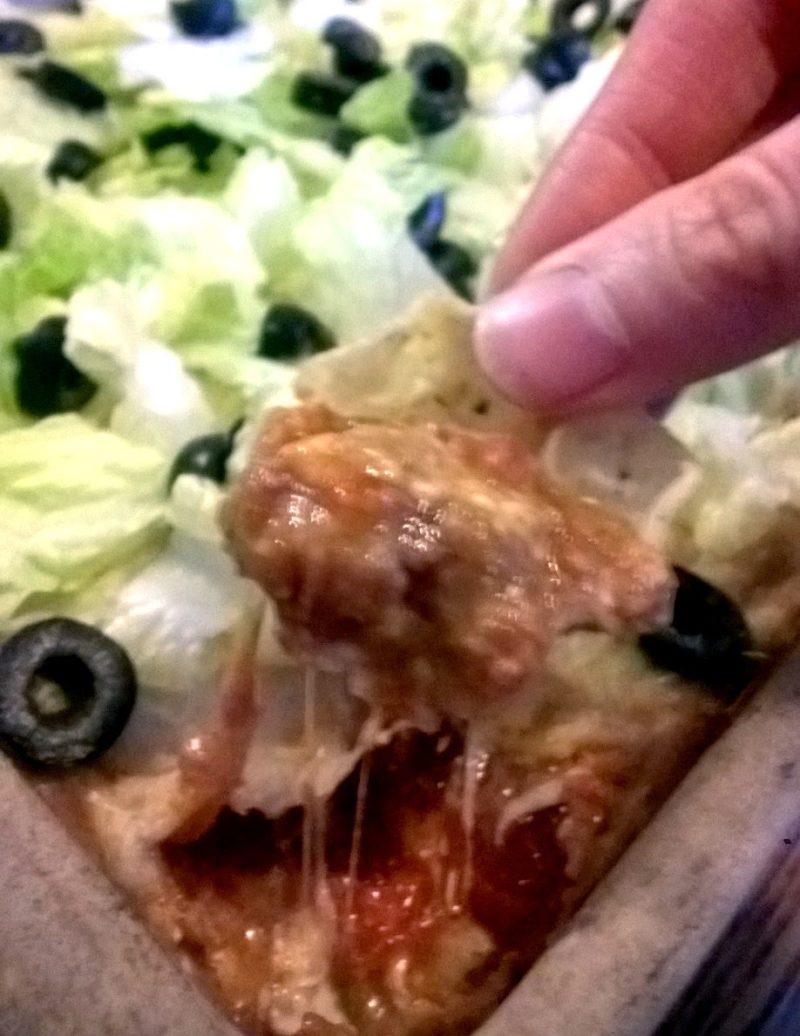 You see, we were invited to watch Sunday's football games at a friend's house and of course I had to bring something. I always do.  My first thought was wings, but pulled pork was already on the menu and I thought the group, and my own tummy could benefit from something that wasn't meat based.
Chuck gave me a dirty look when I asked if I could make taco dip sans meat, then raised an eyebrow when I said I'd replace it with black beans. I decided to do it anyway, and I have never been happier with the result. He was in love with is. All of the other guests were happy with it as well. We were left with only a small scoop of leftovers, because you know no one wants to be that person and take the last scoop.
I think it was the two layers of cheese that did it. I mean really, cheese is the way to a man's heart after all. Maybe it's just food and I made that up, but I'm going with it because cheese is amazing.
Sorry for the terrible phone photos but it was night time, with apartment lighting and I didn't expect it to be post worthy after the first attempt. Maybe someday I will make it again and take good photos, maybe.
Triple Cheese Hot Taco Dip
Ingredients
1 (15 oz) can black beans
1 cup sour cream
8 oz cream cheese
1 package taco season (3 tbsp homemade)
1 (16 oz) jar salsa
8 oz sharp cheddar cheese
8 oz Monterrey jack cheese
½ cup shredded lettuce
¼ cup sliced black olives
Instructions
Preheat the oven to 350 degrees.
In a 8x8 pan combine re-fried and black beans and spread out into a smooth layer.
In a bowl combine sour cream, cream cheese, and taco seasoning, stirring until well combined. Spread the cream cheese mixture over the beans.
Next sprinkle 4 ounces of sharp cheddar and 4 ounces of Monterrey jack cheese.
Spread the salsa on top next and again top with 4 ounces of sharp cheddar and 4 ounces of Monterrey jack cheese.
Place in the oven for 20-30 minutes or until the cheese begins to brown and the edges bubble.
Let stand 5 minutes and top with shredded lettuce and black olives. Serve warm.