My Garden is coming along despite the presence of a pesky
rabbit that seems to be in love with my kale, chard and kohlrabi. Those little
babies didn't stand a chance. He doesn't seem interested in my beans or
radishes though thank goodness, they acted as a barrier for the rest of the
garden.
Radishes are coming in hot, and Chuck is eating them as fast
as they are coming. Which is fine by me, not being a huge fan and all, he can
have them. He loves them just plain as a snack; I think he is crazy.
The lettuce is growing by leaps and bounds with all the
rain, so lately we have been having LOTS of fresh salads.
Unfortunately I started some late seasonal herbs, in pots on
the deck, but I think the mix of scorching sun most days and violent, drowning
storms in the evenings did them in, most of them started to come up and died
shortly thereafter. It's ok though because I am learning a lot.
There is something so satisfying about stepping out of your
back door taking a few snippets of lettuce, or herbs and making a meal out of
them. Not only are you seeing the fruition of your own hard work, but you get
to experience each step of how your food gets to the table.
This particular meal began as just a lazy summer meal of
burgers that I dressed up with herbs, sprouts, lemon aioli and a side salad all
from the garden.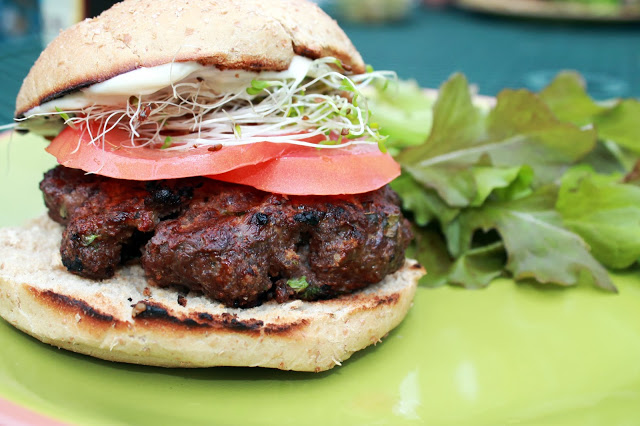 Herbed Burger
1 tbsp chopped Italian parsley
In a large bowl combine all ingredients with dampened hands.
Once well mixed divide meat mixture into four equal pieces, and form patties. Place
patties on a preheated and greased grill and cook over high heat for roughly 5
minutes a side. Serve warm on grilled buns with your choice of toppings.
Lemon Aioli
1 teaspoon finely grated lemon zest
1-2 tbsp fresh lemon juice
1 clove of garlic, minced
Place all ingredients in a small bowl, and mix to combine.