Ok, so if you read my plan for the next two weeks in my last post you saw that I was planning on making
Asian Marinated Scallops
over salad. Well I changed my mind, which it to be allowed since I made up my own meal plan anyway. I found that bay scallops were on sale instead of the larger diver scallops and I have a totally different recipe that I want to try with those, so I opted for the chicken version of the salad instead. It was just as good let me tell you. Chuck heartily approved, using an extra piece of chicken for his lunch the following day.
Asian Marinated Chicken
2 tbs soy sauce
1 tbs rice vinegar
1 tsp sesame oil
1 tbs brown sugar
1 tbs olive oil
Whisk together and pour over chicken breast. Place covered in the fridge for 30 minutes. After marinating place the chicken on a preheated grill. Cook until juices run clear, turning once. You may also cook it in a flat skillet over medium high heat.
Salad
1 cup mixed greens
1cup shredded cabbage
1 cucumber, chopped
2 large carrots, julienned
1 stalks celery, julienned
4 long scallions, thinly sliced
1 clementine or mandarin orange, peeled and sectioned
1 tbs oil
1 package Ramen noodles
¼ cup slivered almonds
1 tbs Sesame seeds
In a small skillet heat oil and stir in noodles, almonds, and sesame seeds. Cook on medium low stirring continuously until golden brown, and remove from heat to cool. In a large bowl combine all other ingredients. Once the noodle mixture has cooled slightly add to the vegetable mixture and toss.
Dressing
2 tbs rice vinegar
1 tbs low sodium soy sauce
1 tsp sesame oil
1 tsp ground ginger
1 tbsp honey
In a small bowl whisk together all ingredients until well blended.
Plate the salad, and top with chicken and dressing to serve.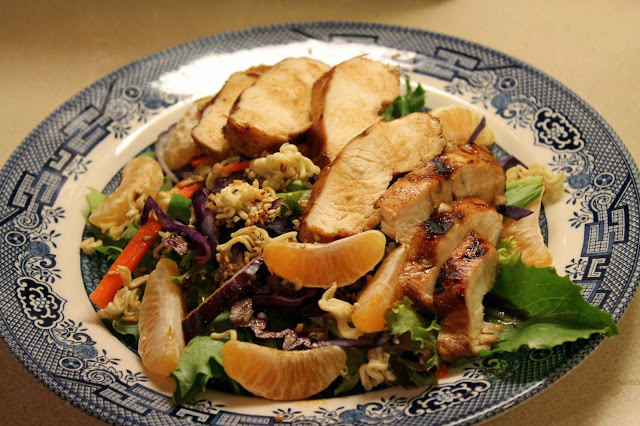 Now before you all go on about using ramen noodles, they aren't as bad as you think. What is bad for you is the ramen noodle soup mix; that little packet of flavor that is discarded in this recipe. It is full of sodium and sugars that while making it tasty also make it very unhealthy. I typically use half of the ramen noodle package for a salad for two people, so what little carbs that are there from the noodles aren't going kill you, I promise.