I always hate showing off what I got for Christmas, as I don't believe that getting gifts is the part that matters. To me it goes back to core Christian values, but that's a whole other post; any who I was lucky enough to get a beautiful little pasta maker.
This is the recipe for the very first meal that I made with it. A simple delicious Italian Lemon Pasta with sautéed Turkey Sausage and Broccoli Rabe.
Lemon Pasta
(makes 1lb)
3 ½ cups flour
3 large eggs
3 tbs lemon zest
1tbs lemon juice
Mound the flour in a bowl, making a well in the middle. In this well add in all of the other ingredients. Using a fork, beat together the eggs, and other ingredients slowly incorporating the flour, until it becomes a dough. Then begin kneading the dough with your hands. If the dough is too sticky add small amount of flour, if it is too dry add water, a tablespoon at a time. Once the dough is one cohesive mass move it to a lightly flowered surface and continue to knead it for 3-5 minutes. Place the dough in a floured bowl covered with a damp cloth and let it set for roughly 20 minutes at room temperature. This is important as it will make for a lighter pasta. Once it has set cut off about ¼ of the dough and make it into a small bowl. Form the pasta that you wish using either a pasta machine or a rolling pin and a knife. Cook the pasta in a large pot of boiling water. Fresh pasta has finished cooking when it rises to the top in only 3-4 minutes.
Garlic Sautéed Broccoli Rabe & Turkey Sausage
1 lb turkey sausage links
1 bunch broccoli rabe, trimmed & cut into 3 inch pieces
2 tbs olive oil
3 cloves of garlic, sliced thin
1/2 cup chicken broth
½ lb pasta of choice, prepared aldente
Fully cook the turkey sausage links in either a sauté pan or boiling water. Allow them to cool enough to cut into thin slices. In a pot of boiling cook the broccoli rabe for roughly 10 minutes to reduce the bitterness. Then place on a cloth and pat dry, retaining 1 cup of the cooking water for later use. In a large skillet heat olive oil and sauté garlic for a few minutes until it begins to soften. Add the cut sausage to the pan and cook an additional 4-5 minutes until the center of the sausage pieces begin to brown. Deglaze the pan with chicken broth cooking for only 1-2 minutes. Remove from heat and add broccoli rabe, tossing to coat. Serve over pasta and garnish with parmesan cheese.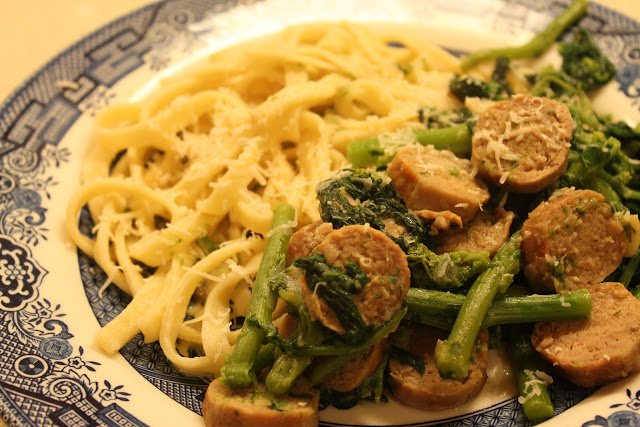 The combination of these flavors is simply amazing. I love Brocoli rabe and sausage together already, though I chose to use turkey sausage in this recipe which tends to have a lighter flavor so it didn't overpower dish. The lemon pasta added just a hint of citrus flavor that really married well with everything else on the plate. It was the perfect first dish to make with my new pasta maker. I could not be more pleased!