There is a restaurant near my work that we frequent often. It is a little Greek place in what used to be a bank. I would link their website if they had one. The place is pretty darn fabulous. I pretty much love it there. I also pretty much go there every time I eat out at work, which isn't often so that's saying something.
They have this lunch special every week that is mouthwateringly fabulous. It is a broiled haddock served with a rice pilaf, broccoli and warm rolls. My stomach is rumbling just thinking about it, it is so good, and so simple! How do I know? I spent quite a few nights trying to figure out their recipe. I asked the wait staff a few times what was in it to get the jist, and then I went through quite a bit of haddock to perfect it, but now I think I have it, and dare I say mine is better? Well I'm sure that's dependent on who is eating it. I prefer more sherry to butter, other may prefer more butter to sherry, so I guess it's a wash.
Since I am making this dish for lonesome self, I decided it was fine to be bad and make extra sauce to toss pasta in instead of making rice pilaf. This was a fabulous decision! Especially after I topped it with fresh chopped parsley (about ¼ cup – you know how I love my herbs!), and a touch of parmesan cheese.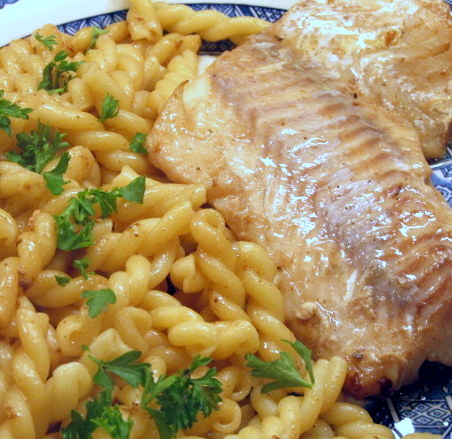 Now if you just want enough sauce for fish, then half the recipe below.
Broiled Haddock in Sherry Butter Sauce
½ a stick of butter (unsalted)
¼- ½ cup of sherry
½ lb haddock fillet
1 cup pasta cooked aldente
Preheat the oven broiler. In a large oven safe skillet melt the butter and allow it to brown slightly. Add ¼ cup of sherry and allow it to cook roughly 1-2 minutes. At this point you may choose to add more sherry or not, but if you add it allow it to cook for another 1-2 minutes. Add fish to the pan and baste with sauce. Place skillet in the oven for 15-20 minutes or until fish breaks apart with a fork. Remove fish and add pasta to pan to toss with sauce. You may need to add a little butter or oil if it has reduced too much. Serve fish and pasta together, topped with parsley and parmesan cheese to taste.
Can you say divine? I can because it was. I felt like I was riding on clouds while I ate it. I am so happy I was able to figure this one out. Now I just need to figure out their creamy chicken soup.