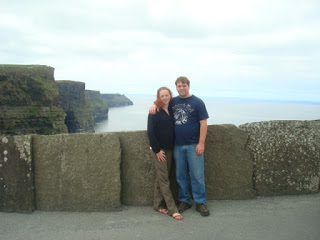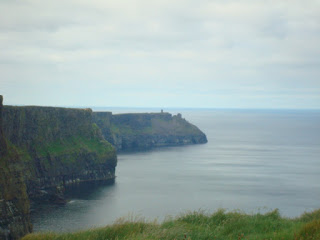 Our first goal of the day, after the breakfast described in the previous post was to make it to the Cliffs of Moher another one of those must see sights on my list. First we entered the visitor's center which was actually one of my favorites of the trip. I am amazed at how they turned a rock formation into such an interesting and dynamic learning center. There were stations that discussed how the cliffs were formed, the plant and animal life, as well as the weather. There were some really great interactive tables that showed hoe the tectonic plates shifted over time and how they are continuing to shift, and the was that the location of the cliffs moved with this. I really enjoyed it all.
The cliffs themselves were a whole different story; I mean knew they were beautiful, but I had no idea how captivating they could be; a sheer rock face jutting into the ocean, farmland reaching right up to the edge, and wind whipping around everything. It was picturesque Ireland. I think I used more of my card space there on pictures than anywhere else. These pictures truly don't do it justice. I could have wondered around the cliffs all day had my stomach not started to growl.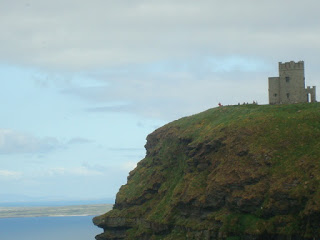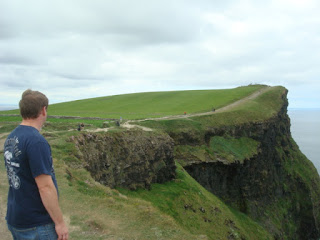 After our trip to the cliffs we made it to Bunratty Castle. After a cheap lunch of deli ham, and cheese on brown bread from the local gas station and minimart and finding a place to stay for the night we headed off to the castle and Folk Park for the afternoon. To say the least it was rather disappointing. There were medieval type buildings but without people, or place there to explain it just seems like old or fake old stuff strewn about a fake old house. Other buildings were made to look old but were actually modern convenience shops aimed at tourists. There was a tea house and pub as well. One of the good things was a pottery building where the family that ran it actually made the stuff in the shop. It was probably my favorite part of the actual park.
The feast was a completely different story from the park however. It started out in a large hall where we were served mead and listened to traditional music on the violin and harp. It was during this time that we were asked if we wanted to be the acting lord and lady of the event. I could tell Chuck was going to say no so I said yes very quickly. They pulled us up on the stand and crowned us in front of the whole party. The feast was lively and fun Chuck got to do a little acting and I got to have my awesome vegetable soup again. This was a dish I was so incredibly excited to recreate because it was so good. I did find a recipe that seemed pretty close to what I expected except for a few small details. 1) we asked at the feast what the soup was spiced with and they said curry, so I added about 1 teaspoon of that 2) I roasted my vegetables in the oven before making the soup to get the flavors to come out a little more.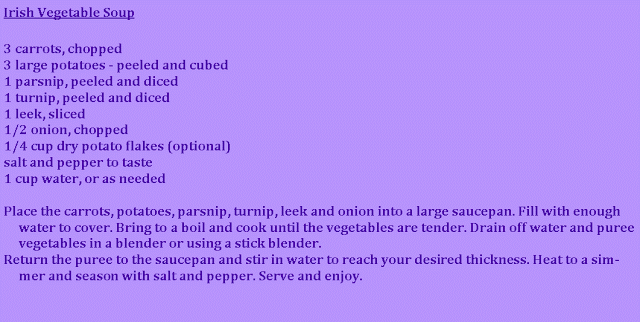 I really enjoyed making this soup, it was so easy, and healthy! We decided to make a whole night of it by making it into date night! Starting with the soup and salad for dinner then sliced up the aged goat cheese that we brought back from Dingle, and had it with crackers, and sliced pair. To wash it all down we had a very sweet apple reisling that we got last week at the farmers market. It was all so delectable. We both ate and chatted until we were stuffed. The perfect date night!