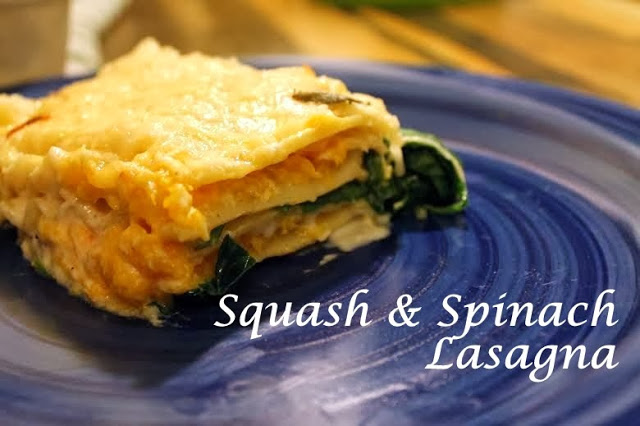 Ok I have to admit something. I have never had white
lasagna. As a self proclaimed foodie this is something that I find so hard to believe,
but it's true, and I have been meaning to change it for quite a while. I saw
this recipe
last year and knew I had to make it, but the squash season flew
by me!
Now that squash is back this is the very first thing I decided
to make, except the broccoli rabe wasn't looking so hot, so I swapped in one of
my other favorite greens spinach. I already knew this flavor profile would work
well since I have used in a bunch of other recipes, as it was pretty fabulous.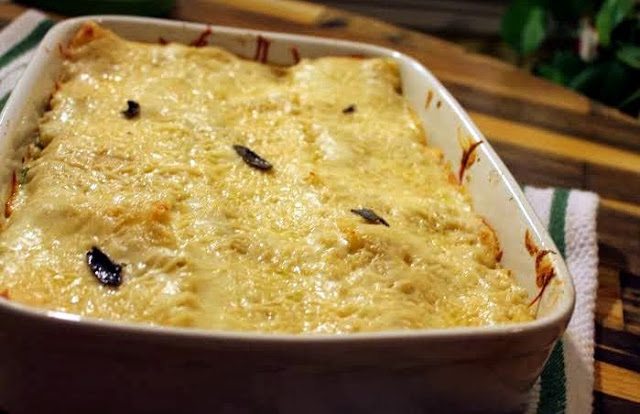 This whole tray was quite a lot for two people so we ended
up eating it all week, and we didn't even get sick of it, that's a surprise.
There is something so exquisite about this recipe, I can't quite put my finger
on it, but it was a grand slam, and even though it's meatless Chuck said I could
make it all the time (score).
In all honesty it was twice as good the next day. What is it
about certain dishes, like stews and sauces that always taste better the next
day, so maybe you put the whole thing together and save the baking for a day or
two? Sounds perfect for a dinner party or a weekend meal no?
Squash and Spinach Lasagna
1 (1-2lb) butternut squash
Extra virgin olive oil
¼ cup butter
1/3 cup flour
3 cups whole milk
1 tsp nutmeg
Salt & Pepper
12-15 Lasagna noodles, prepared according to package
instructions
1 lb of spinach, wilted
½ cup grated parmesan cheese
4-5 fresh sage leaves



Preheat the oven to 425. Cut the squash in half, de seed it,
drizzle it with oil, and lay it face down on a baking sheet. Bake for 20-30
minutes or until the thick part of the squash can be poked through with a fork.
Remove from heat and allow it to cool and reduce the oven temp to 375. In a
thick bottomed sauce pan melt the butter over medium heat. Whisk in the flour
and then slowly whisk in the milk as well, making sure the sauce becomes well blended.
Bring the mixture to a boil over medium high heat and reduce to a simmer over
medium heat cooking until the sauce thickens (about 5 minutes), while stirring
often. Stir in the nutmeg and season with salt and pepper to taste, this will
be your béchamel. In a bowl use a fork or a masher to mash the squash into a
manageable paste. In a prepared 13x9inch baking dish lightly place a layer of béchamel
then 3 noodles length wise. Scoop about 1/3 of a cup of the squash over the
noodles and add more béchamel, and another layer of noodles. Repeat this
process once more. One the third layer of noodles spread the all of the spinach
over the noodles, and then béchamel and more noodles. Continue to squash, béchamel
and noodles until you run out. On the top layer of noodles spread generously
the final béchamel and top with parmesan cheese, and sage leaves. Place the pan
in the oven for about 30-40 minutes, or until the top begins to brown and
bubble. Remove from heat and let stand about 10 to 15 minutes before serving.
Also don't skip the sage, those leaves, even just placed on
top lend a whole other level to the flavor of the whole dish.
I'm totally interested in more inventive recipes with squash
in them. Any Suggestions?