Thanksgiving is on its way.
I don't know about you but there is always turkey leftover around our house this time of year, and it's always a challenge to find ways to use it up without getting bored. The one dish that I always look forward to making and that is Leftover Turkey Bolognese.
Bolognese is a classic Italian dish typically made with ground beef and/or pork. I have no idea why or how but at some point in college I started making this dish with shredded leftover chicken or turkey instead. Probably because I was at the top of my clean eating game, and always looking for ways to make clean eating comforting. To me, there is very little more comforting than a big bowl of pasta sauce. Just make sure to put it over whole wheat pasta.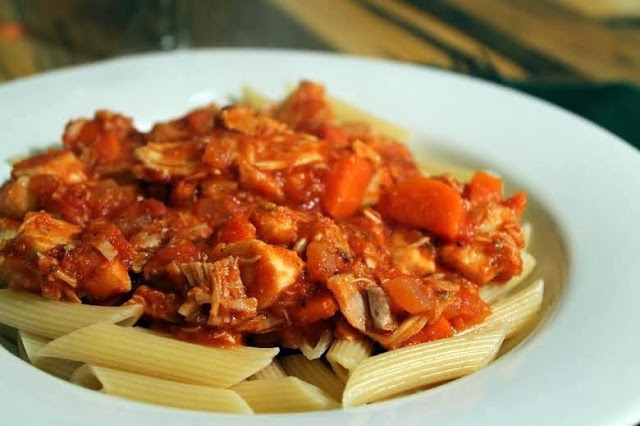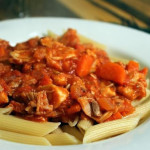 Leftover Turkey Bolognese
Prep Time 15 minutes
Cook Time 45 minutes
Total Time 1 hour
Ingredients
1 tablespoon extra virgin olive oil
1 small onion diced
3 celery ribs chopped
2 large carrots peeled & chopped
2 cloves of garlic minced
1 cup low sodium chicken broth
1 8 oz can of tomato paste
1 12 oz can of low sodium diced tomatoes
1/4 teaspoon thyme
1 bay leaf
1 lb cooked shredded chicken or turkey
2 tablespoon heavy cream
1 lb pasta of choice prepared according to package instructions
Instructions
In a large, thick-bottomed saucepan heat the oil and sauté the onion, celery, and carrot for 3-4 minutes, or until the onion begins to soften.

Add the garlic and continue to cook for another 1-2 minutes.

Deglaze with the broth, scraping browned bits from the bottom of the pan and allow it to reduce by half

Stir in the tomato paste, and cook for 1 to 2 minutes or until browned.

Add the tomatoes, with juices, thyme, bay leaf, and chicken stirring well to combine.

Cover and cook on low for about 30 minutes.

Remove and discard bay leaf.

Stir in the cream and serve warm over cooked pasta.
Similar Recipes: