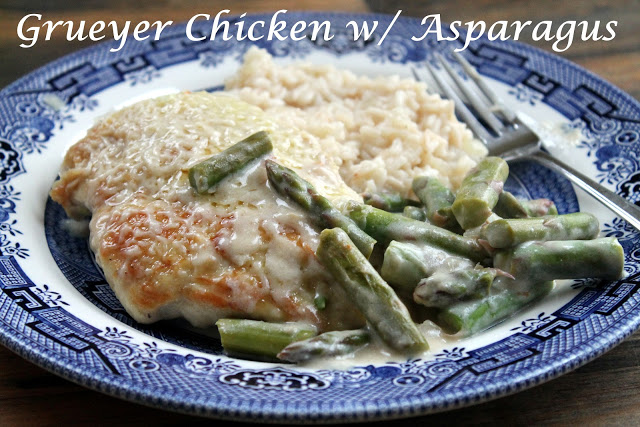 Chicken, Vegetables, and cheese make up this meal and what a
wonderful one it is. The crispness of the asparagus, in the creamy sauce, and
melted cheese, all on top of a tender piece of chicken; just imagine it! I
really like this meal and how surprisingly easy it was for the complexity of
the tastes that it provides.
Chicken Paillards Asparagus
Gruyere (serves 4)
4 chicken prepared chicken Paillards
¼ cup all purpose flour

1 tsp salt & pepper (each)

1 tbs extra virgin olive oil

1 shallot sliced thin

½ cup white wine

2/3 cup low sodium chicken broth

1 lb asparagus, cut into 1-inch pieces

¼ cup reduced fat sour cream

2 tsp lemon juice

2/3 cup fresh grated Gruyere Cheese

Sift together flour with salt and pepper, and dredge the
chicken in the mixture, shaking off any excess. Place in a large skillet that
has been heated to medium-high heat and coated with oil. Cook for roughly 3-4
minutes per side, or until golden brown and just cooked through. Remove from
heat and set aside. Add shallots to the pan and cook for roughly 1 minute, add
2 tsp from the leftover chicken dredging mixture stirring well to blend. Add
wine, broth and asparagus to the pan. Cook for 2-3 minutes or until the
asparagus begins to get tender, and wine reduces. Continue to stir will adding
broth to the pan and allow the mixture to thicken. Reduce heat to low and stir
in sour cream, and lemon juice. Return the chicken to the pan and top with
grated cheese. Cover and continue to cook until the cheese has melted. Serve
warm.
For instructions on how to prepare chicken pillards check
out
this post.