Back in January I
stumbled on this post
, and while the recipe was pretty awesome, I wasn't ready to gripe about the cold yet. But seeing as how it's now March and we are still, to put it in her words, in the midst of "unrelenting cold" I'm ready to succumb to the idea that I may in fact be ready for spring.
I also have to agree with her position on soup. We have been eating it quite a lot lately, and I'm so in the mood for something else, so why not recreate her recipe? The original version is pretty amazing, but I wanted something a little more week day friendly so I cut a few ingredients and simplified the steps a bit.
I also wanted to keep this recipe completely clean, so I added the recipe for my home made tomato sauce. I usually make this in big batches then freeze it in smaller quantities for later use, but if you are strapped for time you can use a store bought sauce just as easily, there are a lot of options out there. Also using a ready made sauce makes it a one pan meal, two if you make a pasta side like I did.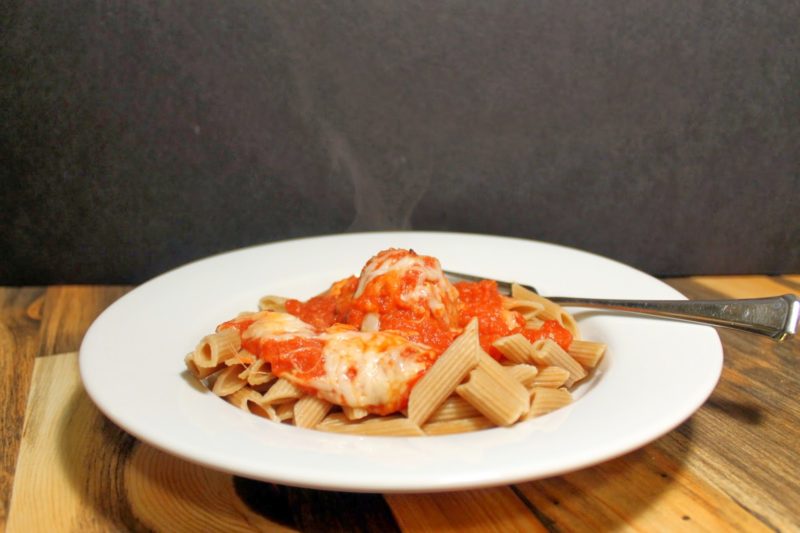 Chicken Parmesan Meatballs
1 lb ground chicken
1/3 cup whole wheat bread crumbs
1 egg white
3 tbsp grated parmesan cheese
1 tsp dried oregano
½ tsp salt
½ tsp pepper
1 tbsp extra virgin olive oil
Premade Sauce *** (recipe follows)
2/3 cup shredded part skim mozzarella cheese
2 or 3 large basil leaves, chopped
Parmesan cheese for garnish
Preheat the oven to 400 Degrees. Combine chicken,
breadcrumbs, egg, cheese and spices in a large bowl until evenly mixed. With your
hands shape the meat mixture into 1-2 inch balls. In a large oven proof skillet
heat oil over medium high heat, then add meatballs cooking for 5-6 minutes,
turning regularly.  Once all sides are
browned add the sauce to the pan, making sure that the meatballs are covered.
Top with mozzarella, basil and a sprinkle of parmesan cheese. Place in the oven
and cook until the cheese is melted and the meatballs are cooked through (about
15 minutes). Serve warm.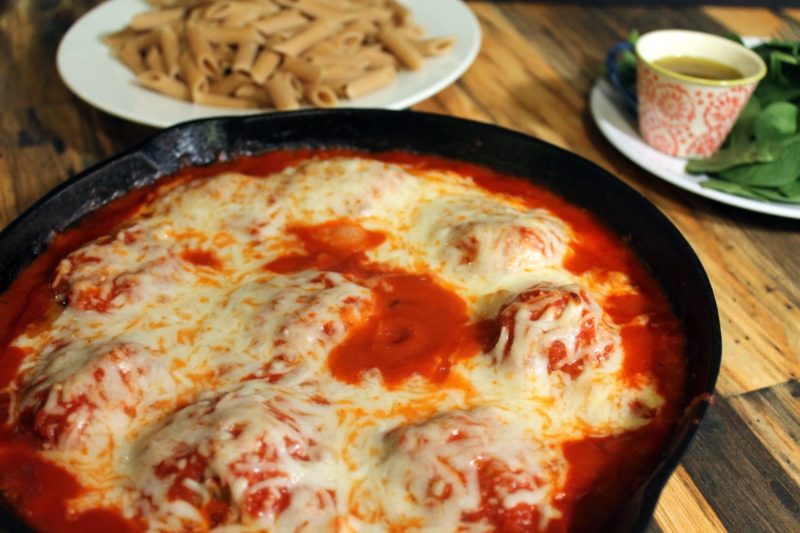 Homemade Tomato Sauce
1 tbsp extra virgin olive oil
1 medium onion, peeled and chopped
1 small carrot, shredded
3 cloves of garlic, minced
3-4 large basil leaves
1 tbsp fresh Italian parsley
5 cups seeded, diced tomatoes (if jarred no salt added)
In a large thick bottomed sauce pan heat oil and saute
onion, and carrot for 2-3 minutes or until the onions begin to turn
translucent. Add garlic and cook for an additional minute. Stir in herbs and
cook for another 10 minutes or so. Blend until smooth with an immersion blender
or by transferring in small batches. Bring to a low simmer, cover and cook for
2-3 hours stirring regularly. Once simmered add salt and pepper to taste and
serve warm, or allow to cool and store. (will last for 3-5 days in the fridge
or a few months in the freezer)


Whats bringing you out of this cold winter blues?