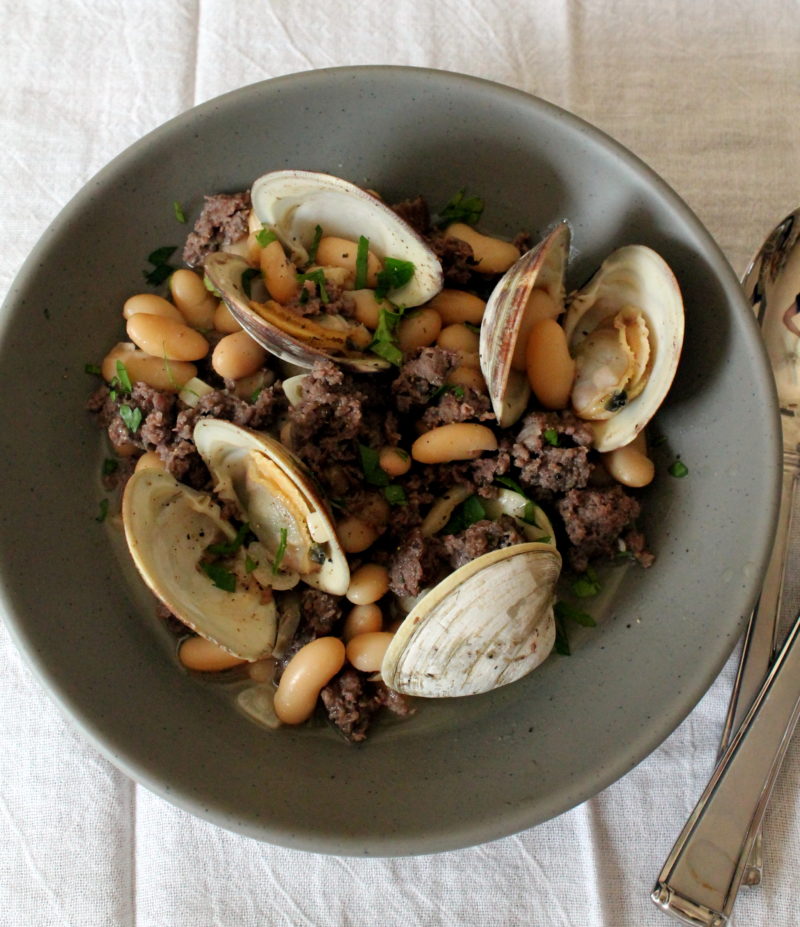 This past weekend I celebrated my 28th birthday. It was a pretty laid back kind of birthday. Sleeping late, with Chuck and Brody, a good breakfast, a trip to the grocery store, 60 degree weather, all came together to make a pretty awesome day for me.
People sometimes thin that I'm crazy for wanting to spend my whole birthday cooking, but when you love to do something then it's really enjoyable and it doesn't feel like work at all. Chuck took me to the store (I totally wore sweatpants and slippers, because I could) and we picked up everything I needed to make this dish. I had originally planned to bake bread, and a few other things, but ended up taking a nap on the couch instead; I'm not even mad.
This dish though, it was perfect. A few ingredients combined in a way that's just divine. I found the original recipe in a recent issue of bon Appetite, but used the beans instead of homemade pasta, because slow carb. Also using beans took a whole bunch of steps out of the recipe, so it came together in less than 30 minutes giving me enough time to toss some arugula in a lemon dijon dressing for a side dish. It's kind of perfect for a weeknight meal don't you think? I do.
Clams with Sausage & Cannellini
Ingredients
2 tablespoons olive oil
4 ounces Italian sausage, casings removed
4 cloves of garlic
1 lb little neck clams, scrubbed
⅓ cup dry white wine
1 (15.5 ounce)can cannellini beans, drained
Salt & pepper to taste
1 tablespoon unsalted butter
1 tablespoon finely chopped parsley
Instructions
Heat oil in a large skillet over medium high heat. Add sausage and cook, crumbling it into small pieces, until browned, about 5 minutes.
Add the garlic and cook for 1 minute.
Add clams and wine. Cover and let cook, shaking the pan occasionally until the clams are all opened, about 5 to 6 minutes. Remove any that do not open.
Stir in beans and cook for another 2 minutes, or until warmed through. Add butter, parsley and toss. Adjust seasoning and serve.